January 18, 2021 - 11:43am
Community Bake - Semolina/Durum and similar grain breads
**********************************************************************
For those who wish to limit or disengage from the flood of email notifications associated with long threads such as these CBs produce, Dan had written up how to do so
http://www.thefreshloaf.com/node/66354/tip-how-stop-email-notification-any-topic
**********************************************************************
TFL Community Bakes are the result of CB founder Dan.  His own creation and nurturing, to interest and help others, and in turn be helped, as we all strive to improve our baking skills and widen our baking horizons.  Kudos to him for this lasting gift for us all.
For this CB I'd like to continue to focus on a grain rather than a specific bread style, as was the original focus in the previous Deli-Rye CB.  I love semolina based breads, having grown up a stone's throw from a few Italian bakeries, and consider the sesame semolina bread to be a foundational food on my personal food pyramid!
Clarification
.  I refer to semolina in a generic sense.  I really am referring to durum, the finely machined version known in Italian as semola rimacinata which carries a protein of ~12%.  Semolina is too coarse and hard a grain for typical bread baking.  But there are no holds barred here in our CBs, and if you wish to bake with it as I have, feel free to experiment with the least coarse of the grinds.  I reference two short descriptions here:
 This durum wheat flour is a double ground (rimacinata) flour with very soft and fine texture. Its signature yellowish tint and resistant elastic gluten make it ideal for all extruded pastas and breads, or wherever the characteristics of semolina are desired.
Semolina is coarsely ground durum wheat (grano duro, triticum durum - a varitey of wheat) and its often used to make pasta. When it's called semola rimacinata in Italian, it refers to semolina which has been re-milled to make it finer and more suitable for bread baking.
 When I refer to "bread flour" in the below descriptions, I am employing Mr. Hamelman's usage.  He refers to bread flour as what we generally call an AP flour.  His point of reference is the King Arthur AP Flour which has a protein level of 11.7%.
Whether you have access to semolina or not, perhaps you can join with bakes of what I consider to be somewhat related grains.  I have never baked with the last four on the list below, and therefore cannot offer recommendations as to how they may work out.  Experienced ancient grain bakers on TFL should have a better understanding to offer during this CB.  You 
will
 be able to bake these breads with the first three grains listed, and 
may
 be able to do so with the final four grains.  Included in the list, but not exclusive, are:
Semola rimacinata: Extra finely milled Durum wheat
Durum Atta: Indian durum similar to semola rimacinata.  Atta may refer to more than one type of wheat, look for the ingredient that says Durum.  May also contain some whole grain.
Tritordeum: Hybrid grain of barley and durum developed these past few decades in Spain and available in some European markets.
I am offering five differing semolina based breads, all with some unique characteristic that makes each one different from its brethren.  However only three will appear in this CB posting.  These three will also appear in the Companion Blog along with two additional suggestions.  Taken as a whole, the five carry some combination of these characteristics:
Semolina percentages from 40% to 100%
Preferment hydration percentages from 50% to 125%
Overall hydration percentages from 65% to 78%
For each style of bread, I provide "in house" versions, highlighting the baking prowess of our own folk.  The reference links will take you to the original author's TFL write up, and to my Companion Blog Post with each formula.  Each formula presented is my interpretation of the bread.
One more thing: Don't let the shapes and sizes dictate how you wish to proceed.  Feel free to experiment with boules, batards (long and normal), baguettes, filones, ficelles, dinner rolls...
Semolina "Pain au Levain".  This Jeffrey Hamelman version has a 60/40 mix of semolina/bread flour, employs a 125% hydration bread flour levain, and carries an overall hydration of 67%.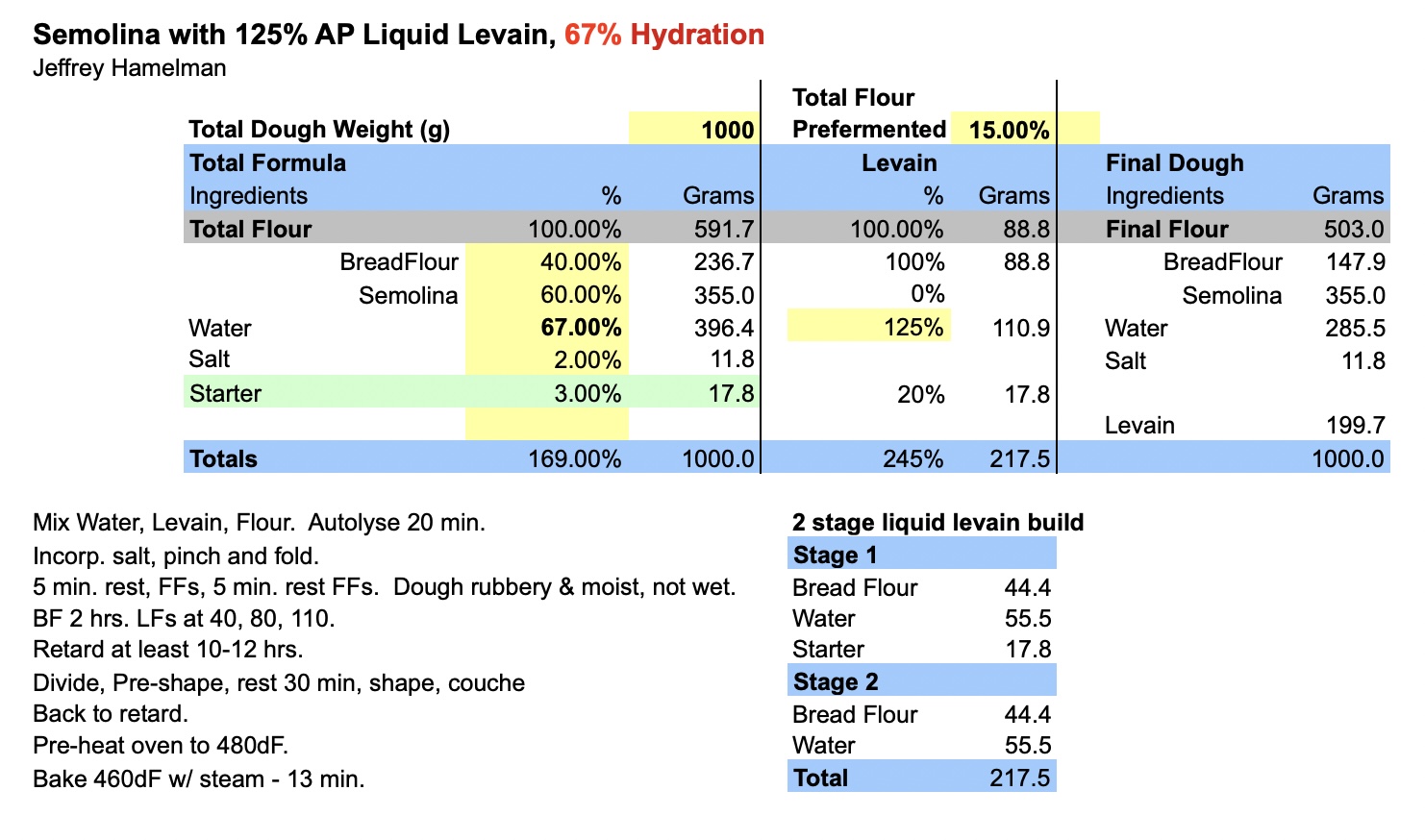 1) One of TFL's resident Kiwis, leslieruf offers her version.
2)
My own take
 for one of my go-to breads,
on this marvelous winning delight.
Tom Cat Semolina Filone.  Maggie Glezer's version of this on again/off again occasional TFL favorite will challenge you due to its very high hydration.  I found this bread difficult to wrangle, but it makes some of the finest toast I've ever had.  55.5/45.5 semolina/bread flour, 130% hydration Poolish, 89% overall hydration.  
NOTE: Due to a misunderstanding of American English/Transcription error, the original Tom Cat formula that previously was posted below carried an absurdly high overall 89% hydration.  Thanks to an email conversation with Abe, it was determined that the Poolish was incorrectly stated.  The corrected version is now in its place, with an Poolish hydration of 90% and an overall hydration of 75%.  The 45/55 % or AP/Semolina still remains.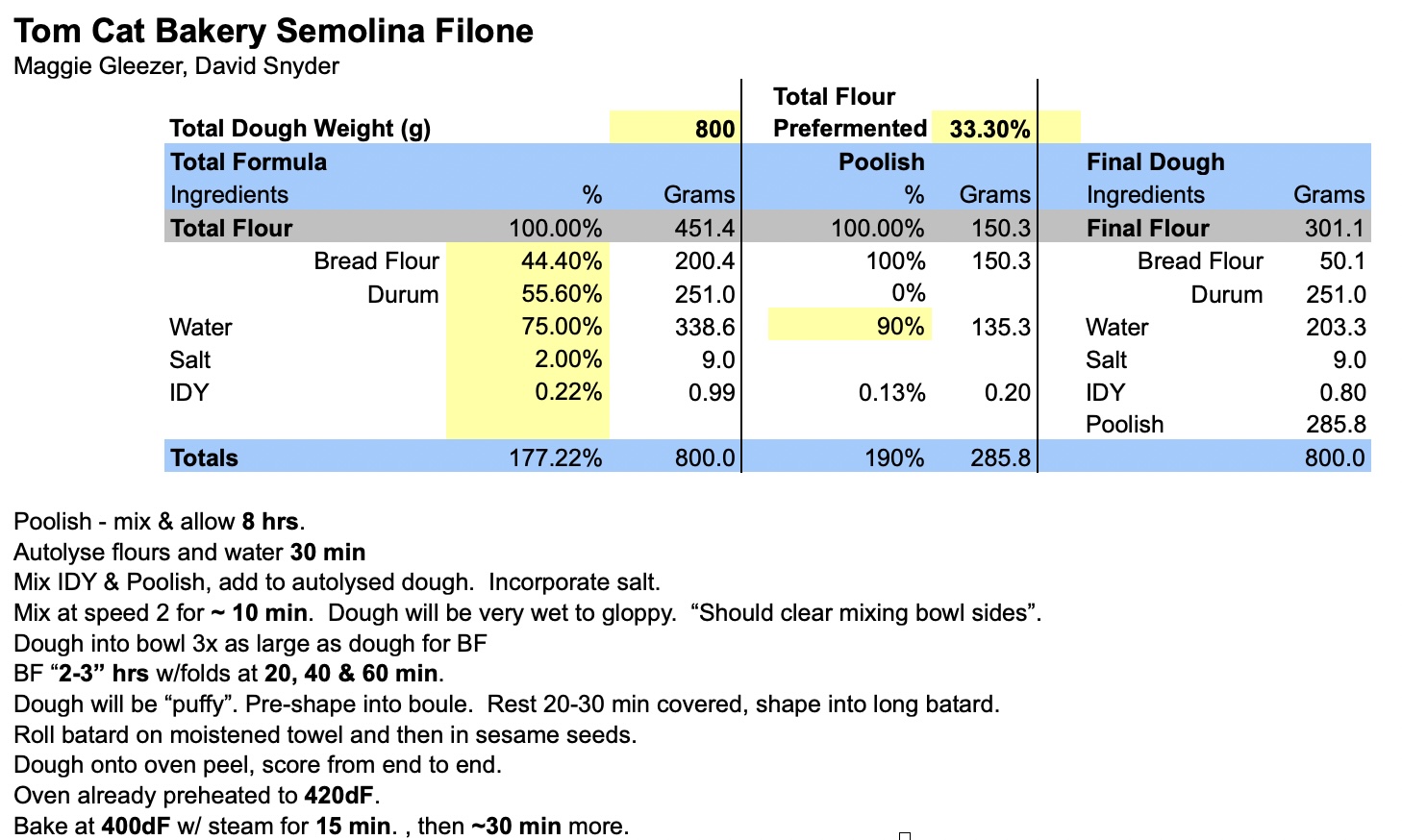 1) semolina_man baked a delightful version of this bread.  
2) As does dmsnyder, David's interpretation.
Pane di Altamura/Matera. These two neighboring towns, in the heel region of the Italian peninsula, produce rather uniquely shaped (or mis-shapen) breads.  
Altamura is 100% semolina including a 66% hydration biga, with a relatively low overall hydration of 65%.  
Matera is also 100% semolina including a 50% hydration levain / lievito madre with a 66% overall hydration.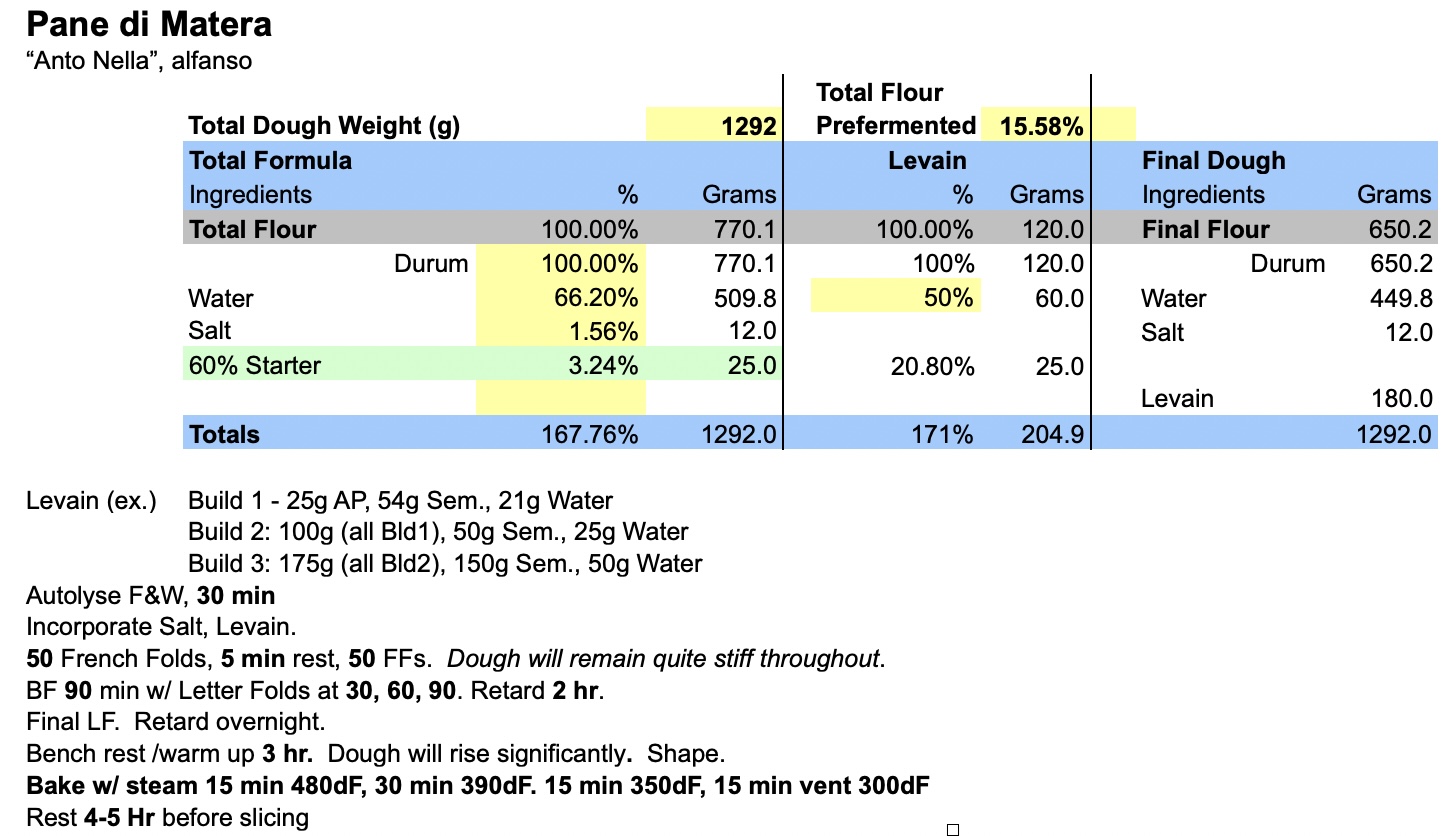 EDIT.  Build 3 above should read 150g Sem., 75g Water.
1) Our own breadforfun's Brad did a field trip to Altamura several years ago, and reports on his experience and bake.  

2) Baker 
anonymous
, better known as Abe, offers us
his version
. 
The fine print...
As always, the CB occupies a corner of TFL.  Created as a collaborative effort, both to enhance one's skills as well as to help others with their skills.  By no means are the formulae provided meant to be the be-all-and-end-all of the CB.  Rather, they are a framework of distinct ways to achieve a bread that meets the general criteria.  I encourage you to experiment and explore, to modify and to introduce to our CB participants your own experiences and versions.  And most of all, to learn and help all of us to better ourselves as bakers.  I also encourage you to find something you like, change one or many things about it and to make it your own!
 And as our Community Bake founder Dan said:
All bakers of every skill level are invited to participate. Novice bakers are especially welcomed and plenty of assistance will be available for the asking. The Community Bakes are non-competitive events that are designed around the idea of sharing kitchens with like minded bakers around the world, "cyber style". To participate, simply photograph and document your bakes. You are free to use any formula and process you wish. Commercial Yeast, sourdough, or a combination of both are completely acceptable. Once the participants get active, many bakers will post their formulas and methods. There will be many variations to choose from.
Here is a list of our past CBs. 
They remain active and are monitored by numerous users that are ready, willing, and able to help if assistance is needed. A quick browse of past CBs will provide an accurate picture of what these events are all about.
******************************************************************************************
Since many of the CBs grow quite large, it can become difficult to follow the progress of each individual baker. Things get very spread out. In an attempt to alleviate congestion and consolidate individual baker's bread post, the following is suggested.
Links to baker's BLOGs that have posted a compiled list of bakes for this CB
here
.