November 21, 2016 - 12:24pm
Hamelman Semolina Levain, Alfanso Style
Last week I tried my hand at the Hamelman Semolina Levain bread with 125% bread flour liquid levain.  With semolina coarse grain #1 used instead of the powdery durum, for experimentation.  And it worked out, mostly just fine.  But the flavor just wasn't grabbing me.  Hence take 2 here has a few changes, while keeping everything else the same.  
I substituted out the bread flour in the levain and used rye flour.  Also went back to using the durum rimaccinata flour.  For a final change from last week I dumped my raw sesame seeds and used toasted seeds instead.  And I think the whole process went along just dandy.  Once again the oven spring blew past a few of my score lines, but in the realm of heartaches, it sits pretty low on the disappointment scale.  Still too recent out of the oven to break into.  But I think that the flavor will be heartier than before with the addition of the 15% rye.
365x3 baguettes, 650x1 batard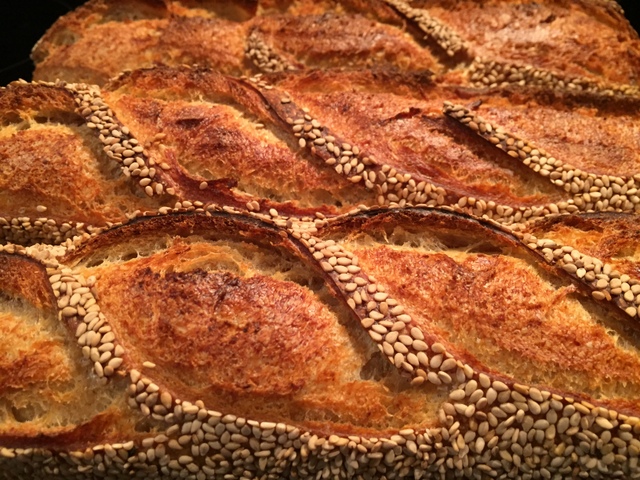 Crumb shot of the batard added.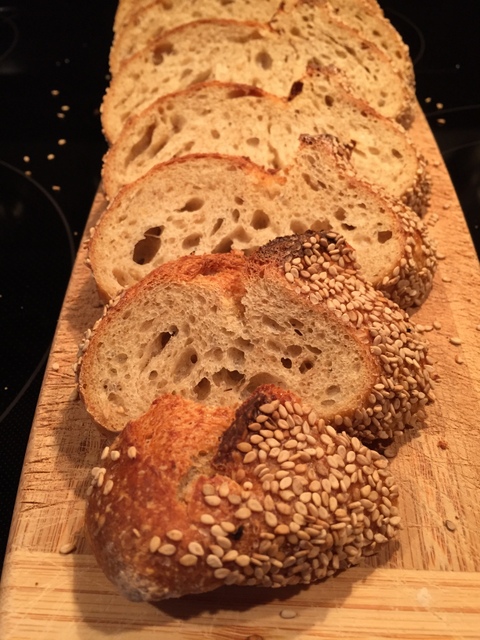 Ciao bambini, alan