November 22, 2010 - 8:02pm
Whole-wheat chorizo pesto pizza - somewhat healthy pizza option?
I can't recall I ever had whole-wheat pizza.  It sounds rather un-Italian but I want to experiment a little and see how the whole-wheat pizza would turn out. It would be great if it works so that we can, at least, claim that it's wholegrain pizza and somewhat a healthy choice, even though it is fully loaded with cheeses, chorizo, and etc, lol.

I used pizza base recipe from Peter Reinhart's The Bread Baker Apprentice and replaced 70% of bread flour with whole wheat flour. 

Instead of tomato sauce, I spread the pizza base with basil pesto (I got three big jars from CostCo that will last for so many pizzas and pastas) and topped it with mozzarella cheese, onion and chorizo (spicy Spanish sausage). The cooked pizza then topped with baby rocket leaves (arugula). Chorizo is something I love to cook with. It has such an intense well-rounded flavour that complements any dishes really well.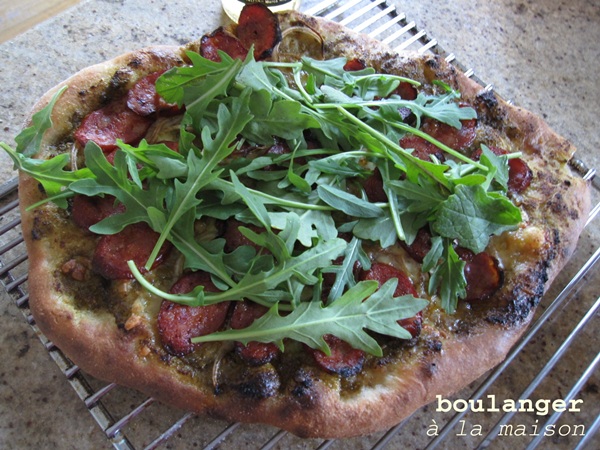 The whole wheat pizza crust works quite well. It is not as moist and soft as the one made with white flour. The crumb is also not as open but it is tasty nonetheless. I also feel that the whole-wheat base is crispier than the white flour base.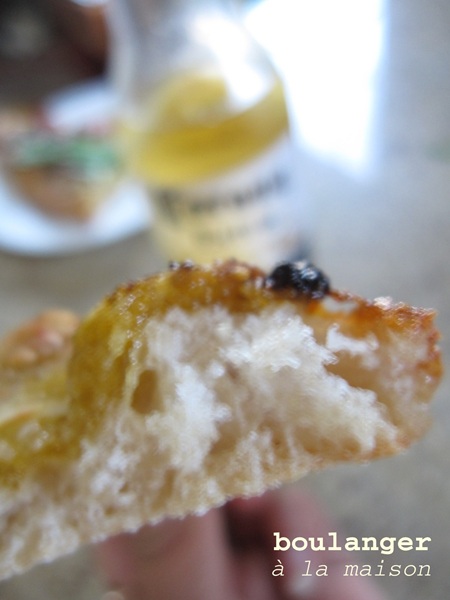 For more details and recipes, you can visit the blog =>   http://youcandoitathome.blogspot.com/2010/11/chorizo-pesto-pizza-with-whole-wheat.html
Sue