Bourke Street Bakery's Spiced Fruit Sourdough - love it, love it, love it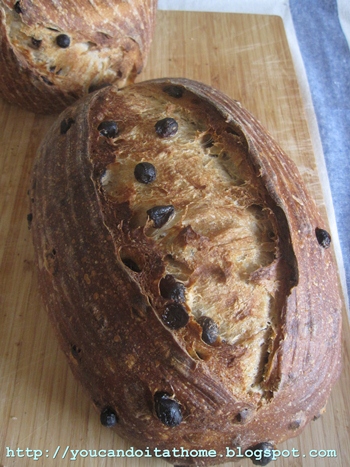 Generally, I don't make fruit breads often. Not that I don't like them. I just have the tendency to bake more seeds and grains breads. I have two big bags of golden raisins and dried cranberry (about 1.5 kg each) from CostCo sitting and taking room in the pantry that I so wanted to use them up. Hence, there have been and will be more fruit bread baking in the coming months.
This recipe came from Bourke Street Bakery cookbook from which I have been baking more lately. Their recipes produce wonderful baked goods and those photos were so mouth-watering to look at. I tweaked the recipe a little to suit my taste and preferences, e.g. replacing 10% bread flour with whole wheat, increasing the amount of water (hydration), using only golden raisins instead of mixture of golden raisins and currants. I also reduced the amount of raisins and didn't soak them as suggested by the recipe.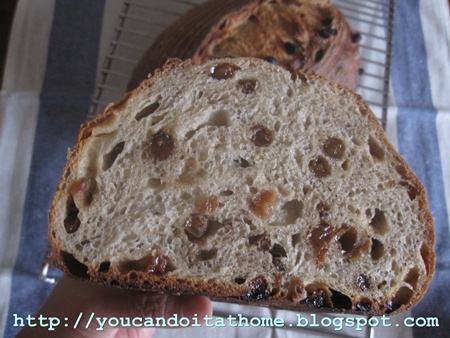 This is one of the tastiest sourdough fruit bread I've made so far. There could be few factors contributing to the great flavour; cinnamon and mixed spices, high percentage of golden raisins and sourdough starter (I started to think that having an overall high ratio of starter improves the flavour). Comparing this recipe to Jeffrey Hamelman's golden raisin sourdough, we liked this better. Spices and more golden raisins added wonderful flavours to the bread. We totally love it.
Full post and recipe can be found here, http://youcandoitathome.blogspot.com/2011/06/bourke-street-bakerys-spiced-fruit.html.
Sue