Tartine's Morning Bun - best eaten fresh in the morning, every morning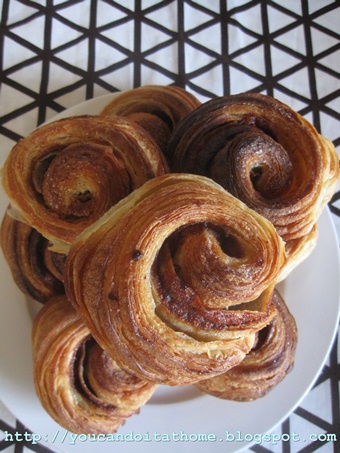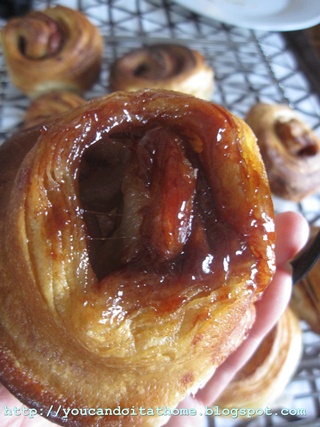 I came across the famous Tartine Morning Buns when I was searching for croissant images of Tartine Bakery (as I was on my mission to perfect the croissant making, I figured I should look up to the best:))
The buns received rave reviews on the blogosphere and I was curious to find out myself how good they are. I just bought Tartine cookbook (the pastry version) recently and look forwards to Morning Bun recipe. However, the recipe wasn't included in the book.  I managed to locate the recipe online on 7x7 website. The bun is an indulgence version of cinnamon rolls and made with laminated (croissant) dough. That's perfect, another recipe I can try to keep practicing on croissants.  The rolls are filled with the mixture of brown sugar, cinnamon and orange zest. Doesn't that sound like a recipe for success, buttery flaky pastry filled with orange cinnamon sugar? Indeed, it was the success. It tasted soooo good, pure heaven.
 The rolls were baked in muffin tin coated with butter and sugar, which gave it sticky caramelised bottom. A nice touch to the buns.
 Though I enjoyed the bun made with croissant dough, I had the feeling that sweet bread dough should have been used in the recipe instead of laminated dough. A close look at the actual Tartine's Morning Buns gave me that impression. The bun didn't have layers of pastry. It was simply a bread bun. Moreover, baking laminated dough in muffin tins somehow limited its ability to expand. As a result, the pastry didn't achieve its full flakiness potential and became slightly doughy, especially the parts that were sitting inside the muffin cup. If I am to make these Morning Buns again (which I'm sure I will), I will make them with sweet bread dough or brioche dough instead.
 Full post and recipe is here (http://youcandoitathome.blogspot.com/2011/05/tartines-morning-buns-best-eaten-in.html).
 Sue