Multigrain Pan Bread - the new favorite bread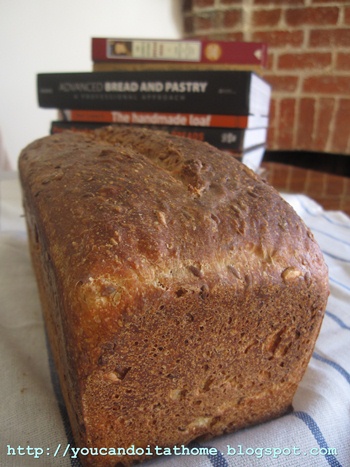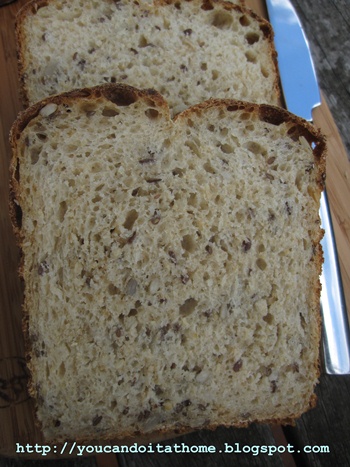 After last week's super crusty bread, we decided to give our jaw a break with pan bread this week. Don't get me wrong. I love crusty artisan bread but from time to time, you can't help craving softer pan bread.
I've got Advance Bread and Pastry book for a while now but haven't made many breads out of it (got a really bad habit of cookbook addiction, but not enough time to use them). Flipping through the book, I cam across Multigrain Pan Bread. Instantly, I was attractd to it for two reasons, multigrain and pan bread. I love multigrain bread for its flavour and texture (and health benefits). The recipe also has interesting technique and flour mixture.
The recipe employs both pre-ferment (with yeast) and stiff sourdough starter to enhance the flavour. The recipe calls for 5 different flours; wheat flour, whole wheat flour, rye flour, semolina flour and rice flour. I ended up made it to 6, by including soy flour as well. 
The grain mixture is typical, which include sunflower seeds, oats, flaxseeds and sesame seeds (which I replaced them with cooked rice). This bread tasted amazing. It was naturally sweet. It had no sugar, and little amount of honey. I believe the wonderful flavour was resulted from several factors; pre-ferment & SD starter, grains and seeds, the mixture of flour and its flavour profile?. I'm actually not sure how the different types of flour would contribute to the great flavour (I'm planing to bake plain bread with this flour combination and to find out).
I can't help comparing this bread to PR's Multigrain Extraordinaire, which was my favorite multigrain sandwich bread. ABAP's tastes equally nice, if not nicer, but has no sugar, less honey and no butter (got veg oil though). I think I've found my new favourite multigrain bread:)
Full post and more photos are here. 
Sue