7-type Mixed Flour Sourdough - all flours from the pantry except Tipo 00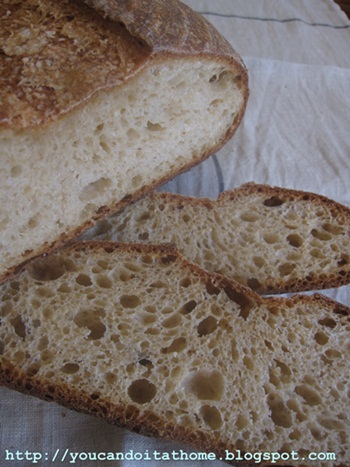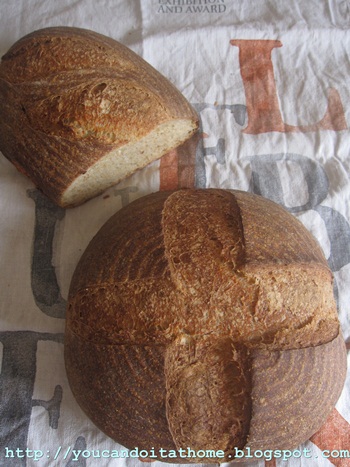 Follow up on my previous post; multigrain pan bread made with 6 different types of flour, I wanted to find out the true flavour profile of mixed flour alone without the distraction of seeds and grains. This week's bake was the result of that curiosity. The multigrain pan bread was really flavoursome, which I think was a result of tasty grains and seed mixtures. I also like to think that the flour mixture contributed to the bread's exceptional taste as well. So, I set out to bake with just the same flour combination to find out.
I also upped the flour mixture to seven, by adding corn meal into the mix. That's all flour types in my pantry. Actually, there was one type of flour that got missed out, Italian Tipo 00 flour! Never mind, next time.  Seven different flour types in the recipe were bread flour (64%), whole wheat flour (15%), rye flour (5%), durum flour (5%), corn meal (polenta flour) (5%), rice flour (3%) and soy flour (3%). I also included toasted wheat germs (can't help myself with my favourite) at 2.5% in the recipe.
The bread was lovely, chewy and flavoursome, with pronounced acidity (from mixed flour starter). However, I still couldn't tell the flavour difference of this 7-type mixed flour bread from all-wheat sourdough. I made sourdough with 20% polenta flour (corn meal) before and the flavour was changed noticeably with natural sweetness and creaminess from the corn. One noticeable difference was crumb colour. It had lovely yellow tone, possibly from soy flour and corn meal.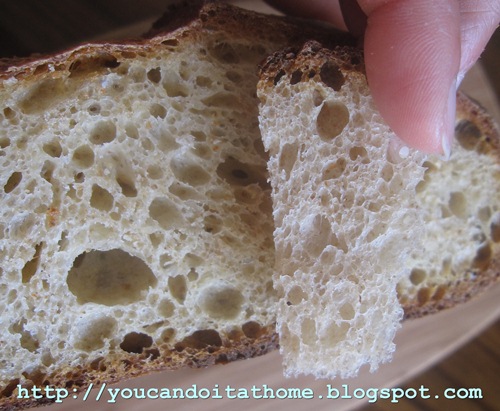 crumb comparison with Vermont Sourdough
If you're curious to find out about the mixed flour yourself, full post and recipe can be found here.
Sue