Krantz (yeast) Cake with peanut praline and chocolate filling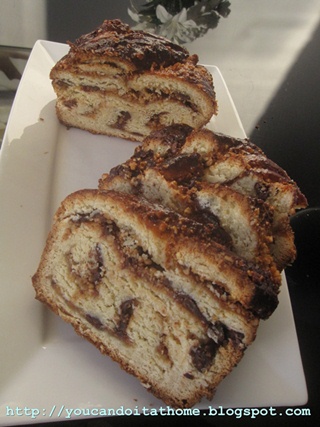 I found this recipe in Dan Lepard's Exceptional Cake cookbook. Given that it was book about cake, I didn't expect to see baked goods with yeast in there, especially not for the dish called Krantz Cake.
Apparently (quoting Dan Lepard) yeast cake is a feature of German baking. I was curious to find out how yeast leavened cake would be     different from baking powder or soda.
I expected the cake to have texture of soft bread, like brioche, something soft but still feel like bread. It actually turned out to be quite cakey soft, which I think resulted from the mixture of butter, egg yolks, cream cheese and sour cream in the dough. However, it wasn't as crumbly and fluffy as the typical cake. It still got some chewy texture in it which was rather nice. 
The recipe called for walnut, sugar and chocolate for bread filling. I replaced ground walnut and sugar with crushed peanut praline I made some weeks ago. The crushed peanut praline went well with the recipe. It gave caramelised crust and lovly flavour. The cake shape is similar to babka (cut-side-up plaited bread). 
Full post, more photos and recipe can be found here. 
Sue
http://youcandoitathome.blogspot.com