Second try at Hamelman's Baguettes with Poolish and first time bake of Rustic Bread
I apologise already..I don't really seem to be able to create such nice and well thought out entries as some of the fellow bakers here. They always end up having to be wedged into my life and suffer from such rough treatment.
So, here are pictures from my second try at the baguettes. I feel they were slightly more succesful than the first ones but still just so far from GOOD....they tasted nice, but they also just haven't tasted the way I remember baguettes tasting in Paris.
I shaped and retarded them overnight......I let them rise a bit more in the morning and then onto a pre-heated baking stone they went, for just a bit longer than Hamelman calls for.It is weird but I feel like I seem more comfortable with higher hydration doughs......the baguette dough and the rustic bread dough feel more unfamiliar in my hands that for example the miche doughs I have tried. I don't know why that may be...rye doughs are pretty moist but otherwise nothing like wheat.
Anyways, pictures here......if anybody has any constructive criticism please share!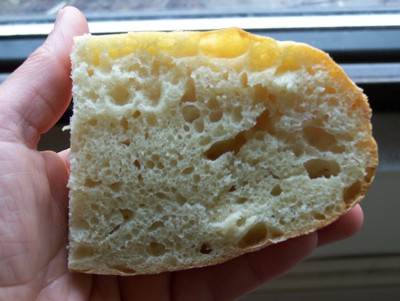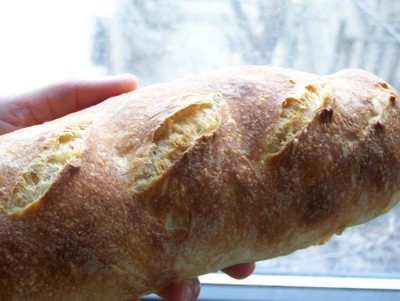 Then the Rustic Bread! The taste is amazing-it is so deep and juicy from that little bit of whole wheat and rye flour. This bread I retarded in bulk and then folded, shaped and let proof for about another 1.5 hours. The shaping seemed to me to be very tight-scoring was a disatser for some reason. I just don't seem to be able to get an even, deep cut.......that led to a blowout on the top or possibly I did not let it proof enough once it came out of the fridge.
There are two crumb shots-one from the very side of the bread and one from the middle of the loaf...you can see the difference. I obviously have tons of room for improvement on this one,too, but I do have to reiterate that the taste was surprising in its nuttiness and epth. Very enjoyable!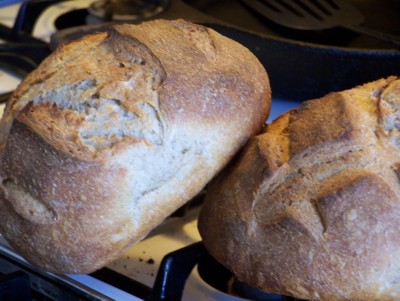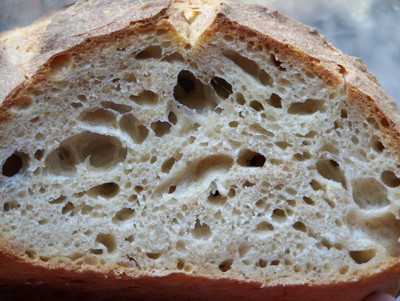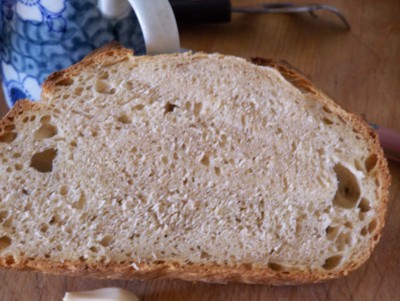 Any comments greatly appreciated!
Am now working on the Horst Bandel Pumpernickel and very excited about it!
Christina