90% Rye Sourdough from "Bread" by Hamelman
Ok, here I go again. I did try to take a few more pictures-semi succesfully.
Info about the actual bake and ingredients:
-I used Arrowhead Mills Organic whole rye flour and KA Bread Flour;no medium rye flour at all
-the freshening was done using my "old bread" rye starter-freshened with old bread,too
-I did not add the optional yeast
- the freshening fermented in my oven with pilot light on for 6 hours;basic sour on countertop for 24 hours(i figure the temp was around 68-70 degrees); full sour ripened for 3 hours in pilot lit oven
-bulk fermentation about 20 minutes; final fermentation about an hour, shaped into two loaves, fermenting on parchment paper
-painted the loaves with water, docked them and put them in the pre-heated oven on a baking stone with steam for 10 minutes at 490 and then 50 minutes at 410. i let them sit in the turned off oven for about 10 minutes.
-they rested for 36 hours before I cut into them
The taste of this bread  transports me back to my childhood-it is just like the bread I grew up on! This is the first time I feel that my bread actually tastes sour-which to me is a good thing! I mean it is very yummy-moist crumb, nice chewy crust, just the right density.I am very, very happy! The major thing I would do differently next time is to let the final fermentation occur in a brotform or lined/floured bowl-it might help the dough from spreading too much.
this is the fermented basic sour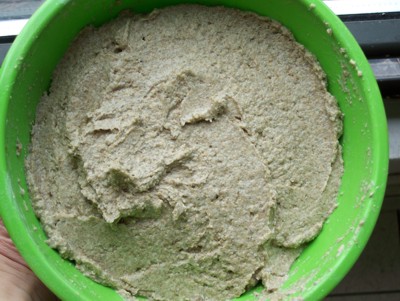 full sour at mixing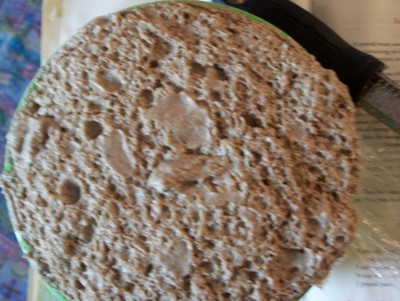 full sour after it was fully fermented-I had to stir it down once during fermentation  because it rose too much(others might say because I put it into a too small bowl.......a small distinction ;p)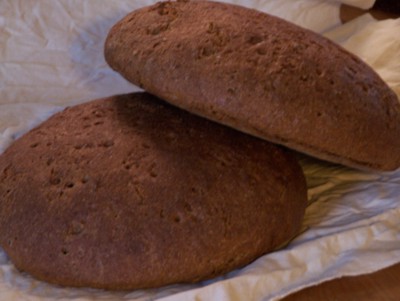 tadaaaaa, bread!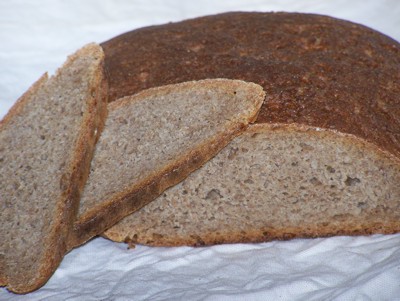 crumbiest, crumb shot