Catching up with blogging:"Bread" Vermont SD, Vermont SD with increased WG, SD 80%Rye with rye flour soaker variation
I have not been able to blog for a bit now, so a few bakes have lined up that I want to share.
#1 Vermont SD
I won't even go into details of this bake, because frankly NOTHING went according to schedule and therefore I couldn't possibly talk about what I did.Let it just suffice to say that I did the mixing of ingredients at 8am and the poor bread didn't get baked until about 8 or 9pm.....travelling in and out of the fridge all day (that's what happens when I think I can have a few toddlers over and go through the simple things like folding and shaping when needed-yeah, right!)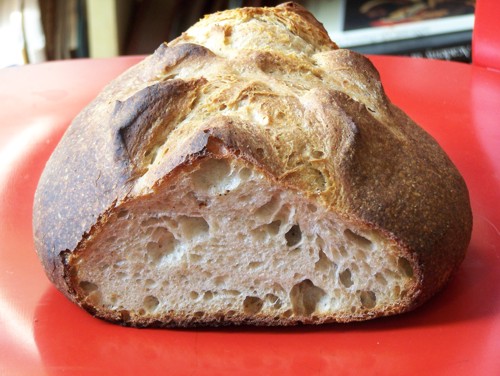 I only took a picture of one loaf-the other one actually was prettier but was devoured at a little girl's b-day party. This guy, for some reason would have benefitted from a tad more proofing, since one of the slashes blew out a tad.The flavor was great-it is amazing what that small amount of rye flour does!
#2 Vermont SD with increased Whole Grain
I went by the metric column and just used 1/10 of it..so that means my percentages were as stated in the Baker's percentage column. I really like the flavor of this bread,even yummier than the original Vermont SD
I had a bit of a shaping issue;as we munched our way through one of the loaves I noticed one big fat hole...........seems to me, momma's shaping can use a lot of practice! I used Bob's redmill organic flour and organic whole rye flour from Organic Wheat Products, MN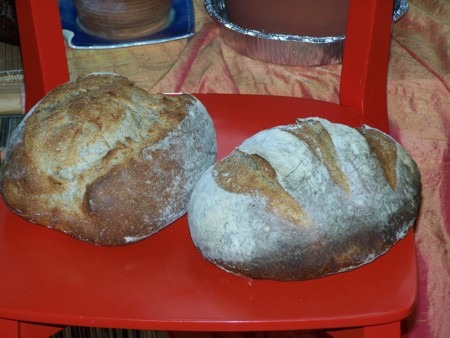 Both of them were proofed seams side down, but the one on the left got baked seam side up and I did not slash it.The one on the right actually showed some cracking of the crust-very exciting!
crumb shot of the unslashed loaf.
As you can see at the bottom left, I had some issues-the main one, I think, being that I somehow did not mix the salt in as well as needed and when I went to form the loaves in this loaf, there seemed to be small pockets of dense flour---really strange. I think the other loaf will be more uniform, but alas, it is taking a sojourn in the freezer.
#3 A variation of the 80% SD Rye with rye flour soaker
This bread I am super proud of! Since I had already made the three stage 90% rye I thought I would take some leeway with this bake and combine a few methods and add a dash of my own ideas-in pursuit of a childhood bread.
So, I built the SD according to the three stage method with the proportions set forth in the three stage 80% rye. I used 200g water and 200g Rye flour for the soaker, I subsituted sifted high gluten red hard whole wheat flour for the bread flour and I added 70g of ground Sunflower seeds. I added the sunflower seeds because that used to be one of my most favorite breads we bought from the Hofpfisterei in Munich and when I went on their website it stated that the bread was a 90%Rye10% wheat bread with ground up sunflower seeds.I ground them in my coffee grinder.
I added the optional yeast, since I figured the bread could stand the extra aeration with the whole wheat flour and sunflower seeds present. I almost want to say this is THE yummiest rye I have made so far-but let me be reasonable and say it is one of the most delicious ryes. It is nice and moist, can be cut very thinly, it had great ovenspring and the taste is very complex-it almost tastes as if some spices were in it-maybe a hint of caraway.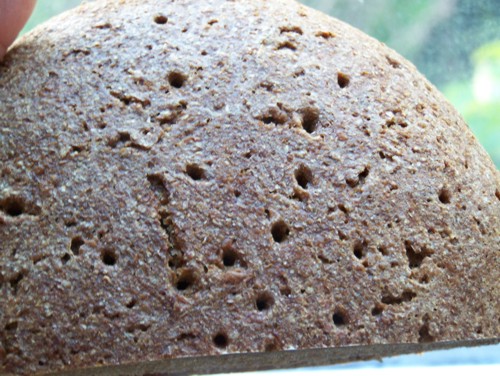 Ok and now off to work..............
Happy Sunday to all of you!
Christina