Where did all the bread go? An attempt at blogging about recent bakes from "Bread".....................
So, life has taken me on a charming and busy ride-no blogging time and I am therefore way behind on posting about my recent bakes. Not that there is anything to be missed since some of them did no turn out(and it seems I might not even have taken a picture of one of the breads,oh well).
Bread#1:
Irish Soda Bread
This bread was delicious! And I can barely remember what I did......I could not find white pastry flour for some reason, so I believe I substituted it with AP flour...also couldn't find wheat flakes, used oat flakes instead and 365 whole wheat pastry flour.Made my own buttermilk.The bread is a scandalous yellow color......I assume that is the whole wheat pastry flour. The color itself was stunning.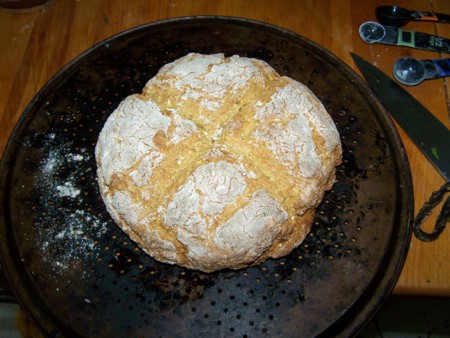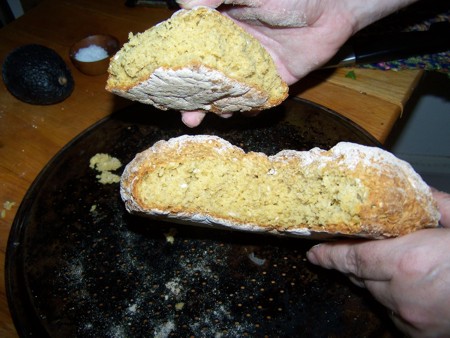 Then there are the two breads,that were disasters-or almost disasters, depending on your taste/texture preference. I am not even sure I took a picture of both and I couldn't possibly tell you what the pictures are that I do have.Helpful,isn't it?
Anyways, I think the reason my attempt at Whole Wheat Levain and Pain au Levain with Whole wheat were such bears, was that I used KA Organic Bread Flour and both breads ended up being very chewy....Bagel like in consitency.Why did I use KA Bread flour? Because I am constantly searching for a good organic flour and I hadn't tried that one yet.....well, I might just go back permanently to regular KA AP-for some reason my WHoel Foods does not carry the organic variety.
Anyways, here are pictures-I think the first one is the WHole Wheat Levain and the second two are the Pain au Levain....but I honestly have no clue!As far as I know they might all be the same bread..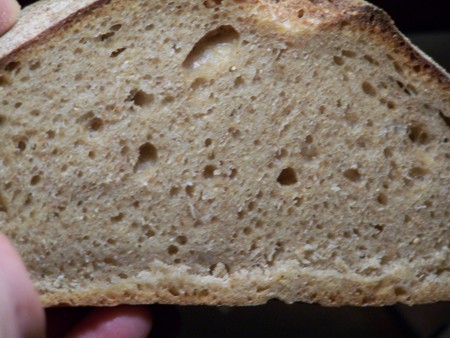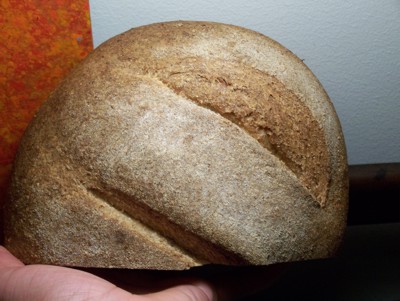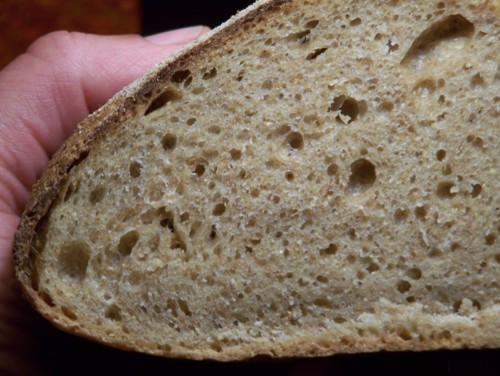 Lastly there is the 70% Rye with Rye Soaker and Whole Wheat
That loaf turned out great-love the nutty flavor,the slight chewiness the rye chops give..yummy all around! I baked it in a cast iron casserole-I think I should have just used a smaller casserole so that the bread would have had a thicker profile.Well, next time...............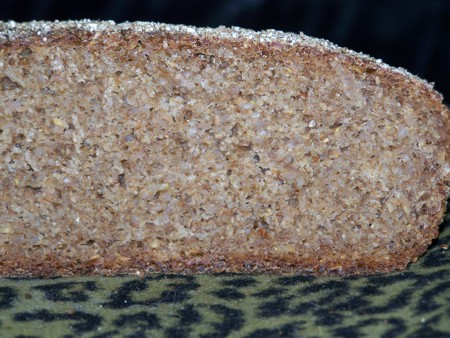 That's all-hopefully in the future I can be a bit more on top of this posting thing!
Happy weekend and a happy father's day to the papas out there!
Christina