Hamelman's Roasted Potato Bread with Onions
This bread seemed really easy to make and it has an excellent flavor! After quizzing my family and friends they all voted for the version with onions, so that's what I made. Not having made or eaten potato bread before,I had no idea what to expect and the only thing that surprised me was how relatively soft the crust turned out to be-it was nice and crunchy when coming out of the oven, but softened upon cooling.I assume that is because it is relatively moist,with the potatoes,onions and oil. I really enjoy the effect that the olive oil has on the flavor-it makes it fruity,rich and creamy!
I left the skin on my one, huge potato and just chopped it fine-that means there are very small pieces of potato still visible in the bread and the skins gives it a nice marbled effect.
The one thing that did not work out that well-or let's say it only worked well on one loaf-was the fendu shaping.And it was entirely my fault-on the succesfully fendu shaped loaf I really used a lot of flour,which I then had to knock off before folding and final proofing.Which made me think,oh I won't use as much flour on the next one, just a little bit..lo and behold, it just didn't turn out that well-it didn't open up as nicely and the rolling pin stuck just a tad when I tried to get it out.Live and learn.
Here are pictures: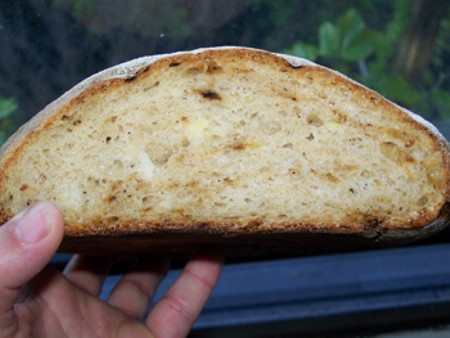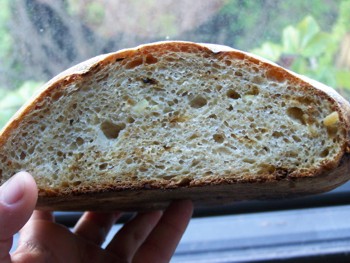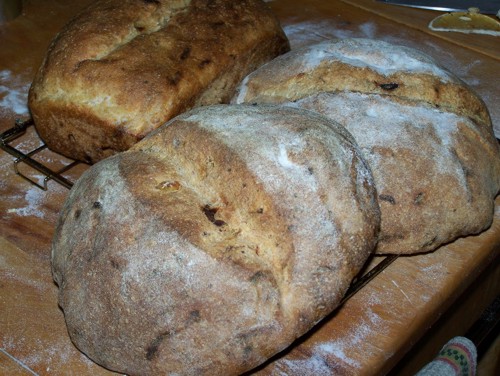 So far this challenge has been a lot of fun-I would have never made the potato bread otherwise! It is a lovely bread that I will definitely make again.
Christina