Community Bake - where's your epicenter of comfort?
What is your go-to bread/s within your own comfort zone?
(I placed into steerage the earlier suggested CB that I hinted at a few weeks ago.  Surely to be resurrected.)
TFL Community Bakes are the result of CB founder Dan.  Of his own creation and nurturing, to interest and help others, and in turn be helped, as we all strive to improve our baking skills and widen our baking horizons.  Kudos to him for this lasting gift to us all. 
As a bookend to our previous No Comfort Zone CB, let's try this.  What is your go-to bread when you seek the comfort of a pure favorite and why?  
Where is your "home"?  Which bread or breads do you find yourself returning to time and again because it is closest to your heart and to your stomach?  And where do you turn for comfort when you want to get back to your own Ground Zero?   When you just want to bake the old favorite rather than be challenged by the new, difficult or different.
 Is it something that kickstarted your successful baking experience?  Or which you evolved into and finally felt that level success and taste. Simple?  Complex? Who was the inspiration, and why this one, or two, or three? 
As with you I have my own go-to set of breads which I am addicted to and when I want to get back to Square One, that is where I go.
When you post your bake, please mention what there is about your choice/choices, and Why this is the epicenter of your Comfort Zone.  
Well, I have three.  I've posted my own comfort zone bakes and pasted them across TFL for the past few years.  And as these three stand as equals on my personal Olympic Medals Platform, I'll just mention them by name & link here.  As you likely know, my strong preference is to shape these as short baguettes (long batards according to M. Calvel).  What I find equally appealing to these is that they are all simple levain breads with little to nothing out of the ordinary required.  Long cold retards whereby I get to control the timing and convenience of it all.  I like simple, time controlled by me.  And tasty!  
Jeffrey Hamelman Vermont SD (90/10 AP/Rye).  A simple and incredibly easy and satisfying bread.  For an almost all white flour bread, it has everything I want in a bread and nothing I don't.  For so many folks, I believe it is also a favorite, one which I resisted baking for far too long as I swam against the current of the Hamelman camp.
My "own" AP Levain Rye, (75/25 AP/Rye).  I grew up in the urban Bronx, N.Y. where there seemed to be a luncheonette, a delicatessen, a butcher and a bakery on every other shopping street corner.  And as a child, I didn't even have to cross the street to get to our closest bakery.  It was around the corner from our apartment building.  And there was no bread I liked more than the big rye loaf with caraway.  Always brought home already sliced in those mystical bread slicing machines, which I still have no idea how they actually work.  Even before I walked in our front door, a slice or two would be suspiciously missing from the loaf.
Jeffrey Hamelman Sesame Semolina (60/40 Semola Rimacinata/AP), which has evolved several iterations/bastardizations since I posted this 5 years ago.  I've always been a sucker for a good semolina based bread, especially when rolled in sesame seeds.  A good portion of my adult years had found me entering Italian bakeries and delicatessens and walking out with either a loaf for home or a cold-cut sandwich on sesame semolina hero/submarine/hoagie… bread. Here is a photo of me from the 1990s enjoying that go-to sandwich in Firenze (Florence) Italy.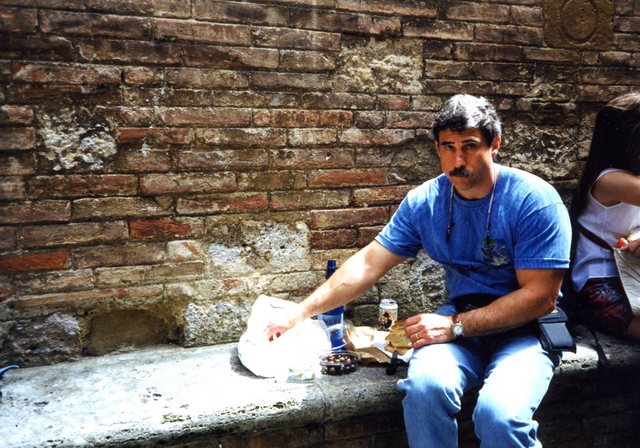 The fine print...
As always, the CB occupies a corner of TFL.  Created to be a collaborative effort, both to enhance one's skills as well as to help others with their skills.  By no means is any formula or link provided meant to be the be-all-and-end-all of the CB.  Rather, they are a framework of distinct ways to achieve a bread that meets the general criteria.  I encourage you to experiment and explore, to modify and to introduce to our CB participants your own experiences and versions.  And most of all, to learn and help all of us to better ourselves as bakers.  I also encourage you to find something you like, change one or many things about it and to make it your own!
 And as our Community Bake founder Dan said:
All bakers of every skill level are invited to participate. Novice bakers are especially welcomed and plenty of assistance will be available for the asking. The Community Bakes are non-competitive events that are designed around the idea of sharing kitchens with like minded bakers around the world, "cyber style". To participate, simply photograph and document your bakes. You are free to use any formula and process you wish. Commercial Yeast, sourdough, or a combination of both are completely acceptable. Once the participants get active, many bakers will likely post their formulas and methods. There will be many variations to choose from.
Here is a list of our past CBs. 
They remain active and are often monitored by numerous contributors that are ready, willing, and able to help if assistance is needed. A quick browse of past CBs will provide an accurate picture of what these events are all about.
**********************************************************************
Since many of the CBs grow quite large, it can become difficult to follow the progress of any individual baker. Things get very spread out. In an attempt to alleviate congestion and consolidate individual baker's bread posts, the following is suggested.

Links to baker's BLOGs that have posted a compiled list of bakes for this CB