September 12, 2009 - 6:32pm
Hansjoakim's Favorite 70% Sourdough Rye
Last week, hansjoakim's blog included a gorgeous rye bread that he referred to as his "favorite 70% rye." I asked him for his formula, and he generously provided it. I baked "hansjoakim's favorite 70% rye" today.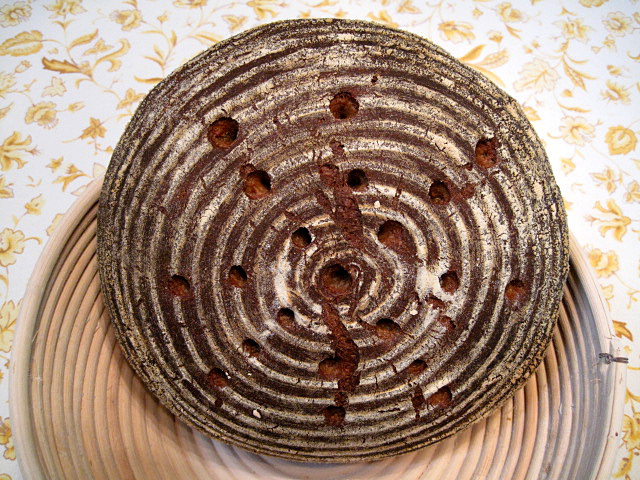 I grew up eating rye bread, but it was what is commonly called "Jewish Light Rye" or "Jewish Sour Rye." We just called it "rye bread." I had no exposure to breads made with whole rye flour or those made with a preponderance of rye flour. I was aware that there were countries where rye breads had a long history and an important place in the culture – Russia, Poland, Germany, Switzerland, Austria, and the Scandinavian countries. But I had no experience with these breads. It was only when I started baking rye bread myself and started reading bread baking books – notably Hamelman's "Bread" and Leader's "Local Breads" - that I began to appreciate the rich diversity of rye breads and the technical differences between making great mostly-wheat flour sourdoughs and great mostly-rye flour breads. I'm also just starting to get a sense of the cultural differences in taste that determine "what is great rye bread" to some one who grew up eating these rye breads.
So, being endlessly curious about culture and values, including the aesthetics of food, how could I not want to see what hansjoakim, a man with quite evident refined aesthetic sensibilities, judged to be his "favorite 70% rye?"
The following formula is that provided by hansjoakim. The procedures are also his but with additional details. Any errors introduced by my extrapolations are, obviously, mine.
| | | |
| --- | --- | --- |
| Total formula | Amount | Baker's percentage |
| Medium rye flour | 436 gms | 70 |
| All purpose flour | 187 gms | 30 |
| Water | 467 gms | 75 |
| Salt | 11 gms | 1.8 |
| | | |
| --- | --- | --- |
| Rye sour final build | Amount | Baker's percentage |
| Medium rye flour | 218 gms | 100 |
| Water | 218 gms | 100 |
| Ripe rye sour | 11 gms | 5 |
Final dough

Amount

Baker's percentage

Medium rye flour

218 gms

54

All purpose flour

187 gms

46

Water

249 gms

61.5

Salt

11 gms

2.7

Rye sour (all of the above)

447 gms

110

Note: 35% of the total flour is from the rye sour.
Procedures:
The day before baking, mix the final rye sour build. This should ferment at room temperature for 14-16 hours, so figure backwards from when you want to mix the the dough. For example, I wanted to mix the dough at around 2 pm today, so I mixed the final rye sour build at 8 pm yesterday evening. In fact, I started the process two days ago by activating my white rye sour by feeding it, fermenting it 8 hours and refrigerating it for a day.

I used a KitchenAid stand mixer, but these procedures could be done by "hand." Mix all the ingredients in the final dough in a large bowl. If using a stand mixer, mix for 3 minutes with the paddle at Speed 1. Switch to the dough hook and mix for 2-3 minutes more at Speed 2. The dough at this point is a thick paste with little strength (gluten development providing extensibility and elasticity). Optionally, after mixing, you can knead briefly on a floured board with well-floured hands.

Transfer the dough to an oiled bowl, cover it tightly, and ferment for 1 hour.

Transfer the dough to a floured board and pre-shape it into a single round. Cover with plasti-crap or a damp kitchen towel and rest for 5 minutes.

Shape the dough into a boule and transfer to a well-floured brotform or banneton.

Cover the boule with plasti-crap or a damp towel and proof for two hours. (My loaf was fully proofed in 1 hr and 45 min.)

One hour before baking, pre-heat the oven to 250C/480F with a baking stone and your steaming method of choice in place.

When ready to bake the bread, pre-steam the oven. Then transfer the boule to a peel. Score or dock it. (hansjoakim proofed his boule seam-side down and did not score or dock it, resulting in a lovely chaotic pattern of cracks on the loaf surface. I proofed my boule seam-side up and docked it using a bamboo chop stick.) Transfer the boule to the baking stone. Steam the oven.

After 10 minutes, remove your source of steam from the oven.

After 15 minutes, turn the oven down to 225C/440F.

Bake another 45 minutes. Monitor the loaf color, and, if it is darkening too quickly, turn the oven temperature down further. It would be well within the rye baking tradition to do this planfully in steps, ending up as low as 205C/400F for the last 10-15 minutes.

The loaf is done when the crust feels firm, it gives a "hollow sound" when the bottom is thumped and the internal temperature is 205F or greater.

When the loaf is done, turn off the oven, but leave the loaf in it with the door ajar for an additional 10 minutes.

Transfer the loaf to a cooling rack and cool thoroughly before slicing. It will be best to leave it 24 hours, loosely wrapped in linen, before slicing.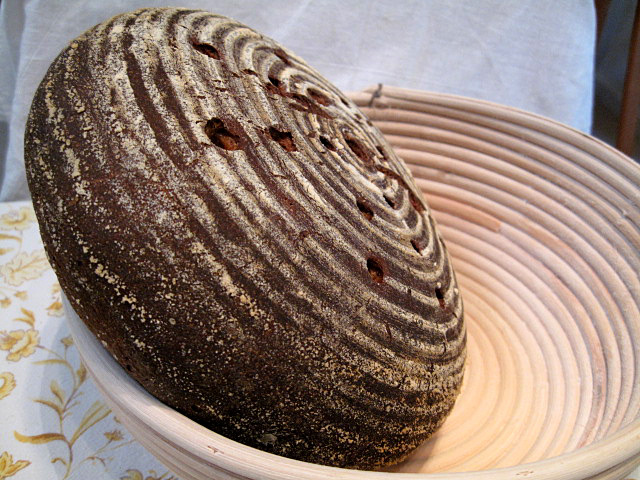 Comments:
I baked this loaf at 460f convection-bake for 15 minutes, then 440F bake for 30 minutes, then 400F bake for 10 minutes. I believe I should have turned down the temperature from 440F sooner.
I got less oven spring than hansjoakim. I believe this is due to over-proofing. In hindsight, I should have baked 15-30 minutes sooner. I suspect my kitchen environment was near 80F which accelerated the proofing.
The bread smells lovely while cooling – a characteristic, earthy rye aroma.
The profile of the cut loaf was better than I had expected, although I didn't get the oven spring hansjoakim did.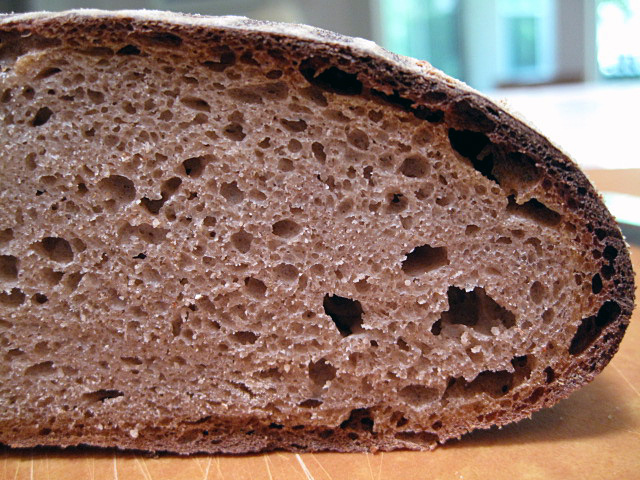 hansjoakim's Favorite 70% Rye crumb
The crust was substantial and crunchy-chewy. The crumb was tender. This bread is very similar to the Detmolder 70% Rye from Hamelman I made a few weeks ago. It has a very nice hearty rye flavor with a touch of sweetness and a touch of sour when tasted about 20 hours after baking. I expect the flavor to evolve over the next several days.
Because hansjoakim's procedures are so straightforward and the bread is quick to make, I would recommend it to anyone, but especially those wanting to make a high percentage rye bread but not ready to tackle the time and temperature rigors of the Detmolder 3-stage method.
This is a wonderful rye bread! Thanks, hansjoakim!
David