Beginning bakers - trouble w/high hydration doughs?
If you are new to SD baking and still having problems with high hydration and complicated doughs, don't get your knickers all in a knot.  Instead drop the hydration down and get a solid footing with lower hydration breads first.  Although these are baguettes, the dough can easily be adapted to batards or boules.  So...
Two easy formulas that I recommend for you to get that feeling of accomplishment and dough handling skills are:
Jeffrey Hamelman's Vermont SD at 65% hydration
and this lovely bread, Jeffrey Hamelman Pain au Levain with WW at 68% hydration.
Make these in whatever shape you wish and feel an instant accomplishment and surety as another step to moving up the hydration ladder.
Pain au Levain w / WW, 100% levain
 
 
 
 
 
 
 
alfanso
 
 
 
 
 
 
 
 
 
 
 
 
 
 
Total Flour
 
 
 
 
 
Total Dough Weight (g)
 
1250
 
Prefermented
15.50%
 
 
 
 
Total Formula
 
 
 
Levain 
 
 
Final Dough
 
 
Ingredients
%
Grams
 
%
Grams
 
Ingredients
Grams
 
Total Flour
100.00%
736.2
 
100.00%
114.1
 
Final Flour
622.1
 
Bread Flour
75.00%
552.1
 
100.0%
114.1
 
Bread Flour
438.0
 
Whole Wheat
20.00%
147.2
 
0.0%
 
 
Whole Wheat
147.2
 
Rye
5.00%
36.8
 
0.00%
0.0
 
Rye
36.8
 
Water
68.00%
500.6
 
100%
114.1
 
Water
386.5
 
Salt
1.80%
13.3
 
 
 
 
Salt
13.3
 
Starter
3.10%
22.8
 
20%
22.8
 
 
 
 
 
 
 
 
 
 
 
Levain
228.2
 
Totals
169.80%
1250.0
 
220%
251.0
 
 
1250.0
 
 
 
 
 
 
 
 
 
 
Autolyse levain, water,  flours for 30min.
 
 
2 stage liquid levain build
 
Add salt, mix.  Then 150 French Folds, 5 min. rest, 150 FFs.
 
Stage 1
 
 
 
 
Bulk Ferment 2.5 hrs., Letter Folds at 40, 80 Min.
 
 
Bread Flour
57.1
 
 
 
Divide, Pre-Shape, 20 min. rest, Shape.  Onto floured couche
 
Rye
0.0
 
 
 
Retard for 12-16 hrs.
 
 
 
Water
57.1
 
 
 
Oven to 480dF, 45-60 min.
 
 
 
Starter
22.8
 
 
 
remove from retard, onto oven peel, bake at 460dF. 
 
 
Stage 2
 
 
 
 
13 min w/steam, rotate loaves, 10-15 min. more.
 
 
Bread Flour
57.1
 
 
 
Vent oven for 3 min and remove to wire rack.
 
 
Rye
0.0
 
 
 
 
 
 
 
 
Water
57.1
 
 
 
 
 
 
 
 
Total
251.0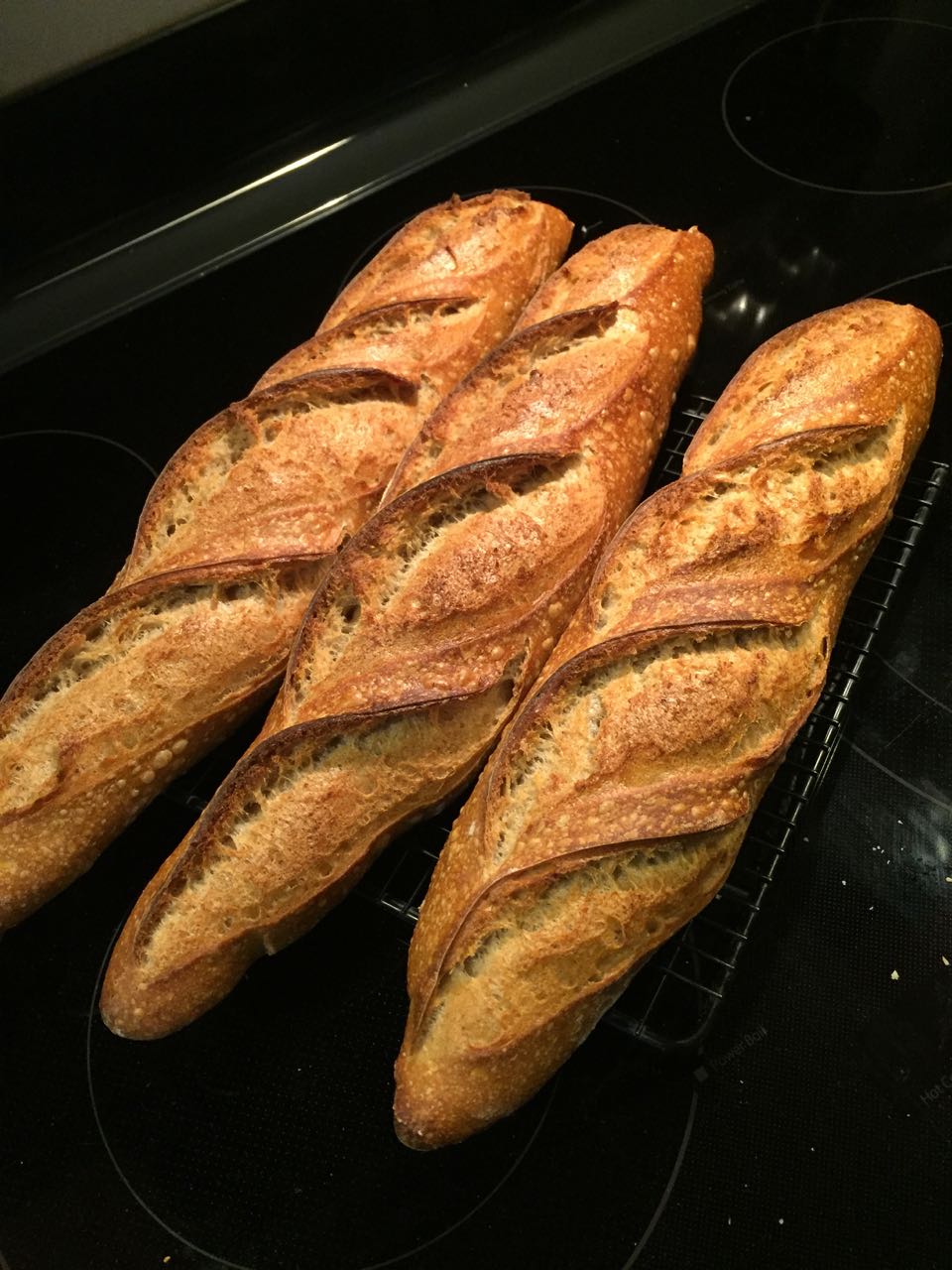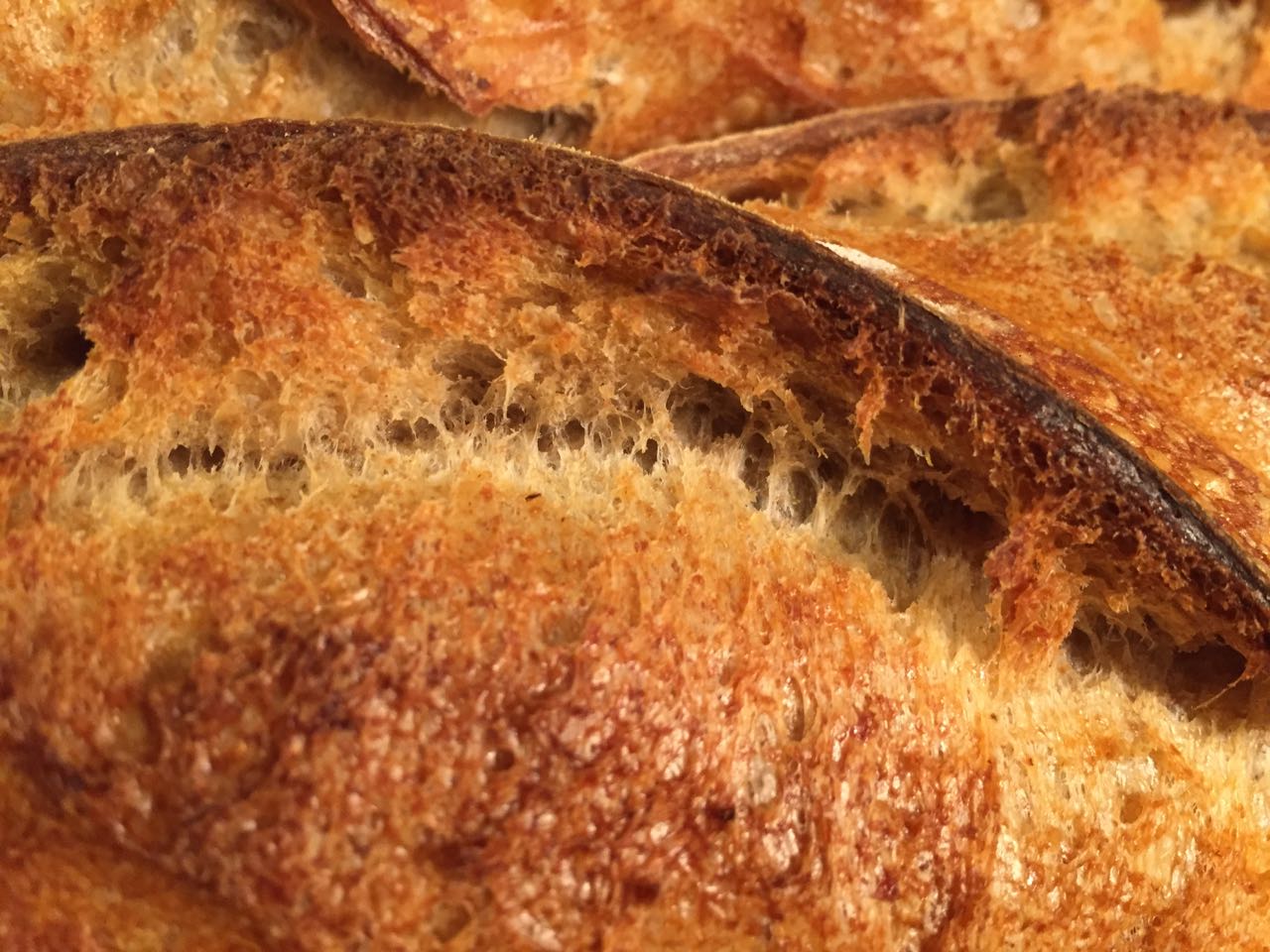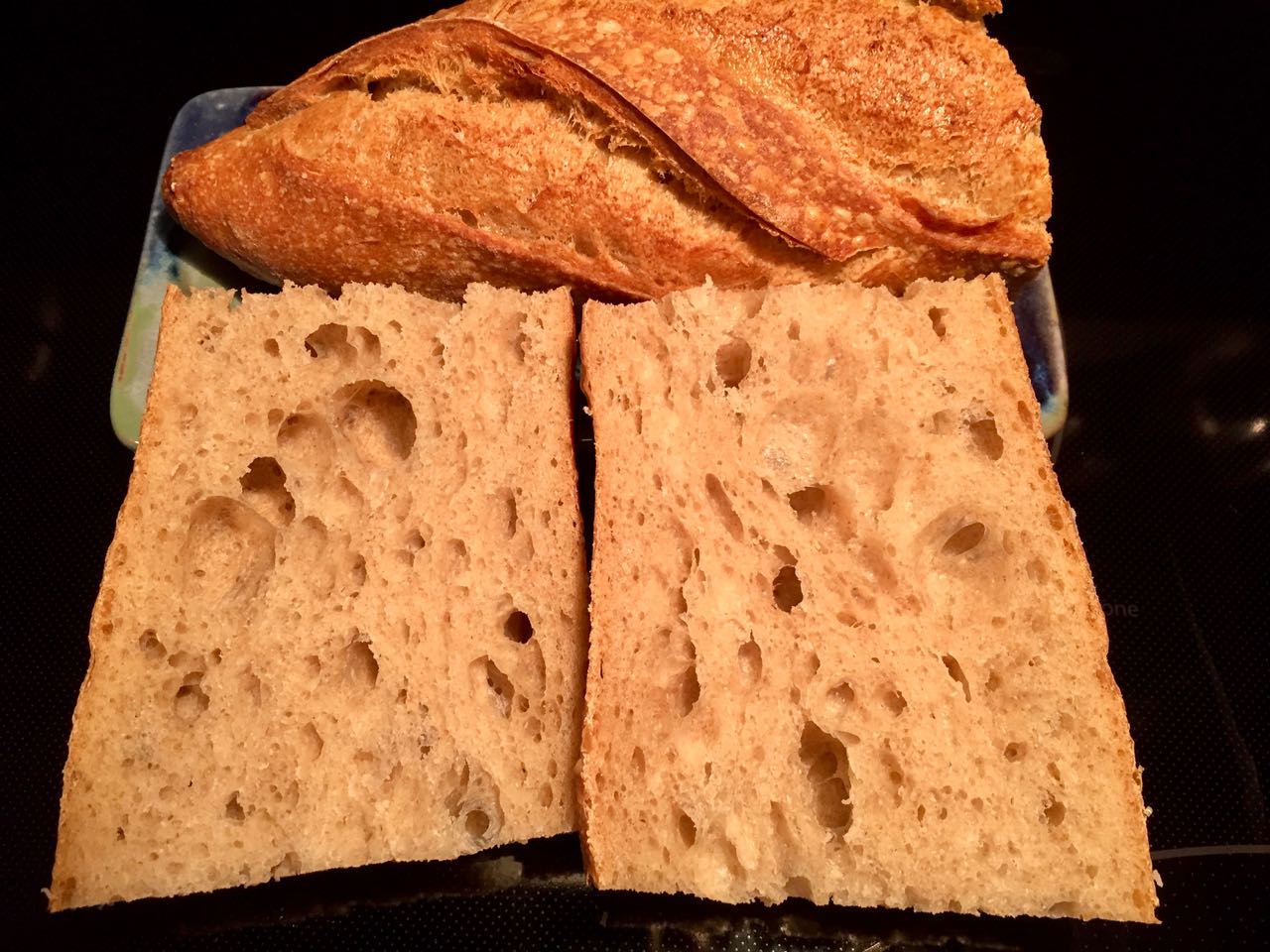 410g x 3 baguettes/long batards