SJSD reimagined as Rye w/caraway seeds
In the mood for a Jewish Deli style Rye with caraway seeds but not in the mood to build a rye sour.  What is a boy to do?  Well, I used the SJSD formula as my outline and changed around a few things, as I'm wont to do on more than an occasion.
I subbed out the SJSD liquid levain for an equal portion of 100% rye liquid levain and bumped up the total rye in the formula from 5% to 20%.  Dropping down an equal amount of AP flour while doing so.  I made a pretty big mix totaling ~1800g so that I could play around with 600g x 2 batards and 300g x 2 baguettes.  Following the trail blazed by the Jewish Deli Rye, the dough took a cornstarch glaze before baking and a second slathering upon completion. I couldn't help myself and had to, just had to, sprinkle a few additional caraway seeds on top as well.
Using French Folds, I found the dough to be a little sticky thanks to the rye, and didn't add the caraway seeds until the first set of Letter Folds.  All told, the dough had a 30 minute "autolyse" (w/levain mixed in), and 4 Letter Folds spaced 20 minutes apart in my 80dF kitchen.  Then whisked into the refrigerator for an overnight nap.  Divided, shaped, couched and returned to the refrigerator for another nap.  Perhaps 16 hours from start of mix to bake.  The bake was @480dF - 26 minutes for the baguettes and 30 minutes for the batards with a 2 minute venting.
The dough was quite accommodating during the divide and shaping, and even with the rye, came off the couche without incident, clean as a whistle.  As easy as pie to score.
Using a liquid levain of 190g the percentages in the dough worked out to:
AP flour - 75%
WW flour - 5%
Rye flour - 20%
Water - 73.5%
Salt - 2%
Caraway seeds - 2.3% (plus the sprinkling on top)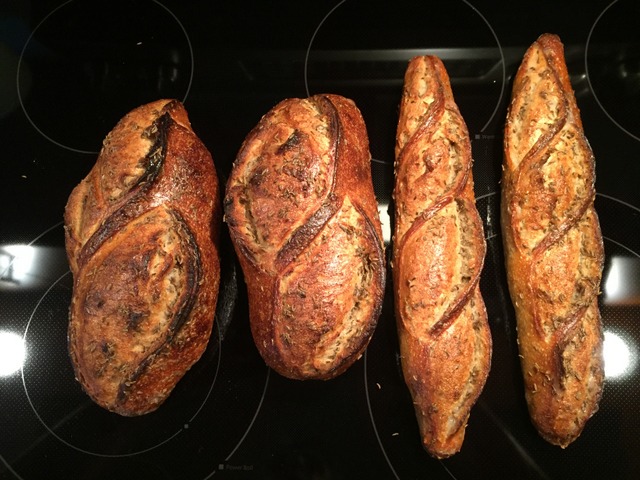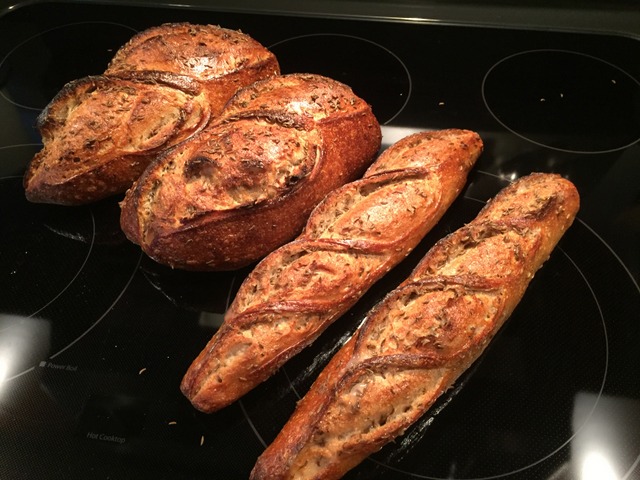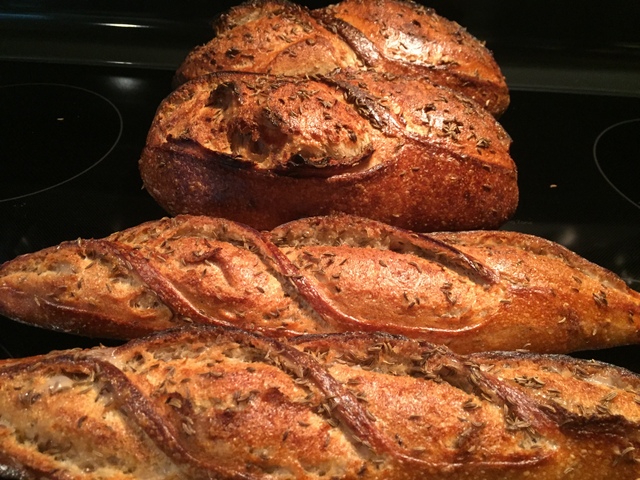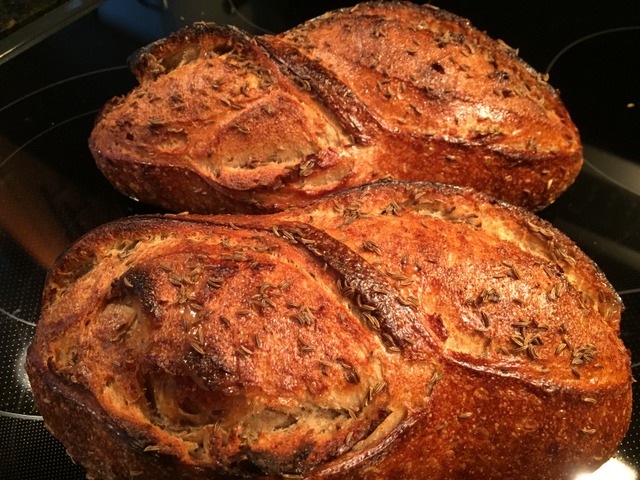 April 9 - Crumb shot added.  The two baguettes were destined for dentures and gullets other than here at home, but here is the inside of the first batard.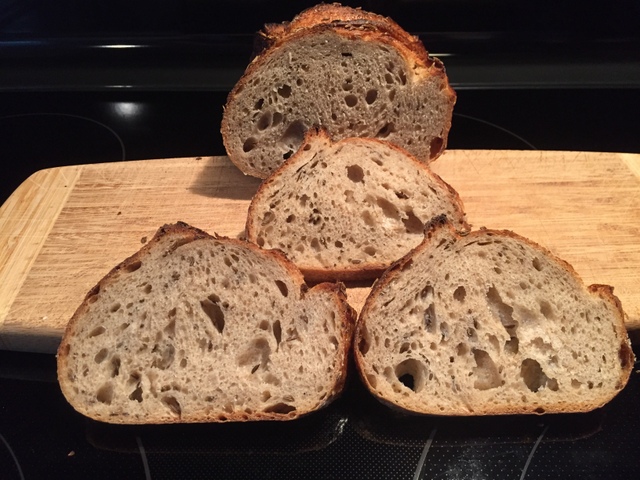 alan