Hazelnut Bread or Why The Squirrels And I Are Waiting
Little Nut
In 2008 I stuck some fresh hazelnuts in the ground at different places in our yard. I also gave some to our friend Tamara for her gorgeous garden. In spring 2009 I checked for weeks the planting sites, but nothing showed, only some more weeds.

I don't bother too much about those, and when my husband complains about our untidy lawn, I say: "Green is green!" This motto was already an annoyance to my neighbors when I was living in Germany. My eco-friendly garden was a fertile breeding ground for dandelion and burning nettle seeds, and other horticultural threats that law abiding, Round-Up toting garden owners abhor.

Last year I looked at some puny rhubarbs planted many years ago along the fence before cedars and maples blocked the sun. I noticed a seedling with round, serrated leaves that seemed familiar. After almost two years a hazelnut had sprouted! Though I scanned every centimeter of our yard for more, it was the only one. But Tamara gave me another nut-ling, she got several of them.

My two little hazelnuts cheerfully grew more leaves, while I watched them like a hawk, knowing my Richard's merciless efficiency with the lawnmower. They survived last winter, buried by tons of snow, and outgrew their yogurt container collars (protection from certain people to who believe that nature should be "beaten into submission").

With some luck, and if some people - I name no names - keep their greedy weed whackers off them, "Hazel" and "Little Nut" will grow into nice, big bushes, providing us with an abundance of delicious nuts. Unless our fat squirrels eat them first!
And this is it why I need hazelnuts: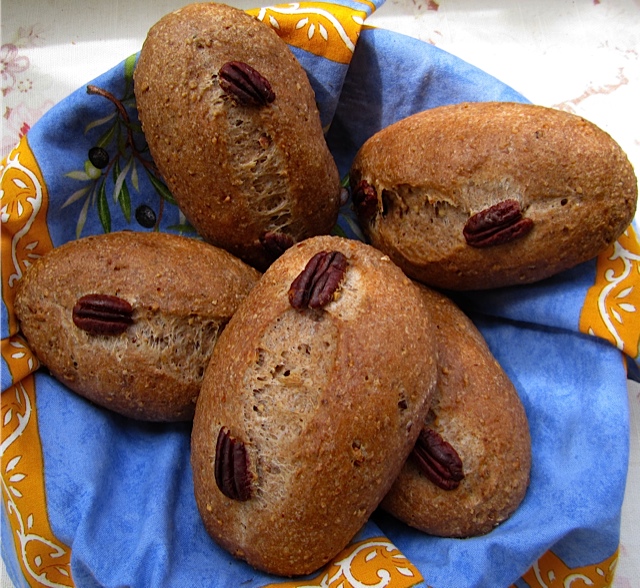 The photo shows a pecan version of the delicious Hazelnut Mini Bread. Both recipes you find here:
http://www.thefreshloaf.com/node/23952/karin039s-pecan-mini-breads