Karin's Pecan Mini Breads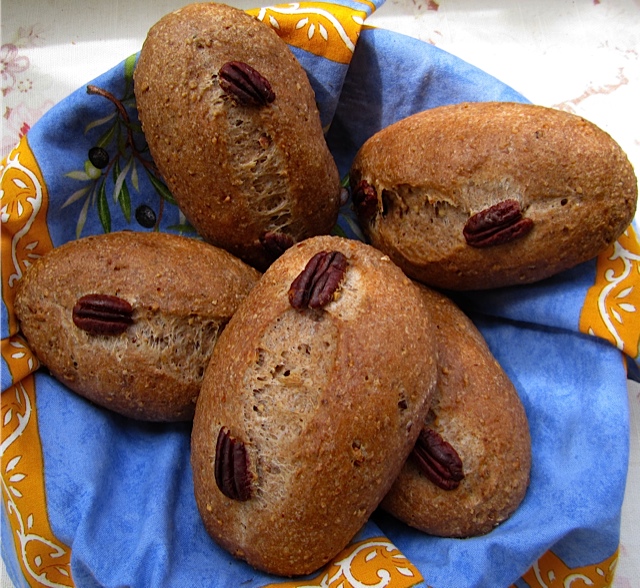 Pecan Breads
PECAN OR HAZELNUT MINI BREADS (6 - 8)
340 g water (95 F)
6 g instant yeast
100 g rye flour
50 g spelt flour
350 g Italian 00 flour*)
10 g salt
5 g sugar
150 g pecans or hazelnuts, toasted
1 egg , for egg wash
10 g water, for egg wash
pecan halves or whole hazelnuts, for decoration
*) can be substituted with pastry flour, but NOT with all-purpose flour!
DAY 1
Dissolve yeast in warm water. Grind nuts together with sugar and 50 g of the flour in food processor.
Add all dough ingredients to mixer bowl. Mix at low speed for 1 - 2 minutes (or with a large wooden spoon), until all flour is hydrated. Let dough rest for 5 minutes. Resume kneading for 2 minutes at medium-low speed (or by hand), adjusting with more water if needed (dough should be still somewhat sticky). Knead for 4 more minutes, the last 20 seconds at medium speed.
Transfer to lightly floured or oiled work surface, stretch and fold dough like business letter, tuck sides under to form a ball, and place, seamside down, in lightly oiled bowl.
Cover, and let dough rest in bowl for 10 minutes. Repeat stretching and folding 3 times, with 10 minute intervals (total time 40 minutes). Place dough in oiled container in refrigerator overnight.
DAY 2
Remove dough from refrigerator 2 hours before using.
Shape dough first into 6 - 8 rolls, then roll them with your hands into strands. Place breads on parchment lined baking sheet. Using a palette, press a deep crease lengthwise in each roll (don't cut through bottom). Brush with egg wash and decorate with nuts.
Mist breads with spray oil, cover, and let rise for 45 - 60 minutes at room temperature, or until they have grown 1 1/2 times their original size, and stay dimpled when poked. In the meantime, preheat oven to 410 F/210 C, including steam pan.
Bake breads for 12 minutes, steaming with 1 cup of boiling water. Rotate baking sheet, remove steam pan, and continue baking for another 12 minutes, until they are dark golden brown (internal temperature ca. 200 F), and sound hollow when thumped on bottom.
Let breads cool on wire rack.
I adapted this hazelnut bread recipe from Richard Ploner's: "Brot aus Südtirol". Unfortunately hazelnuts are very expensive in Maine (they are cheap in Germany), therefore I came up with a pecan version that I can sell to my customers. Though I love walnuts, they are not a good choice for this very tasty bread.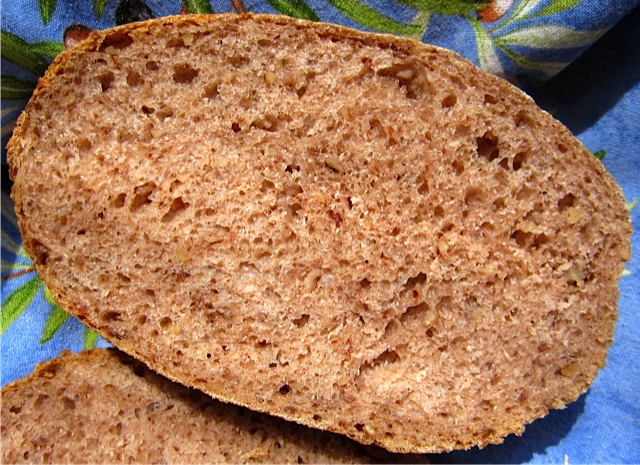 Pecan Bread Crumb