January 16, 2011 - 12:23pm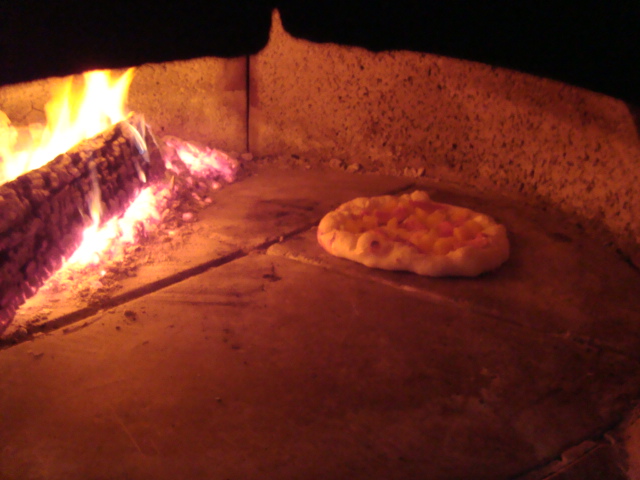 While having my morning tea and viewing the latest on TFL, I noticed yesterday was another beginning year for my membership.  I wasn't going to post this bake, but what a great excuse to show what I did for most the day and evening yesterday!  
The weather was gorgeous, finally another lovely warm sunny day. 
We've had a lot of welcome rain and cool weather lately and a day in the high 70's and sunshine was welcome...especially since I had planned on firing up the WFO.
It had the door sealed against the rain and the wood underneath and inside was protected from the wet.  Well, I hadn't planned on it being damp just from the moisture from the rain, so it took me nearly two hours to get a good hot fire going without the smoke, even the wood I had stored inside the oven seemed cool maybe damp, sometimes I think the wood I purchased 'white oak' was a bit on the green side.  They also have fairly large cuts, I like to start the fire with smaller cuts, which I usually ask for at the firewood supply, and build the fire up larger, then I have my fire up a going great without the smoke in about 15 minutes. 
It took me a while just to learn how to make a proper fire. All I learned about making fires was in my 3rd grade 'Brownies' camp trips and then the fire was made in a coffee can and we cooked on top.  I still remember those great hamburgers we made...I always loved to cook even as a kid.  I still remember the first thing I ever cooked.  My mom let me heat up some peas in a pot.  I was about 4 years old...that started my love of cooking!
I think the neatest thing is that once you get the fire going you can tell immediately when it's fired up and ready...then I can start adding a log about every half hour or so...I love tossing the log in and watching it burst into flames without all the smoke...the coals and fire are so hot, no more waiting for the newly added wood to catch fire, each new log just combusts into flames!
Well, I had my head stuck in the WFO!  I said to Mike, when he asked why is your face so red, as he came in from his bike ride..he's so thrilled with his new mountain bike, weighs less than 22 lbs. and has those big new wheels..what a deal he got ;/  
Back to baking!  I planned on pizza's for the us and for the neighbors across the street and then when they were done I had a pork roast, that would be easy, just put a little seasoning on and put it into the oven as the fire was turning to embers, and after that I would make some simple Rustic Apple pies with those lovely organice apples I had in the refrigerator.  I wish now I would have added some nice buns for the shredded pork roast...maybe today I'll bake some!  
Oh, I just remembered, I have some loaves in the frig waiting to be baked, the tea must be kicking in : )
So here's the WFO bake for my third year on TFL.  What great time and learning experience it has been and will be...Thanks to You All :) :) :) and a
'Very Special Thank You' to Floyd and Family or none of us would be here today!
Pictures, this is what I took!!
                   Ham, Pineapple and Creme Fraiche Pizza - Peter Reinhart's American Pie - Neo-Neapolitan Pizza Dough is used today on all the pizza's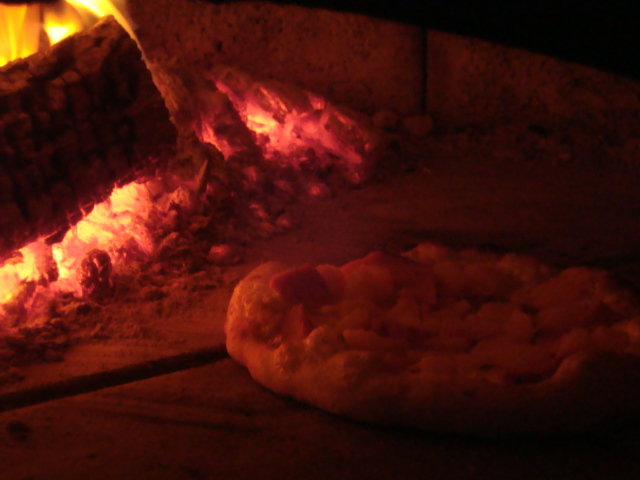 Mike's, Pepperoni and Plain Mozz Pizza's - I had enough dough for 8 large pizza's - I didn't put very little char on neighbors pizza's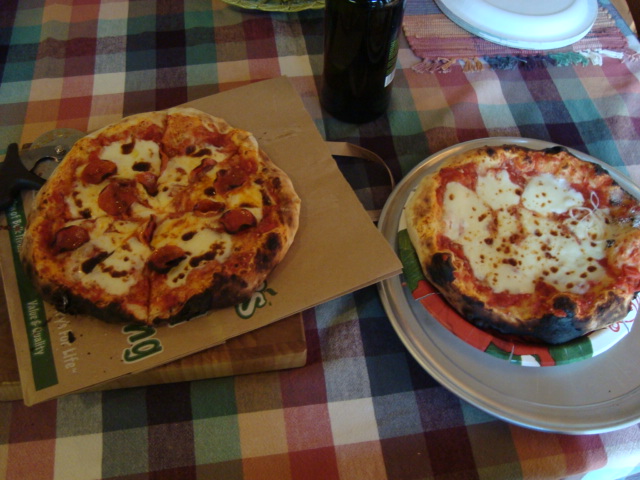 Rustic Apple Pies Baking - Dough recipe is from I. Garten's apple tart - Filled with organic apples, little sugar and butter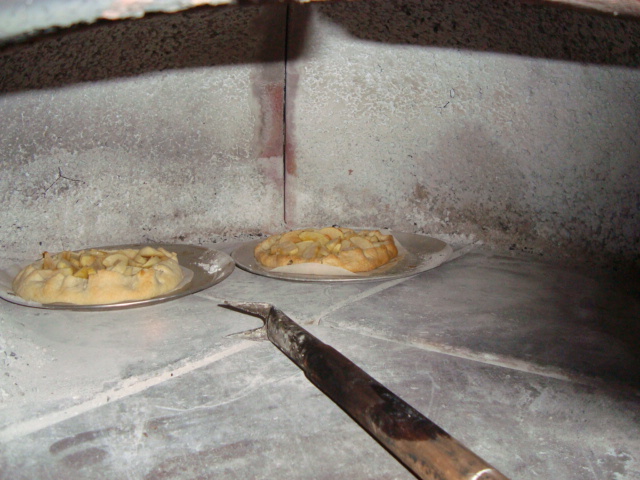 Ready after about 35 - 40 mins. - I used Gala organic apples - lovely tender and sweet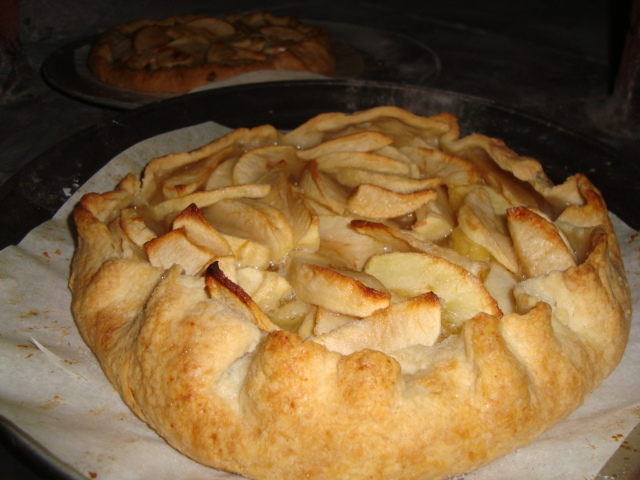 Wood fired baked pork roast to be enjoyed with tonights fresh baked Sourdough bread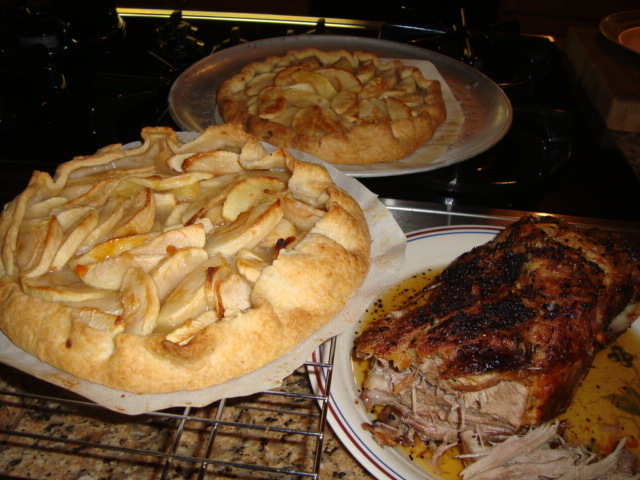 Tonight's Dessert too!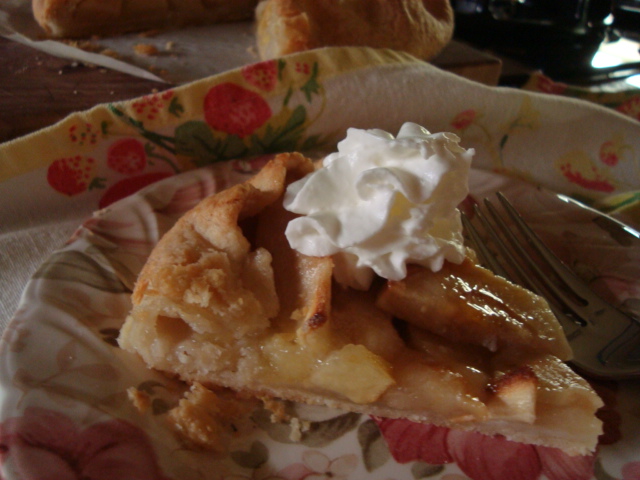 Sylvia