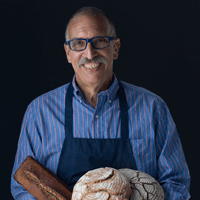 As you know, I've been thinking about starting up an e-biz directed at amateur bread bakers and have raised the issue here a few times.
At last, I'm very pleased to announce (with Floyd's consent) the opening of my new company, THE NEW YORK BAKERS, and our website, www.nybakers.com.
The goal of THE NEW YORK BAKERS is to offer home bread bakers a source for all of the the ingredients, supplies and equipment that we typically can't find at retail, in sensible quantities and at reasonable prices.