This bake was quite a change in method for me.  Normally I mix, bulk ferment and shape during the day, cold retard overnight and bake first thing in the morning.  This time I started late in the day. 
I had some levain left from another bake so just added a bit more flour, some bran and left it to mature.  My formula was a simple white 74% hydration sourdough with 8% prefremented flour.  I made 2 loaves, 1 with a pinch of ascorbic acid (to see if it made a difference) and 1 standard.  This was just something to try after DanAyo had brought this topic up recently.  The loaves were both 550 g. both loaves treated exactly the same.
5:30 pm Mix flour and water for a 1 hour autolyse, Ascorbic acid treated dough felt very wet and I worried a bit.
6:30 pm added salt and levain, gently dimpled levain and did a few stretch and folds followed by 80 slap and folds (I am still working on getting good strength in my doughs).  
7 pm 15 stretch and folds in the bowl followed by 4 of Trevor's coil folds. This was repeated 3 more times and just before 9 pm I placed dough in covered bowls in my conservatory with windows cracked open. Overnight temperature was forecast to be 10 - 11 deg C and I kept my fingers crossed that the bulk ferment would hold till this morning.  Both doughs were very soft but had come together well.
8:15 am this morning I preshaped dough, rested 15 minutes then shaped.  the ascorbic acid treated dough felt and looked a little puffier.  The dough was proofed for about an hour and a half only.  The heating was on in the house so room temperature was probably about 21 deg C,  I prefer scoring cold dough so this was a bit of a challenge and it looked quite flat as it went into the oven.  Standard bake 15 mins lid on in DO and 15 mins lid off at about (230 deg C) 475 deg F.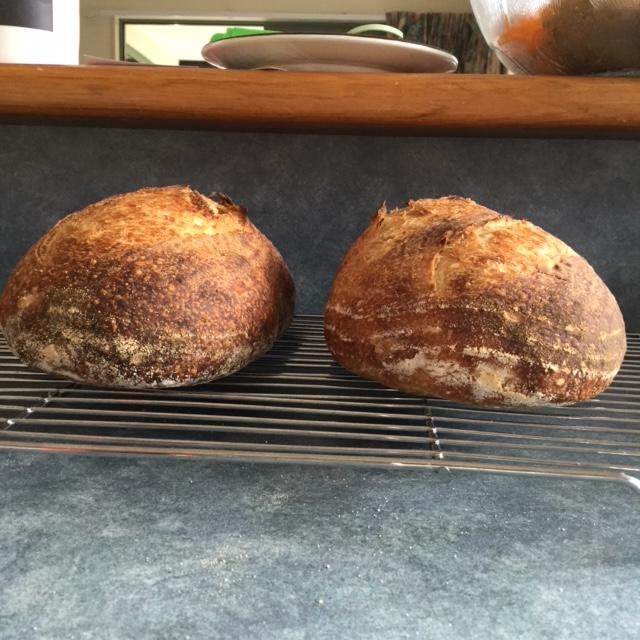 Left hand loaf is treated with ascorbic acid. 
Ok, they look good, sprang very well in the oven.  Not a great deal between the two in fact.
Late afternoon I cut the loaves to slice and freeze and got quite a surprise.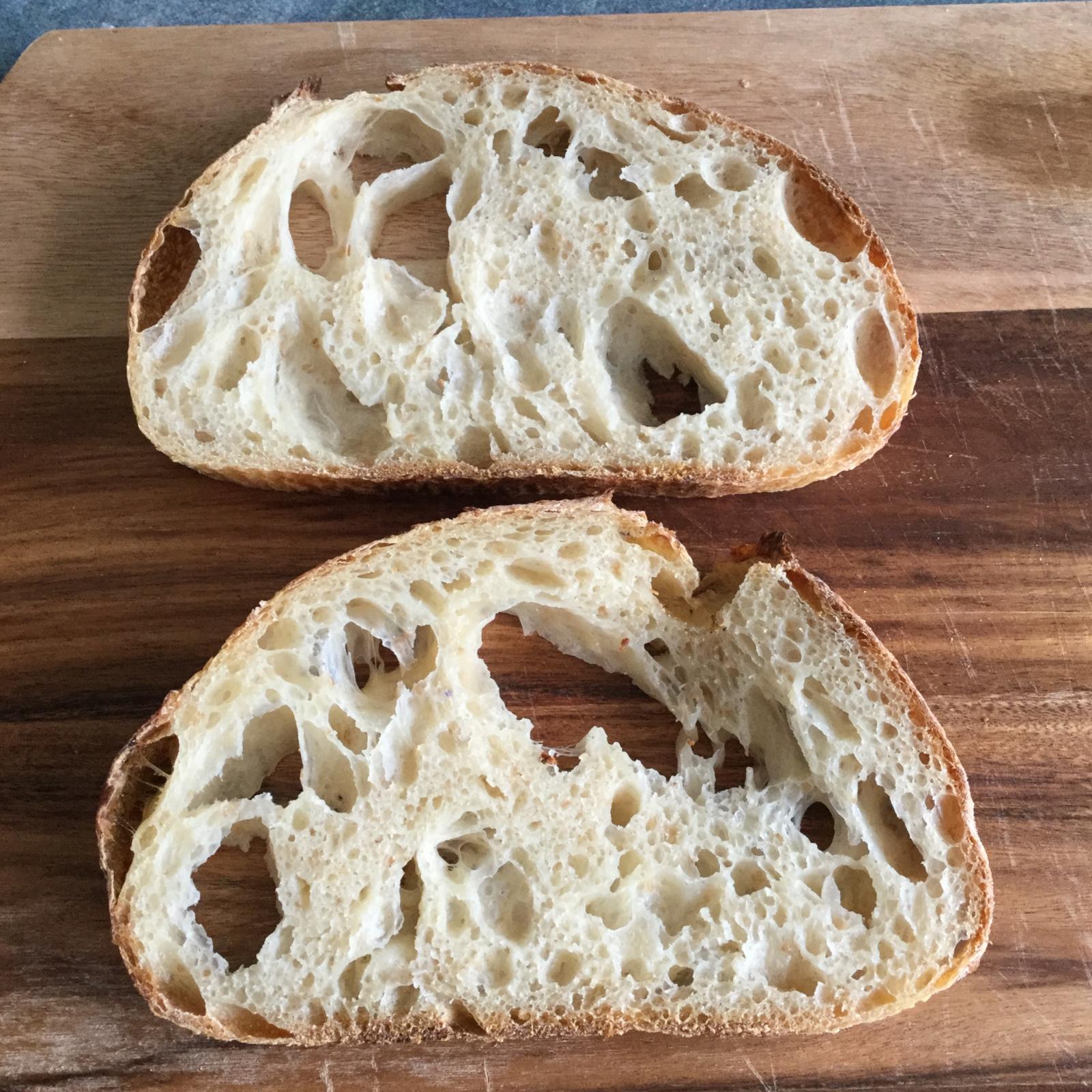 Top slice is the standard bake, the lower slice is from the Ascorbic acid treated dough.  I am a happy camper. Didn't set out to achieve this but will definitely attempt this again.  Not sure if it was the long long bulk ferment at relatively cool temperatures or the slap and folds or something else all together.  No retardation either.  I don't make many straight white breads anymore and while I don't always want a crumb like this, it is really fun to have achieved it.  
Earlier in the morning I had baked 2 loaves of Trevor Wilson's European Peasant bread a l Danni3113.  I remembered to fix the levain % and this too turned out really well.  I won't write out method etc it is a repeat of an earlier bake.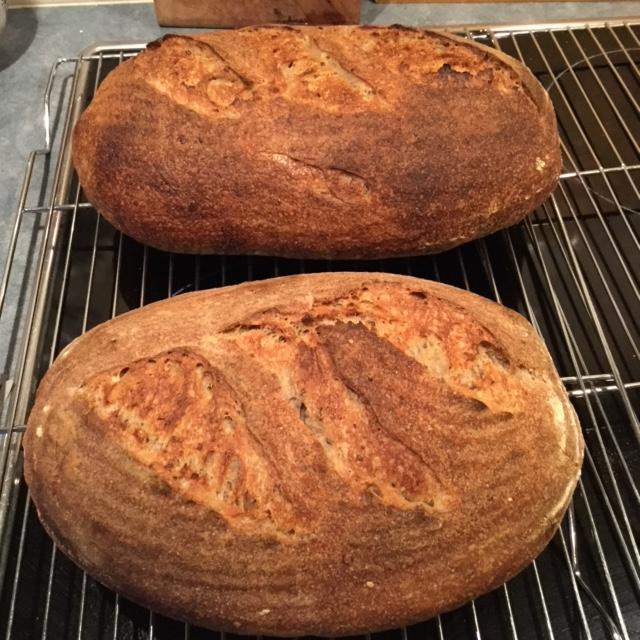 Crumb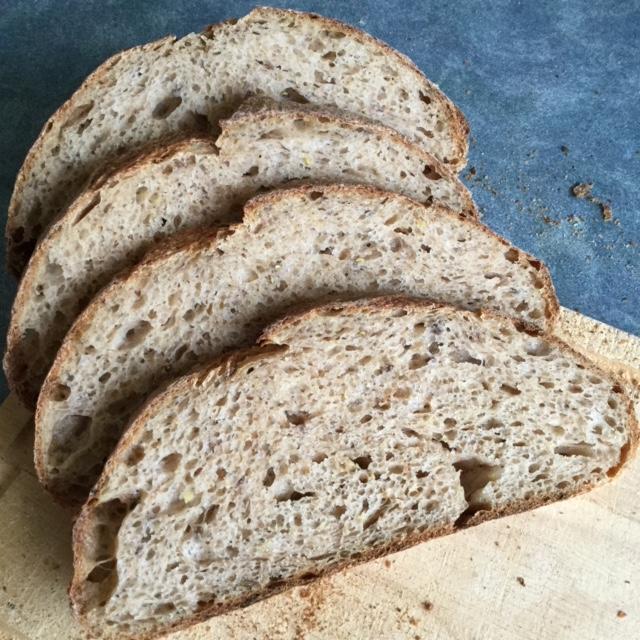 Must admit this is a very nice bread indeed.  I mucked up the actual weights of the differing grains but I think I got it about right in the end.  It didn't matter, it tastes wonderful and we really had to hold back at lunchtime.
I think I need a rest now, I have "baked up a storm" over the last few days but we have an interesting selection in the freezer.
happy baking everyone
Leslie