February 24, 2014 - 12:50am
High extraction Miche from Peter Reinhart's WGB
Last weekend, I've thankfully managed to squeeze in a bake in the midst of a hectic family, and professional commitments, Phew!
I've been wanting to bake the High extraction Miche in "Whole grain breads" ever since i saw it, but the idea of sifting whole wheat flour (Oh the horror!) deterred me. Until, that is, i realized that the flour is abundant in Dubai, and UNDER MY NOSE!. In fact, there are several mills in Dubai that produce the flour "Chakki atta" and many  available in supermarkets, but i've settled for what i think is best in terms of refinement and quality.
Strictly speaking, it isn't an ideal High extraction flour, rather, a whole wheat flour with some bran sifted away. It is around 95% extraction (I add some bread flour to reduce the extraction percentage). The flour is milled from either an Indian or a Pakistani Wheat (the closest, and largest wheat producing nations to us), so lacks the qualities of European and north american red winter wheat. However, it performs quite well in recipes that call for HE flour, due to its smooth and light texture. That's what matters.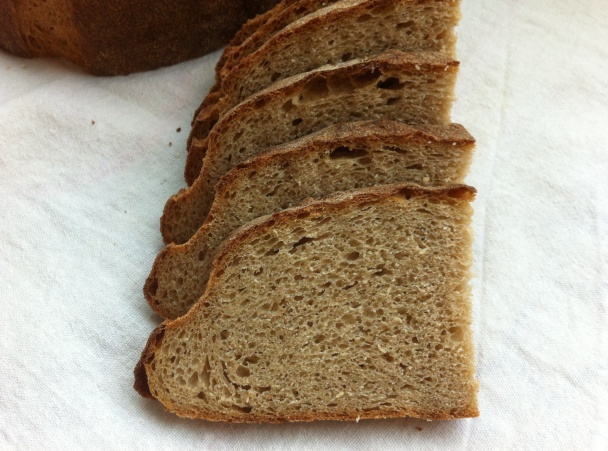 As with all WGB recipes, a soaker and a biga ( A starter in this case) was prepared. The soaker was kept at room temp. and the starter was allowed to ripen, then refrigerated. Next day, i mixed the two, added some flour and yeast, proofed and baked at 450F for 15 minutes with steam, and 25 min. at 400F without steam.
The bread's flavor is that of typical Whole wheat hearth breads ; earthy , nutty, faintly sour, and very satisfying. Good recipe, and easy to prepare a head.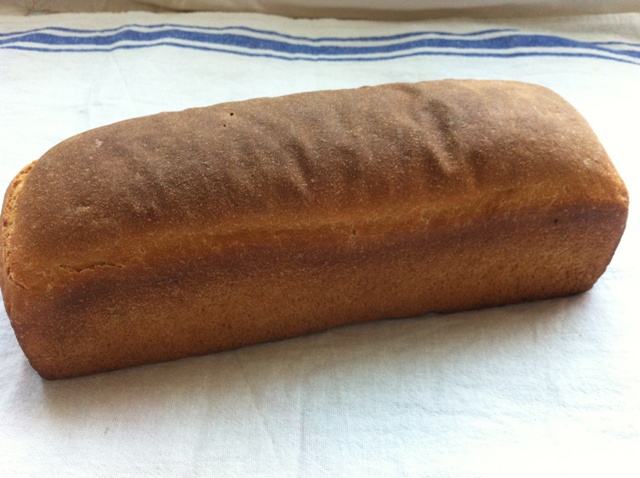 Some days ago, as i Looked at our grocery bags, i saw the dreadful white sliced bread that my wife has bought. It was time that i made my children their favorite sliced bread for school. I mixed some Biga dough, and let it ripe for 8-10 hours. The recipe is that of Hamelman's book. When ripe, i mixed the flours, honey, yeast , water , salt, and mixed them until combined. Then, i added butter and worked the dough to a developed gluten stage. Fermentation lasted for 2 hours, with one fold, a preshape, shape, and finally baked in a pullman pan with the lid off for total of 40 minutes at 450F.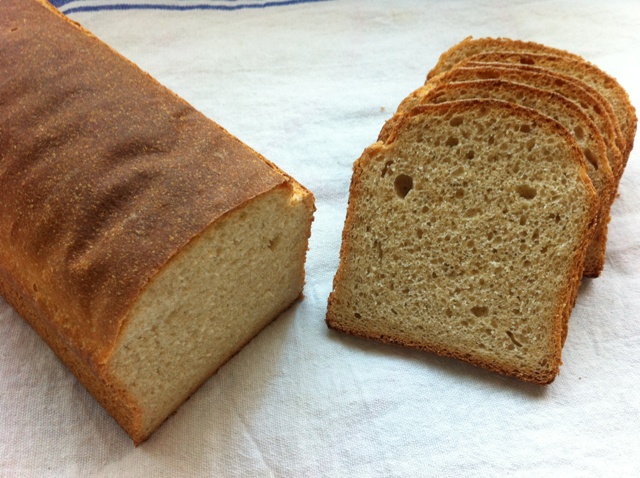 The bread was very light and soft , owing to the butter and honey. A delicious bread for toast, and sandwiches.
Khalid