September 14, 2012 - 8:53am
Celebrating Fall: Pumpkin Coffee Sourdough
Ok ok, so maybe it's not *technically* Fall yet. But down here in New Orleans we don't get seasons and lately we've been experiencing cool(er) weather than normal. Having lived in the Chicago suburbs all my life I always told myself that I would move someplace warm. Some place where it didn't get cold and it didn't snow. But now that I have the warmer weather.....I miss the changing seasons dreadfully! I miss the leaves changing color. I miss the crisp autumn air. I even miss snow on the ground around Christmas time and bundling up in winter coats and knit hats.
But my absolute favorite part of fall (and part of winter) I can have just about anywhere thankfully. I am obsessed with pumpkin. And I mean to the point where my husband tells me I have a problem. For me, Fall means feeding this addiction with Pumpkin Spice Lattes, Pumpkin Cheesecake brownies, Pumpkin Cheesecake, Pumpkin Pie......well...you get the idea. I *may have* even hoarded a bunch of cans of pumpkin puree last fall so I could enjoy it throughout the year. The other day I opened up my last can to make my own pumpkin coffee but I ended up adding too much spice to the mixture. I must say my little concotion was horrible and I was very disappointed. 
I had only used 1/2 the can leaving about 1 cup left. I had a firm sourdough starter happily fermenting in the fridge that I needed to use. So, this is how my pumpkin coffee sourdough came into existence. I had both in the fridge. So they both went into the basic sourdough recipe I've been using from Peter Reinharts The Bread Bakers Apprentice. 
This dough was pretty wet. My first time working with a really wet dough was.....interesting. But I have acheived the most open crumb yet to be seen in my kitchen, complete with shininess and excellent texture. The taste....I wasn't sure what to expect. But the pumpkin comes through beautifully and the coffee gives an earthy flavor that is different than what I'm used to being paired with pumpkin, probably because everything with pumpkin in it that I eat has loads of sugar in it. It's not bad by any means, and it gives the bread different dimensions that I wasn't aware even existed. I think it would go well with some apple butter, plain butter, or be good as an egg and cheese sandwich. I enjoyed a slice all by itself but then again I can do that with pretty much any bread. I think next time I'll add in some cranberries or apples to offset the savoriness of the bread, give it that sweet/tart little burst of something to go along with the squashiness of the pumpkin.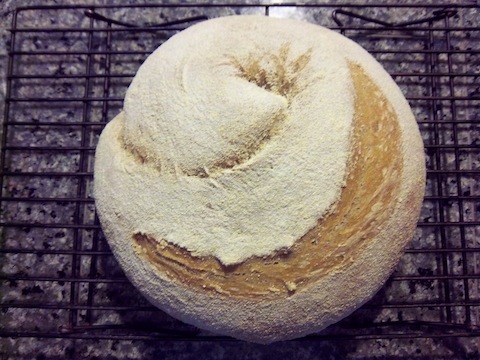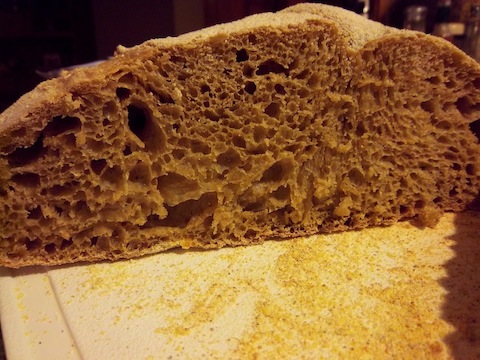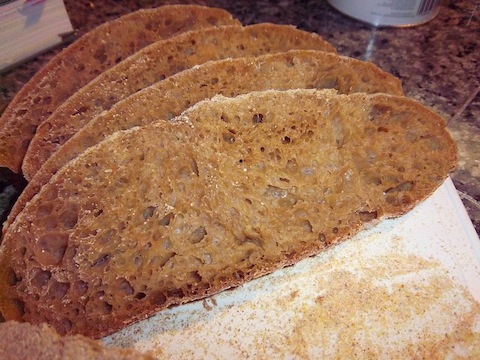 Is the picture too small to see the shininess of the crumb? I had to use the flash in order to get it "shine" :)
Firm Starter
2/3 c sourdough starter (mine is 100% hydration)
4.5 oz. bread flour
1/4 c water
Mix these together and let ferment at room temperature for 4 hrs. Refridgerate overnight. (I actually left mine in the fridge for a few days).
Pumpkin Coffee Sourdough
Firm Starter
20.5 oz bread flour
1 3/4 c coffee
1 c pumpkin puree
2 tsp salt
Let the firm starter rest at room temperature for 1 hr to take off the chill. Cut the starter into 12 pieces. 
Mix together the starter with the bread flour, coffee, salt and pumpkin until a shaggy dough ball forms. 
Let rest for 20min before turning out on a well floured surface. 
Perform 4-5 stretch and folds, then place in a well oiled bowl for 15min. 
Stretch and fold 3 times. The rest for 15 min. Repeat 2 more times, then let the dough rest at room temperature for 3 hrs. I left the house at this point to meet a friend for margaritas. 3 hrs later it had tripled in volume. 
Divide the dough in half and pre-shape into boules. Let rest for 20 min before the final shaping. I made a spiral boule out of 1 and proofed the other in a banneton. After shaping, I stuck these in the fridge overnight. 
Preheat the oven to 500 and take out the dough 1 hr before baking.
Score and bake with steam for 2 min. Then drop the temp to 450 and continue baking for another 8 min. Rotate the bread, and bake for another 10-15min or until golden brown.