Every other weekend we have friends come over to our house for a little socialization and we take turns providing food. Last week was our turn and I wanted to get away from ordering take-out like we have been doing lately. I wanted to put some effort into the meal instead of being lazy so we decided on burgers and BBQ chicken. I took this opportunity to make the rolls for burgers. This is the second time making the Kaiser rolls from Peter Reinhart's The Bread Baker's Apprentice and I was hoping these would turn out better than my first attempt. Turns out I was right!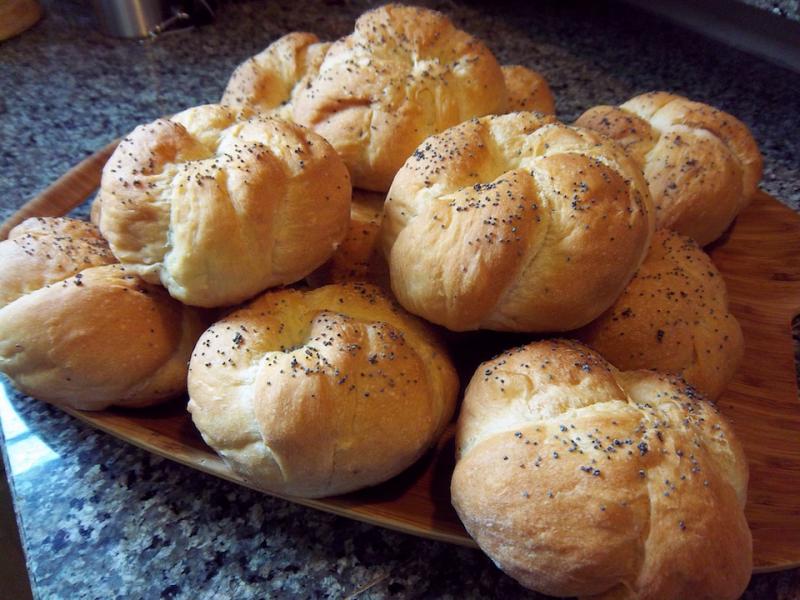 The crumb was also nice and uniform with no obvious dense spots. They were soft and chewy and went wonderfully with the burgers!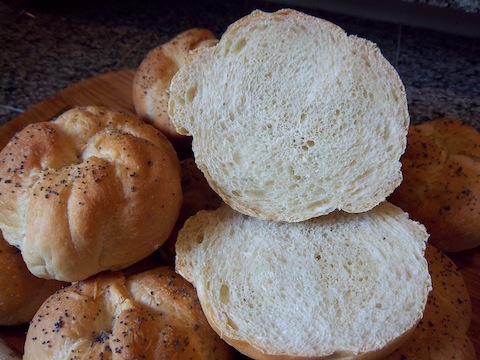 Here's a close up of the crumb….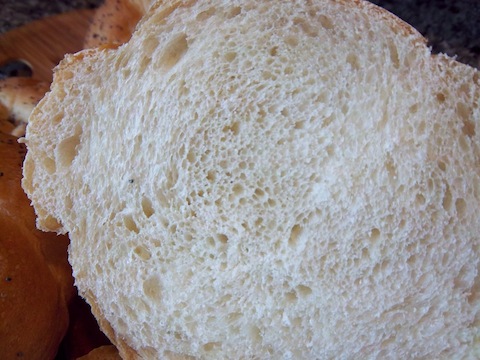 And for the second roll, I had a serious craving for some cinnamon rolls. On Wednesday night I was looking forward to making the dough, cooking dinner, and then finishing the night with a cinnamon roll fresh out of the oven right before bed. But I ran into a serious roadblock! My oven wouldn't turn on! I have an electric oven, one where you push a button labeled "Bake" and then you set the temperature and it preheats. But every time I pressed this button it wouldn't do anything. Nothing, no light, no preheat….nothing. My husband came downstairs to see me begging the oven to turn on….for 45 minutes straight. I don't know how, but I finally managed to get it to turn on. I may have had to wait until 11pm to enjoy a roll, but I at least got to satisfy my craving.
Fresh out of the oven!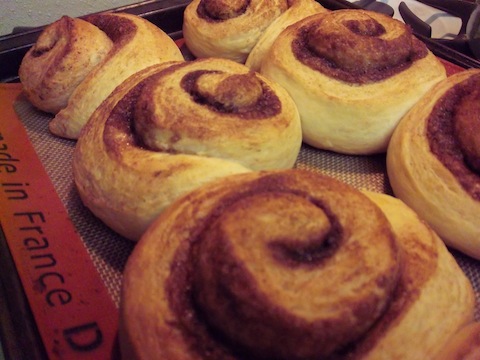 The next morning I had to have one for breakfast. These are seriously, dangerously good! And the thing is, every time I make these, I never make them the same way and each time they never disappoint. In my haste the night before to make a glaze you can tell I was unconcerned with the occasional lumps of powdered sugar. I just couldn't wait to take a bite!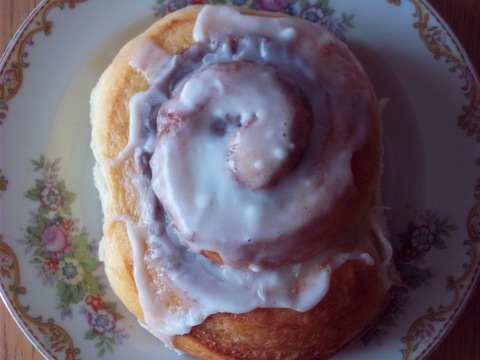 I had made the dough wetter than usual so it was a little messy to work with but the texture was still light and tender!