Testing a different flour using Susan's "Ultimate Sourdough"
A couple days ago, I baked some baguettes with a new (to me) flour – Bob's Red Mill Organic Unbleached White Flour. The dough was much more elastic than I expected, and the baguettes had a thicker, crunchier crust and chewier crumb than expected from a flour that is supposedly 11.7% protein, the same as KAF AP flour. (The Nutritional Information on the BRM bag specifies 4 gms of protein in each 34 gm serving.)
The BRM flour acted more like a higher gluten flour than it's protein content would suggest. Now, the packaging does say it's made from hard red spring wheat. As Dan has been telling us, that's what bakers look for when they want the strongest flour. We've also heard that "protein content" is not the same as "gluten content," and also there are differences in the "quality" of gluten in different wheats. Is that what I encountered?
I decided my next step had to be to make another bread with this flour, to be sure my baguette experience wasn't the result of something other than the flour. I wanted a recipe that I had made before and knew how the dough should be, and I wanted one that was meant to be chewy, unlike baguettes.
Today, I baked a couple loaves of Susan from San Diego's "Ultimate Sourdough." Susan likes chewy bread, and her recipe calls for "High Gluten" flour. I used the BRM Organic Unbleached Flour, rather than the KAF Bread Flour or Sir Lancelot I had used for this bread before.
Again, the flour acted like a high-gluten flour. It absorbed more water than KAF Bread Flour. It made a very elastic dough that was dryer than usual – just barely tacky. I fermented the dough until doubled (7 hours) and formed two boules which were cold retarded overnight after proofing 45 minutes at room temperature.
This morning, I allowed the boules to warm up and proof for 3.5 hours to about 1.5X their original size before baking. I baked them on a pre-heated stone with steaming by pouring boiling water over lava rocks in a cast iron skillet. (Forgive me, Susan! No magic bowl.)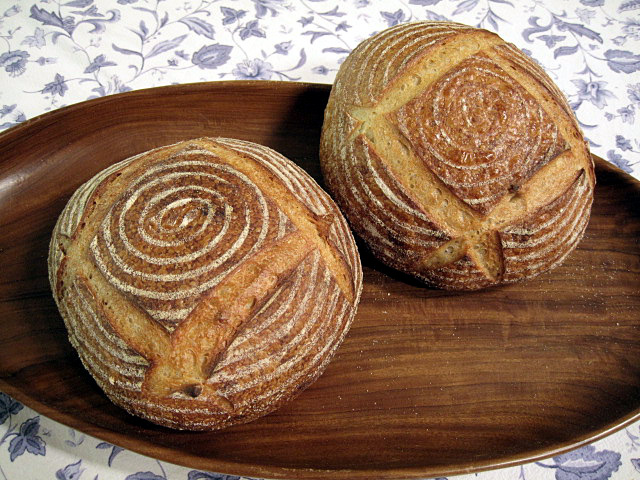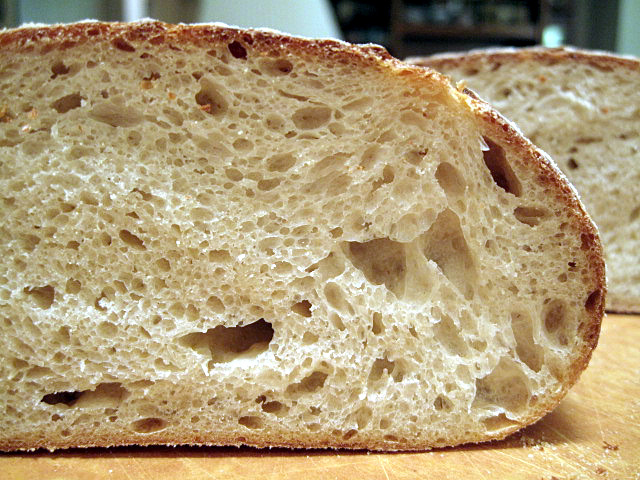 The result was indistinguishable in chewiness and flavor from the other loaves I've baked with this recipe. (And that is very good!) The crumb was okay but noticeably less open than usual.
My conclusion is that this flour, which has a protein content of 11.7% (by my calculation), acts like other flours I've used with 14+% protein. 
If anyone else has more information about this flour or personal experience using it, I'd love to hear about it.
I also wonder if anyone knows if "hard red spring wheat" usually has higher protein content than winter wheat, or is it's gluten content a greater percentage of the total protein, or is it of higher quality.
David