October 18, 2019 - 1:24pm
It's Community Bake Time again...
This CB promises to be a great one. Haven't they all? Kristen, with FullProofBaking will be our featured baker. She has rocketed to the ranks of the "Prestigious Bakers" in a very short time. Here are some images of her breads. 


The actual Community Bake is now posted.

Kristen is a sourdough bread baker from Chicago with a background in biology (she received her PhD from Northwestern University in 2014). She left the field to stay home with her now 6-year old son, doing some part-time work in science editing. She made her first Amish white bread (yeasted) in early 2016, and quickly was inspired by watching YouTube videos to start her own sourdough culture, which she has named Ozzy. Took a long time to get the basic conditions just right - but eventually her starter was becoming more active and her breads getting a better and better oven spring. Sourdough fermentation has completely transformed her life - in addition to providing healthy and nutritious bread to her family and friends, she loves the bread community she's found both online and around the city of Chicago. She now spends her days getting creative with different concoctions of grains, sprouts, veggies and fruits, as well as natural and colorful additions such as butterfly pea flower, turmeric, and matcha. She looks forward each morning to popping a new loaf into the oven! 
     Her breads are then photographed and uploaded to her Instagram page @ FullProofBaking. Her Instagram, which she initially began posting bread photos to in early 2018 (after her sister taught her how to use hashtags), documents her sourdough journey. She loves photographing her artisan breads in a way that brings out the very best in each loaf - whether a crackly bubbly crust, or proudly standing ear, or lacy crumb. She also uses the site to document her experimental results, which range from how to maintain a sourdough starter to varying bulk fermentation and proofing temperatures and durations, as well as scoring and baking methods.     The teaching aspect of sourdough has really kept her interest over the years - and though she continues to learn more about the ferment as she goes, she is happy to answer questions that she is able - or at least to help point other bakers in the right direction. She now has made a part-time career out of sourdough bread - offering workshops in Chicago as well as phone consultations to bakers around the world. Kristen also dabbles in video production, allowing her to offer a range of sourdough tutorials and recipe walkthroughs on her YouTube channel @ Full Proof Baking. She is excited to work on this upcoming Community Bake alongside the members of The Fresh Loaf! The main bread for this CB will be a very straightforward bread, with 20% whole grain. Since baking this bread, my results have taken a quantum leap!
The oven spring possible is gigantic!
See the
video HERE
.
A complete spreadsheet with accompanying instructions will be posted next Thursday (10-24-2019) when the actual Community Bake is posted
. For those that are looking to take a walk on the "wild side", the formula and instructions for her Cuttlefish Ink Swirl will also be posted to the CB. I baked this bread and not only does it look exotic, but the flavor is exceptional. You may need to get a few items that might need to be purchased. They are -
Cuttlefish Ink
, roasted garlic, and rosemary.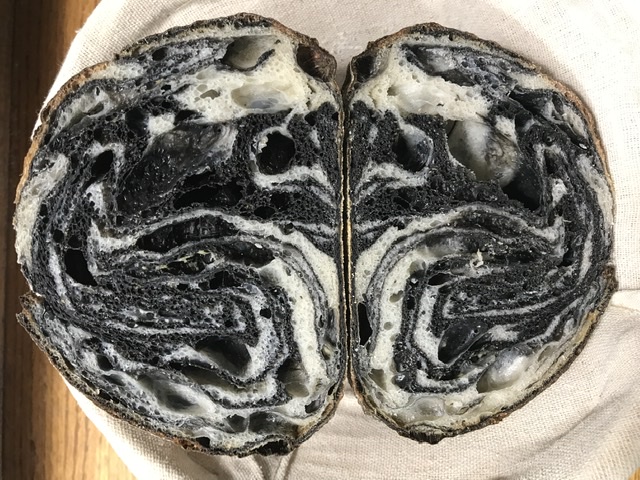 I hope to see bakers of all skill levels join in of the fun.
Novices are especially welcomed...
For those that would like additional resources, here are a some links that may be of interest.
Photos of 20% whole wheat breads using this method:
Cuttlefish Squid Ink Swirl Bread: