November 14, 2013 - 2:10am
I've had bagels on my mind for quite some time now, and since i never tasted one before, i decided to create  some at home. I've searched TFL for other members' posts on the subject, and many were extremely useful and pointed me in the right direction. I've decided to try Hamelman's version, but without the malt extract, which i substituted with a Tbl. of brown sugar and a Tbl of Baking soda. I know that this wasn't authentic, but i had lye, nor malt extract. The stiff dough was kneaded in my mixer, and was retarded in bulk for 9 hours, as opposed to Hamelman's retarded shaped bagels. I also realized the importance of Mise en place for making bagels, and decided to prepare baking trays, toppings, and boiling water. Oh, and chilled water to cool things down as suggested by Hamelman.
Poached, chilled ,and garnished bagels waiting to be baked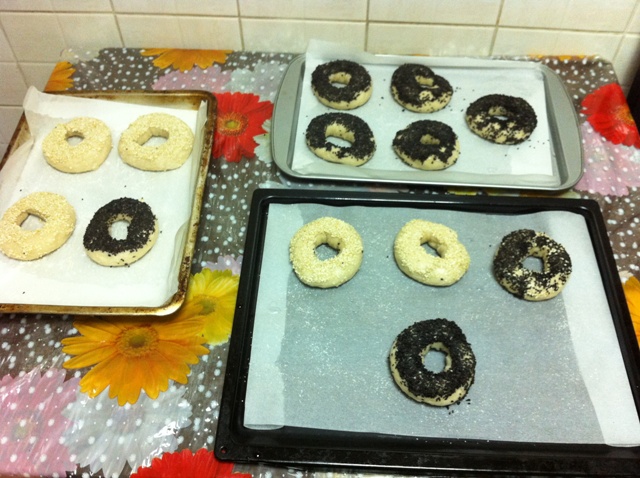 My first impression when i sliced a still warm bagel, and had the first bite: wow those are crunchy! the unique aroma of the baked bagels were slowly permeating the house.They had an unmistakable fragrance hard to describe, but i think that the toasted sesame seeds played some part in the overall aroma.
As they cooled the aroma was more pronounced, and was very sweet. As expected, the bagels quickly became chewy two hours from the oven. I had my first slices with butter and another with feta cheese infused with olive oil, and i enjoyed them both while crunchy. I've toasted a slice, and it retained its crunchiness almost immediately.  I have frozen the remaining bagels, and have yet to thaw some for later assessment. My intial assessment is: really aromatic white bread with a lovely chew.
Aside from cream cheese and smoked fish, what do you guys think is the best way to enjoy bagels?
Thanks in advance!
-Khalid