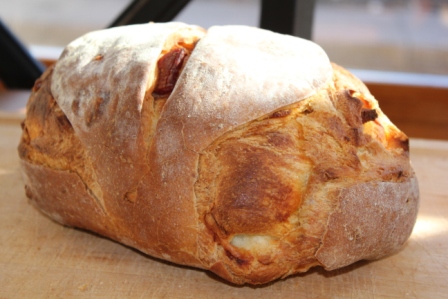 (reposted at my blog: www.akuindeed.com)
I knew I was going to make a bread right after the holidays, and I wanted to use up some excess Italian cheeses and meats that I had in the refrigerator, so I decided to add them to the bread. So this is a kind of pani di lavello – a "bread of the sink". Not that this is odd – Italian bakers tend to have a number of "just throw it all in (everything but the kitchen sink)" breads. I just figured I'd add one to the list.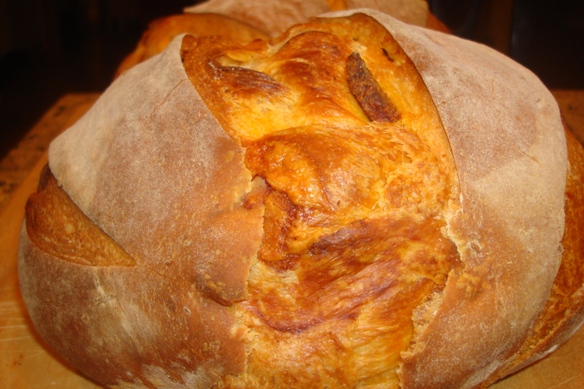 I've got to say, this particular version was amazing. The look of it is striking (as the picture attests) and it is rich, rich, rich. This bread also has lots of wang that attack the taste buds from all sides. The only problem is that it is really heavy. I had a few slices and felt as if I'd dropped an anvil or an anchor into my stomach. I'm totally bloated — but it's a really good bloat! Highly recommended, but dangerous in terms of calories.
This bread is really a version of Carol Field's pani di casa - a rustic peasant house bread mixed with double the ingredients (plus some pepperoni) of a typical casatiello. As you can see in the picture, the oils from the meat (especially the pepperoni) tend to travel in the crumb, which is actually very nice – it adds a nicy spicy taste to the bread.
The crumb itself is moist and thick, and the crust is not that crunchy, but instead a bit softer than typical for rustic bread, though it seems appropriate for the type of bread this is.
Here's how to do it:
Ingredients for Biga (starter)

1 tsp of yeast
1/3 cup water warm
2/3 cup of warm milk
1 cup of flour
Directions:
Add the yeast to the water/milk and let it sit for 10 minutes, or until foamy. Then add the flour and mix well. Let this sit covered for 4 hours minimum, or for 18 hours maximum (to get the most sourdough taste).
Ingredients for Dough
2 cups water
1 tbsp salt
2 oz Pecorino Romano
2 oz Parmesan
Directions
1. Add the salt and water to the biga mixture in the mixing bowl
2. Using the mixer paddle, slowly add 5 cups of flour
3. Switch to the dough hook and slowly add 1 1/2 cups of flour until you have a soft and velvety dough that does not stick to the sides of the bowl.
4. Add the Romano and the Parmesan to the dough, and continue to mix on the hook. Total hook time should be around 7 minutes.
5. Place the dough in an oiled bowl for 2 hours until doubled
Shaping Ingredients
2 oz Provelone
5 oz Pepperoni, sliced small
4 oz Salami, sliced small
Directions for Shaping
1. Punch down the dough and then press into it half of the provelone and pepperoni and salami.
2. Shape in the way you see fit (I make round loaves). If you do this, every time you pull back a corner of the dough, press more cheese and meat into the dough. Repeat the process until you have a ball.
The dough will be thick and full. Pat the top with flour, place on a floured peel for 1 hour.
3. Let sit for 1 hour again.
4. Preheat oven to 410 and bake for 50
5. Let cool for 30 minutes, during which time you should put on your eating pants with the elastic cord, since this is a thick bread that will require room for your bloated stomach.