Community Bake - Baguettes by Alfanso
This Community Bake will be featuring one of our very own; the "Baguette Baker Extraordinaire", Alan, aka alfanso. He is among a handful of fine baguette bakers on TFL who have spent years concentrating on baguettes, alfanso's favored craft, and his baguettes are consistently outstanding and consistently consistent.. Consistence and repeatability, coupled with breads that visually signify a particular baker are the hallmark of excellence. When viewing an image of any of Alan's baguettes, those that have been around for a while know exactly who baked the bread. We are fortunate to have him on the forum.
We have extracted the bakes of 4 participating bakers and present it in PDF form
Attention New Readers:
Although the Community Bake started some time back, it is still active. New participants are welcomed to join in at any time! It's constantly monitored and help of any kind is still available.
For those that are not familiar with Alan and his baguettes check out his blog.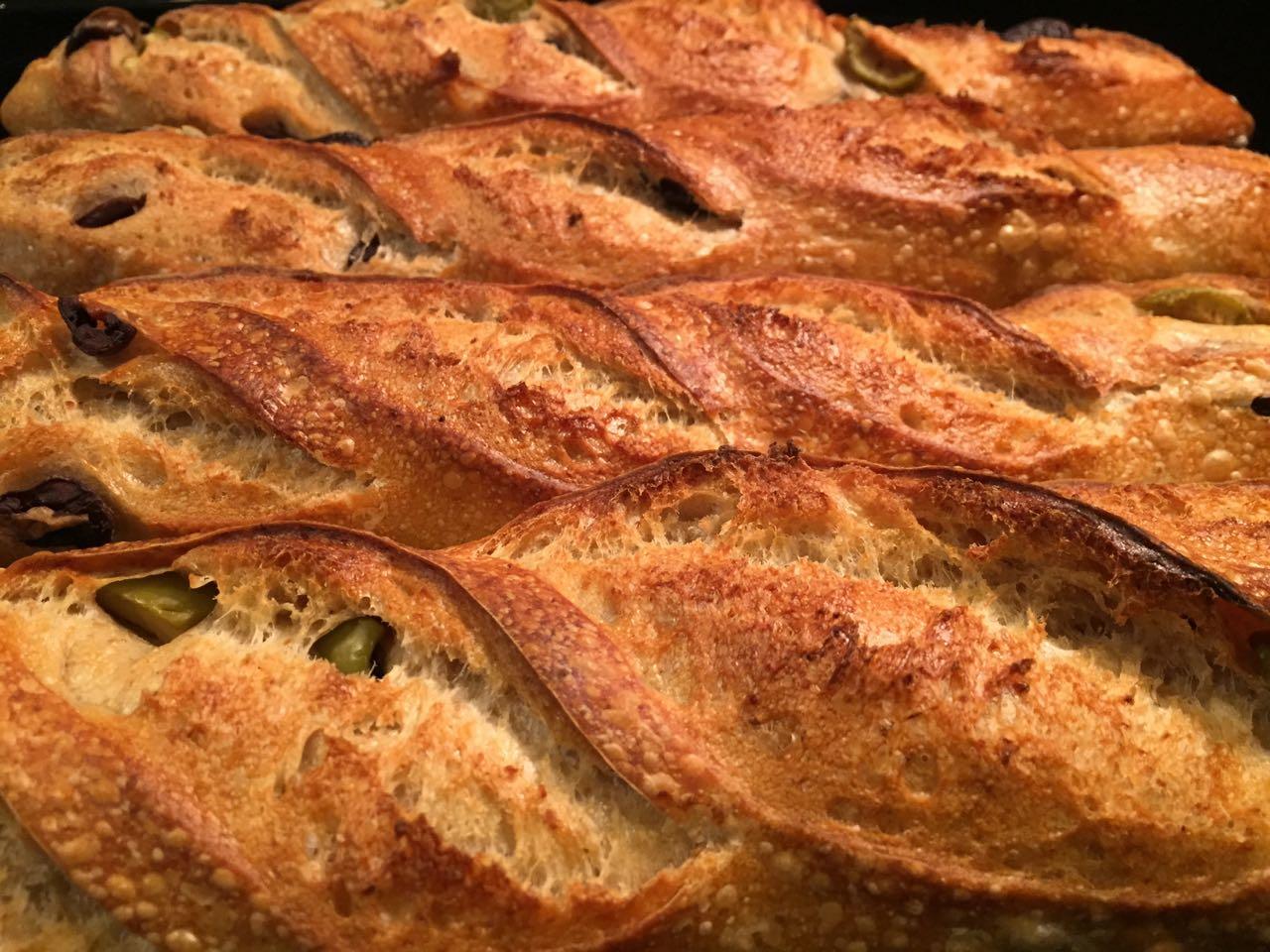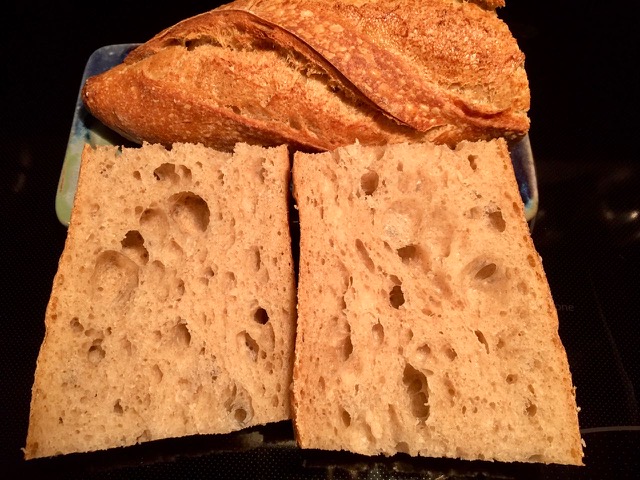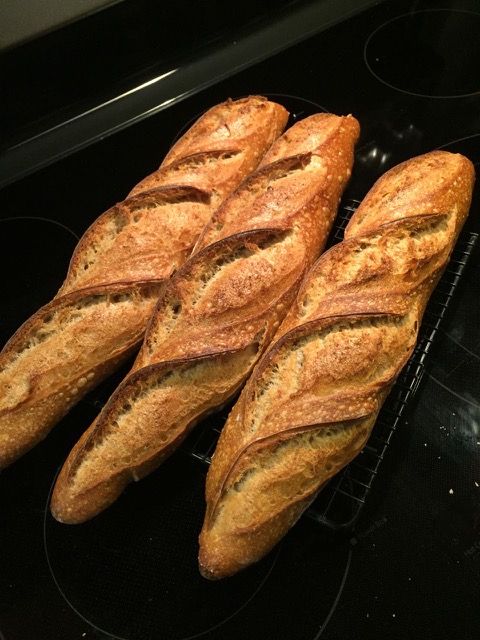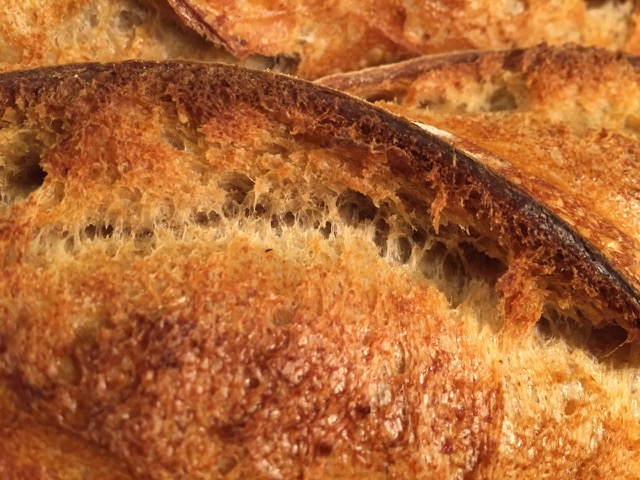 Since the Covid Pandemic many new bakers have joined the forum. For those that are not familiar with our Community Bakes (CB) see THIS LINK. It should give you an idea of the concept and how things work.
Alan supplied the following information as a guide line to the bake. There are links below with additional resources. Alan's choice of baguette for the CB is Pain au Levain with Whole Wheat, by Jeffrey Hamelman. Jeffrey Hamelman recently retired as Head Baker at the King Arthur Flour Company. His book, "Bread: A Baker's Book of Techniques and Recipes, 2nd Edition" is considered a "must have" by most of the bakers on this forum.
Alan writes:

I've attached the formula and some photos of my most recent bake of this bread.  It is another really easy to manipulate bread that has a fantastic taste, but is not too heavy on the whole grain side. 1250g is a nice amount to create 4 "comfortable sized" baguettes.

I've simplified the formula a little by converting it from a 60% hydration to a 100% hydration levain.

Mr. Hamelman uses the term "Bread Flour" but in our realm this really means a standard AP flour with a similar protein profile to King Arthur AP flour, 11.7% protein.

This dough can also be mixed mechanically if you have neither developed the skills nor have the desire to mix by hand."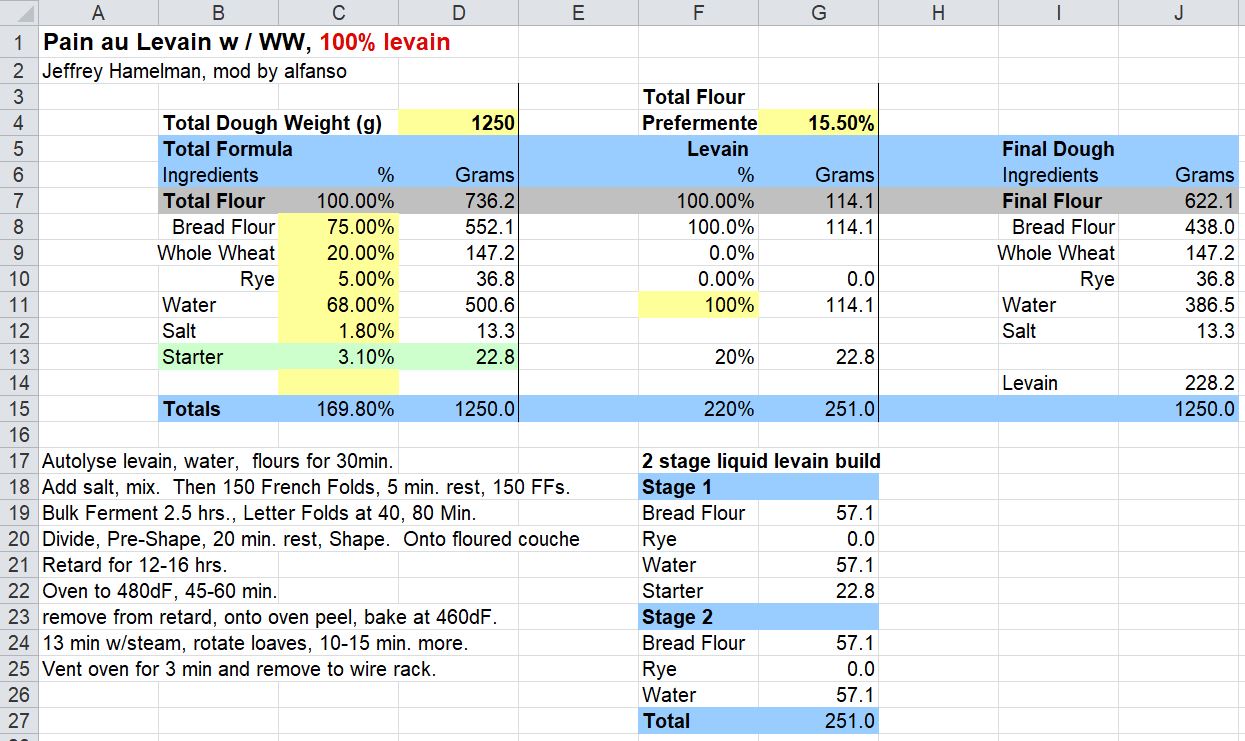 NOTE - for those using home milled flour a tweak may be necessary.  Whole grain (100% extraction) will absorb quite a bit more water than white flour as well as commercial whole wheat flour. Since I used home milled grain, it was necessary to add more water before the dough became extensible enough to slap and fold. I estimate the water added was approximately 28 grams which brought the hydration to ~72%. I should have taken my own advice and measured the additional water, but I didn't. For those using home milled grains, if would be helpful if you reported the extra water necessary to do the Slap & Folds. See THIS TECHNIQUE.
   Additional Resources
Everyone is welcomed. Both expert and novice can learn and improve their baking skills by participating and sharing their experience. Make sure to post your good, bad, and ugly breads. We learn much more from our failures, than we do from our successes.  
Danny 
A late addition -
In Alan's reply below he reminded us that this is not a competition. The goal of every Community Bake is to learn from one another. There are no losers, only winners. Each and every participant should become a better baguette baker with the help of others.