October 24, 2019 - 3:02pm
Community Bake featuring Kristen of FullProofBaking
It is exciting to have Kristen of FullProofBaking as our featured baker. For those that are not familiar with her work, take a look at this link for her bio and other related information.
For those that may be new to our Community Bakes (CB) check out the initial post at this link for a general idea of what to expect, and also the purpose and focus of these on-line events.
The focus bread is Kristen's Basic Open Crumb Sourdough (BOCSD). As with all CBs, I bake the bread following the author's instruction. After baking this bread over 6 consecutive times, I can say with confidence that this bread is an excellent sourdough formula. Done properly, you can expect a nice ear with good bloom, AND the potential oven spring is huge!
The spreadsheet below (published with Kristen's permission) is set to the total dough weight of Kristen's original formula. ***NOTE - Kristen uses 80% hydration, but some (me for sure) may find that challenging. So, the sheet shows 74% water and just below that 6% "Hold Out Water". For those that want to alter the hydration upwards, just add 3.5 grams of water for each 1% increase in hydration. See this link for a helpful tip.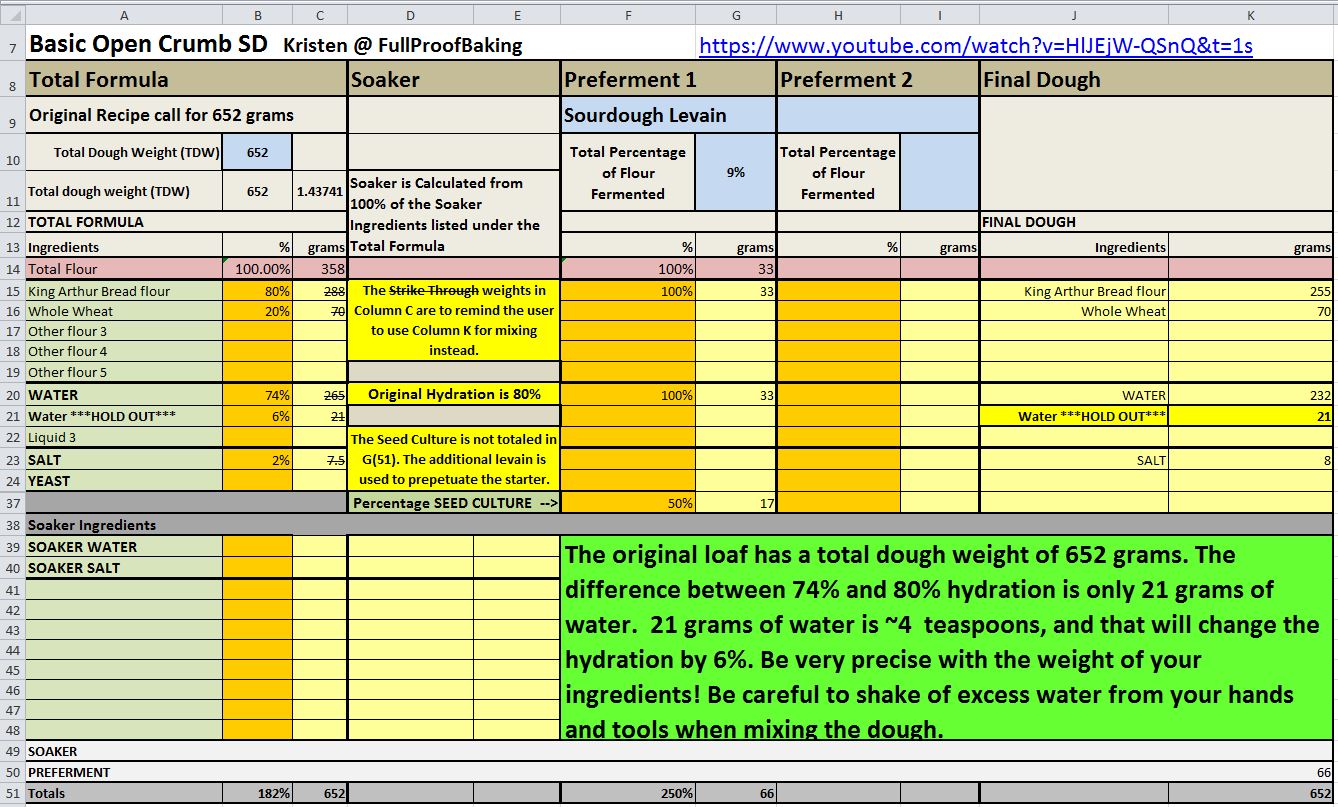 Basic Open Crumb SD
by Kristen @ FullProofBaking
Resource --- https://www.youtube.com/watch?v=HlJEjW-QSnQ&t=1s                         
Wednesday, October 16, 2019
1.    Liquid Levain   (0:00) --- I build mine at around 1:2:2 and let it sit at about 80°F until it more than triples in volume and "peaks". For my starter, this takes approximately 5-6 hours.
Flour for my starter feeds is composed of a mix of 10% rye, 90% bread flour
2.    Autolyse  (+3:00) --- This is a pre-soak of the flour and water. If concerned about the hydration hold back some of the water. You can add it back later, if necessary. Leave the autolyse for anywhere from 2-4 hours (I prefer 3 hours) while the levain finishes fermenting.
3.    Add Levain  (+6:00)  --- Spread on top of dough and work in using your hands. This is a good time to evaluate the feel (hydration) of the dough.
4.    Add Salt  (+6:30)  --- Place salt on top of dough and work in with hands. Dough will start to strengthen.
5.    Light Fold   (+7:00) --- With dough on a slightly wet bench do a Letter Fold from both ways. NOTE: If baking more than one loaf, divide the dough before folding.
6.    Lamination  (+7:45) --- Place dough on wet counter and spread out into a large rectangle. Do a Letter Fold both ways.
7.    Coil Fold   (+8:30) --- Do a 4 way Stretch and Fold (Coil Fold) inside the BF container.
8.    Coil Fold   (+9:15) --- Do a 4 way Stretch and Fold (Coil Fold) inside the BF container.
9.    Coil Fold   (+10:00) --- Do a 4 way Stretch and Fold (Coil Fold) inside the BF container.
10. End of BF - Shaping   (~11:30) --- The duration of the BF is a judgement call. Shoot for 50-60% rise (assuming my fridge temp is set very low). Warmer fridge (above 39F) means your dough will continue to rise... so in this case, bulk to more like 40%. Divide and shape
11. Retard Overnight & Bake   --- Score cold and bake in a pre-heated 500F oven for 20 minutes with steam
12. Vent Oven 20 minutes into the bake --- Vent oven and bake for 20 or more minutes at 450F.
Everyone is encouraged to join in on the fun. We especially welcome novice baker's. It's a excellent opportunity to learn and a great chance to meet others.
Danny
As promised, for those that are more advanced and want to take a ride on the "wild side", here is a link to Kristen's Cuttlefish Ink Swirl bread. In order to avoid confusion, please post anything that pertains to the Cuttlefish Ink Swirl on that page instead of using this one.