January 27, 2019 - 11:53am
Community Bake - Hamelman's Five-Grain Levain
This Community Bake will feature Jeffry Hamelman's Five-Grain Levain. The formula and instructions are taken from his very popular book, "Bread: A Baker's Book of Techniques and Recipes". Many bakers consider this bread a favorite of theirs and I am in that group. The portion of whole grain along with the seeds makes this bread stand out among the best. The book can be Seen HERE.
For those not familiar with our Community Bakes see THIS LINK. The idea of a Community Bake is for those interested in baking and learning to bake with us and post the results. This way we can all learn together. This is not a bread baking competition, everyone wins!
I chose to post the bake today in order to give everyone time to gather the ingredients since there are 4 grains and/or seed add ins. It is not necessary to go out of your way to get the specified seeds or grains. I substitute all of the time and the bread is always great. Hopefully the bake will get into full swing by next weekend, but feel free to start right away.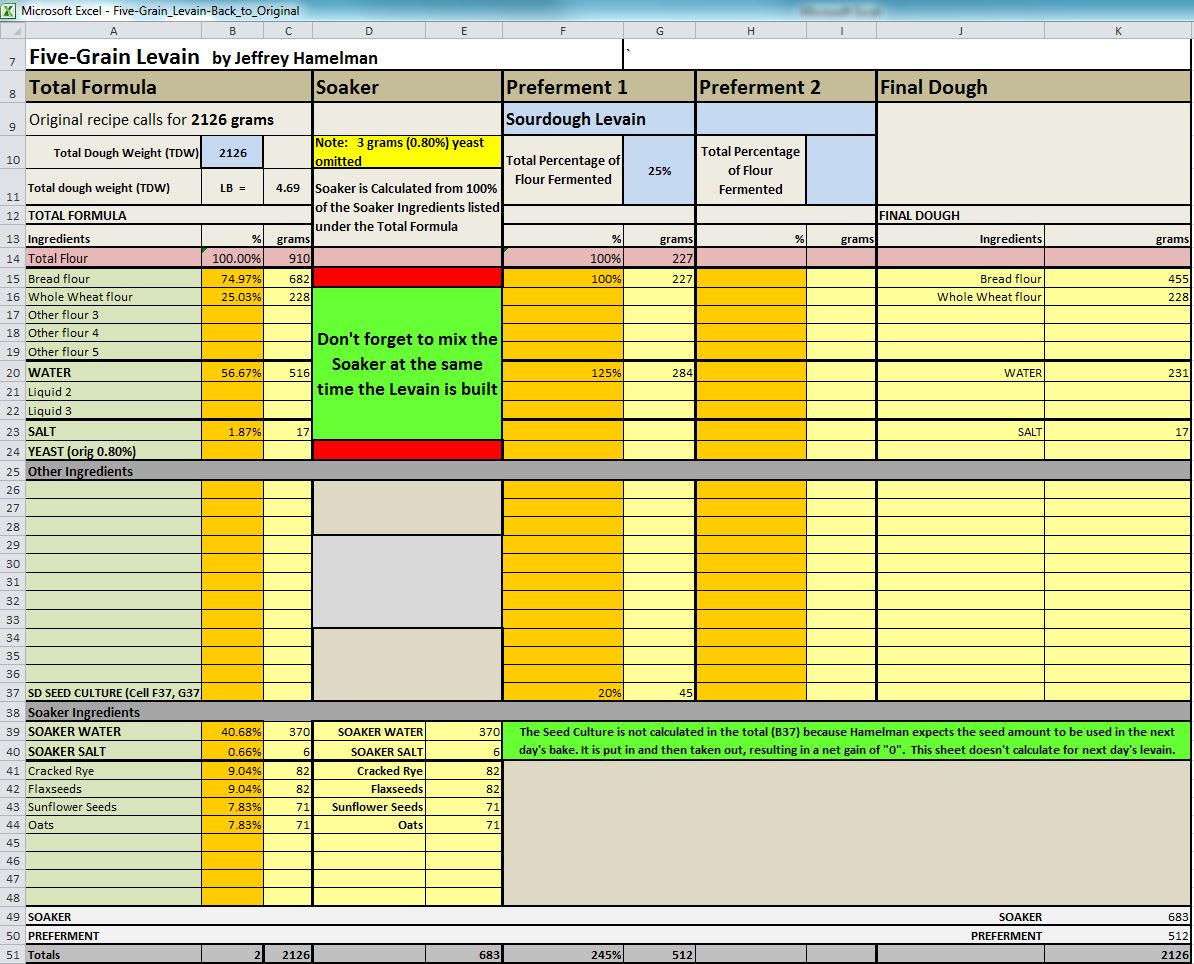 I've included an additional image of the spreadsheet for those that want to bake a smaller batch. The formula is for 1000 grams, but you could easily divide each ingredient by 2 in order to make a 500 gram loaf.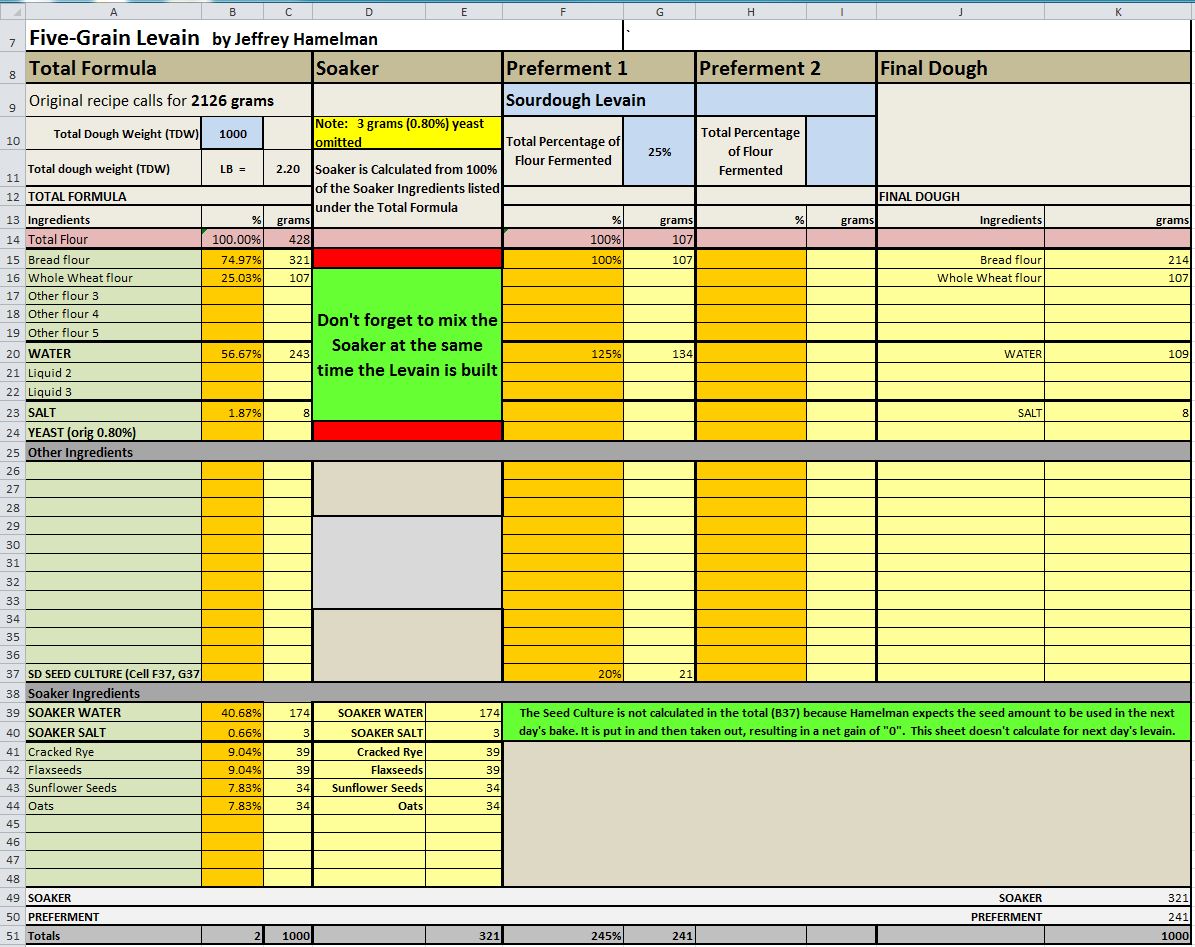 Here are the instructions from Hamelman's book. If you don't already own the book, I suggest you give it some consideration.
Five-Grain Levain
by Jeffrey Hamelman
Resource --- Bread: A Baker's Book of Techniques and Recipes    Pages 182 - 183
1.    Liquid Levain   --- Make the final build 12 to 16 hours before the final mix and let stand in a covered container at about 70°F. Mix Levain and Soaker at the same time.
2.    Soaker   --- Pour the boiling water over the grain blend and salt, mix thoroughly, and cover with plastic to prevent evaporation. Make the soaker at the same time as the final build of the levain and let stand at room temperature. If grains that don't require a hot soaker are used (such as rye chops in lieu of the cracked rye listed here), a cold soaker will absorb less water, and therefore it's likely that slightly less water will be needed in the final dough.
3.    Mixing   --- Add all ingredients to the mixing bowl. In a spiral mixer, mix on first speed for 3 minutes, adjusting the hydration as necessary. Mix on second speed for 3 to 3 1/2 minutes. The dough should have a moderate gluten development. Desire dough temperature 76°F.
4.    Bulk Fermentation   --- 1 to 1 1/2 hours (if yeast (.008%) is used). Otherwise see Step 7 for clarification.
5.    Folding   --- the bulk fermentation should be 2 hours with 1 fold
6.    Dividing and Shaping   --- Divide the dough into 1.5 pound pieces; shape round or oblong. Large loaves of several pounds are also a beautiful sight. And good rolls can be made from this dough. NOTE – I like to make 3 pound boules and place them into the Dutch Ovens and then refrigerate. After they are shaped I place the ball upside down on a water soaked towel and then put the wet side on a towel that is floured and filled with pumpkin seeds. This gives the bread an excellent flavor and also makes it more attractive.
7.    Final Fermentation   --- The dough can be retarded for several hours or overnight, in which case the bulk fermentation should be 2 hours with 1 fold and the yeast should be left out of the mix.
8.    Baking   --- With normal steam, 460°F for 40 to 45 minutes. There is a great deal of water retention in this bread, so be sure to bake it thoroughly.
Danny