SFBI Artisan I workshop: Day 5
SFBI Artisan I, day 5
Today, we baked 3 batches of baguettes - with poolish, sponge and "pre-ferment" (like biga). The didactic portion covered baker's math for doughs with pre-ferments. We reviewed a lot of material on mixing and dough handling. As a "bonus lesson," Miyuki demonstrated special baguette scoring techniques.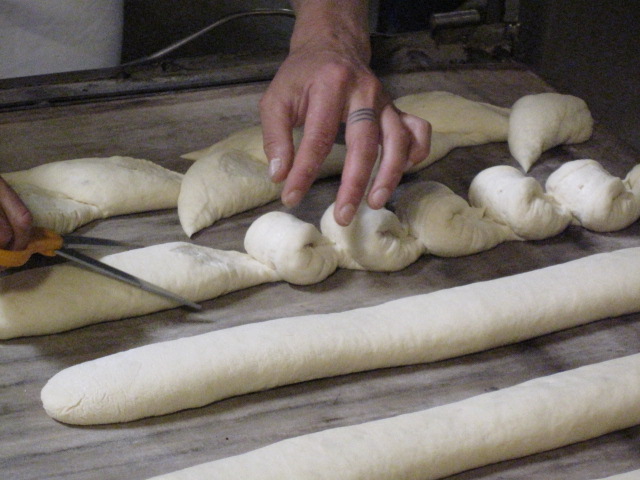 Miyuki called this a "Dragon Tail."
Dragon Tail baguette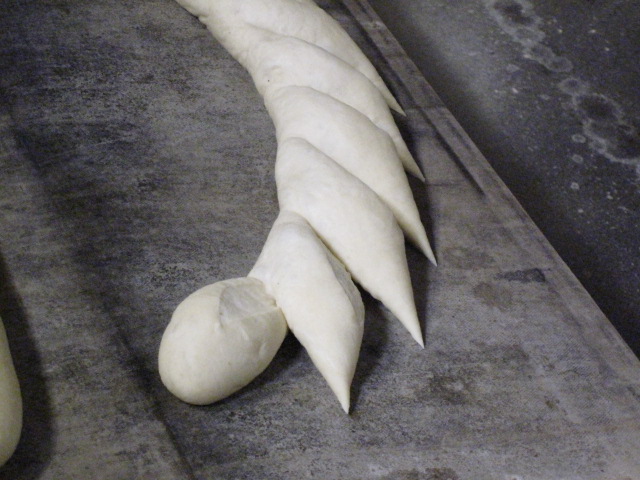 Bend the baguette into a curve and cut as for an epi, except fold all the pieces to the convex side of the baguette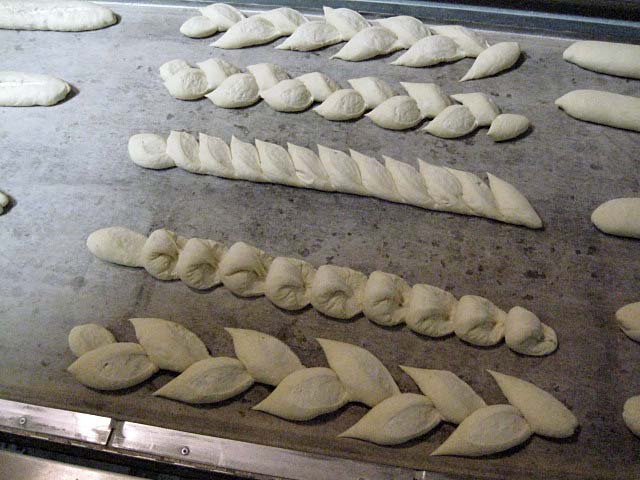 These are all Miyuki's - ready to load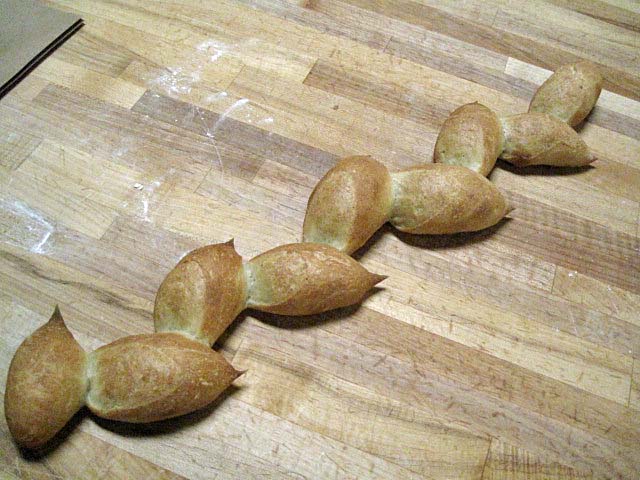 These are mine - baked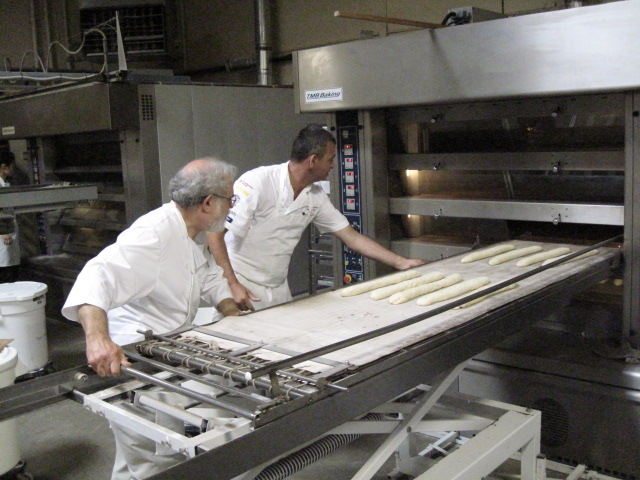 Loading baguettes 
I don't think I've mentioned that there were wonderful pastries available with coffee when we arrived, and we were served delicious lunches each afternoon. Lunch today was two kinds of pizza - margarita and 5 spices chicken, mango and scallion - really delicious. Today, we were also served wine - a very nice pinot grigio. The desserts were lemon macarons and "nouveau linzer," a layer of flourless chocolate cake spread with raspberry jam under chocolate mousse. Ooooooh my!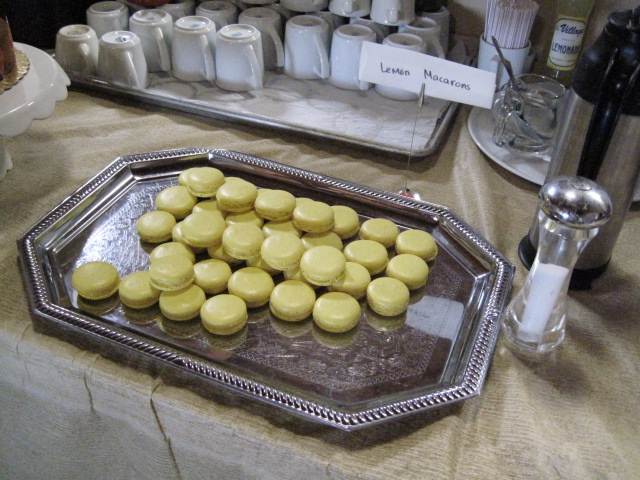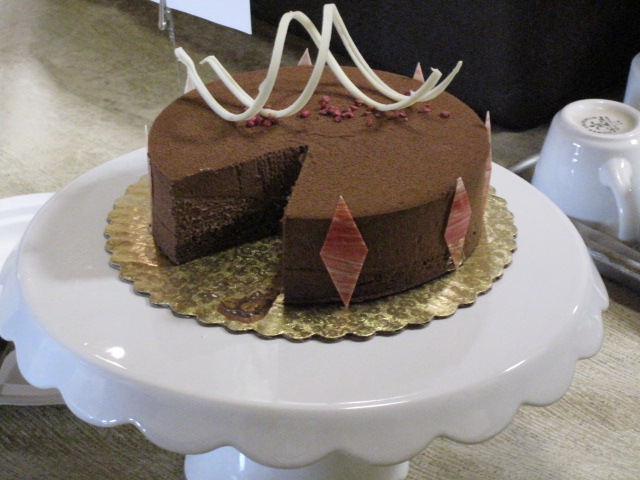 At the end of the day, Michel Suas met with the class, which is a long story for another time. We tasted the different baguettes we made and also some hand-mixed baguettes Miyuki made and baked in a home-type oven. We took some photos and went home with a couple half-pints of ice cream the interns had made. I got strawberry and cassis.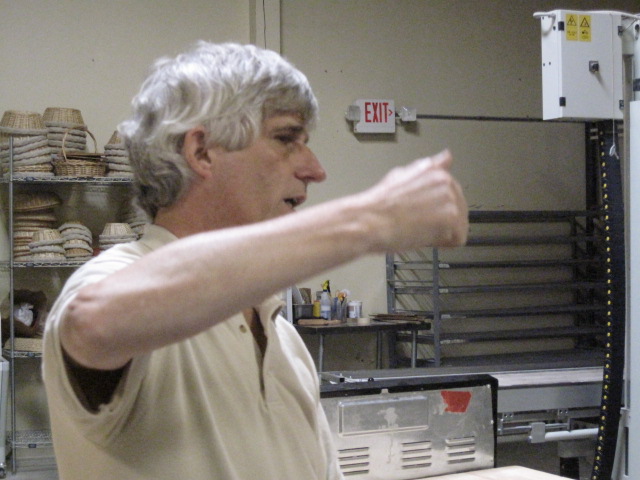 Michel Suas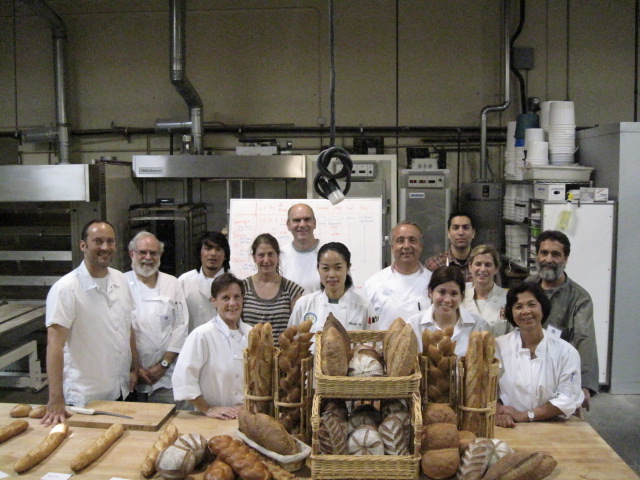 Class photo (3 students had to catch planes prior to this, unfortunately.)
I would certainly recommend this course to any serious home baker or any professional baker. For the home bakers: It really helps if you have studied modern bread making concepts beforehand. The workshop covers a lot of material, and it moves fast. You do not want this to be your very first exposure to baker's math or scaling ingredients or using pre-ferments, just to give a few examples. 
On the other hand, the class was about half professionals, some with many years experience as bread bakers in restaurant or bakery environments. There was no one who didn't learn a lot. I think I heard every one of them talking excitedly at one or more points about concepts and procedures they were eager to apply in their own workplaces.
Now, to go home and try to apply everything I've learned. 
David