SFBI Artisan I workshop: Day 3
SFBI Artisan I: day 3
On day 3 of the Aritisan I Workshop at SFBI, the didactic sessions covered "flour technology" with discussion of the different kinds of wheat, milling and other processes used by millers. In the lab, we again mixed 3 kinds of baguettes in order to compare the consequences of modifying the straight dough method by using high gluten four or by using an autolyse. In each case, while the formula was kept constant, mixing was varied as one would with these variations - longer mixing when using high-gluten flour and much shorter mixing when using an autolyse.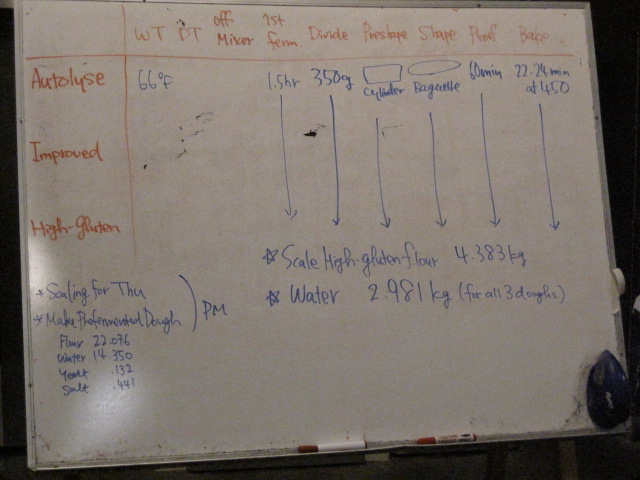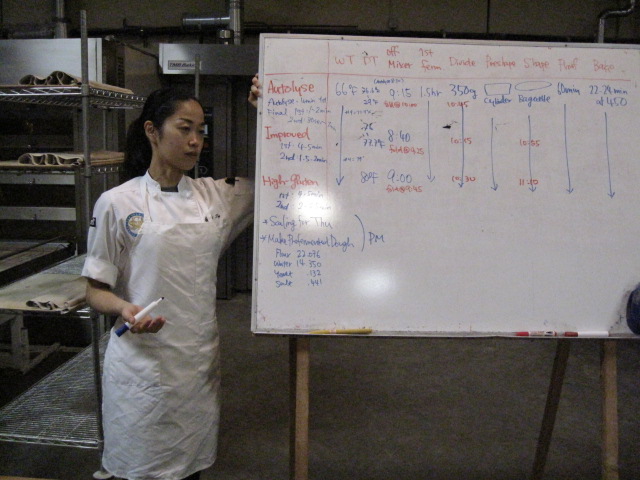 On Days 1 and 2, Miyuki did all the mixing. Today, we all got to use the big spiral mixers with much more (literally) hands on dough-feeling periodically to judge when the dough was adequately mixed.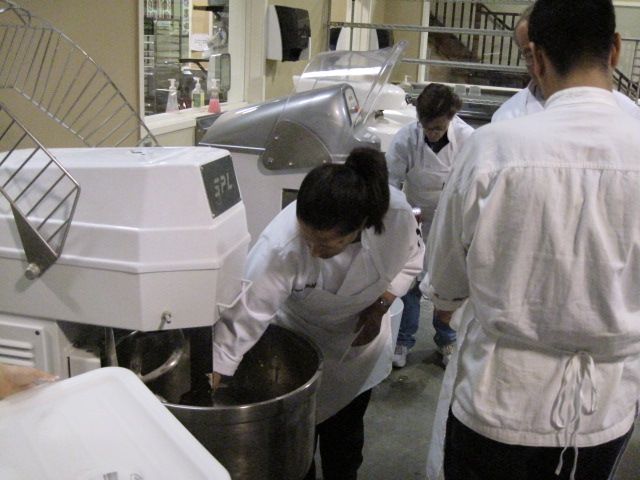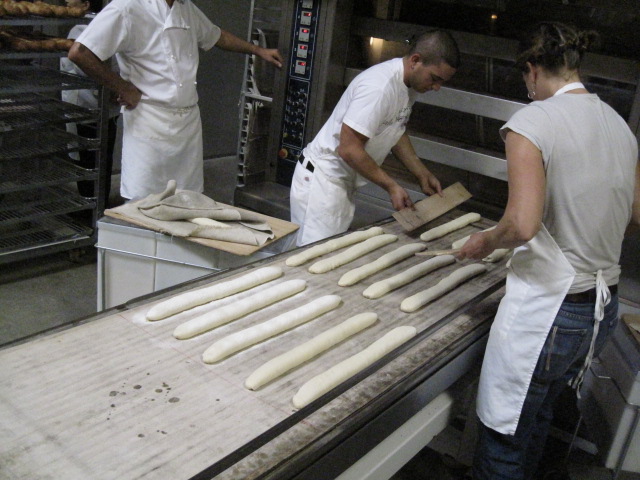 Transferring proofed baguettes to the loader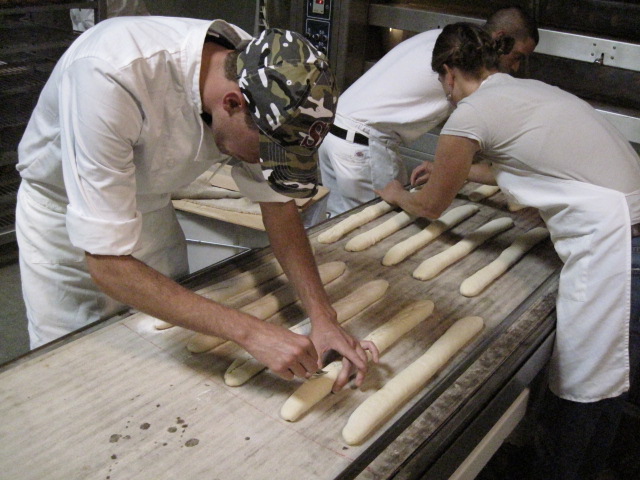 Scoring baguettes before loading
Just to clarify: When different methods were used, I made 5 baguettes with each dough, even though my photos only show (the best) 3 of each batch.
We were able to actually experience the different dough handling of each mix when stretch and folding, dividing, pre-shaping, shaping, scoring, etc. We could also see the consequences of these variations for loaf volume, crust color, cuts opening, crumb structure and color, aroma and flavor. Miyuki repeatedly quizzed us on the reasons we got the results we did for each of these variables.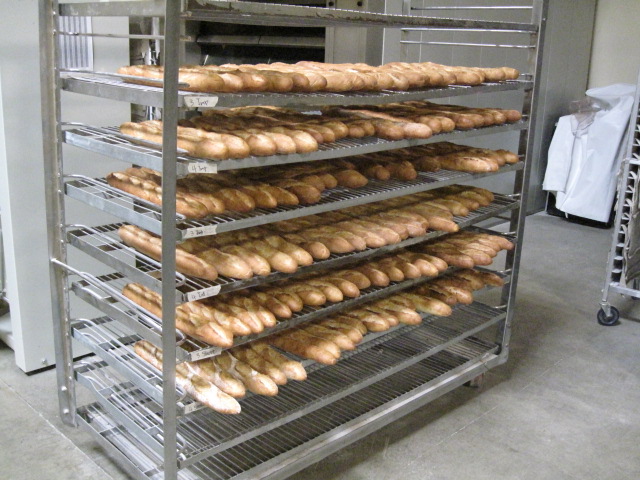 Our baguettes from today, cooling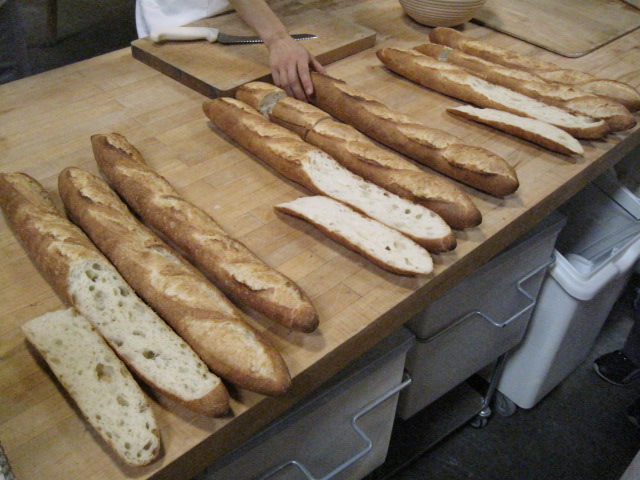 Comparing crumbs
Of course, we also worked on improving our dough handling skills. I felt pretty good about my improvements in consistent baguette shaping. My scoring was, overall, improved. My best scoring was, in Miyuki's words, "almost good."  But I think I know what I need to do to improve my scoring.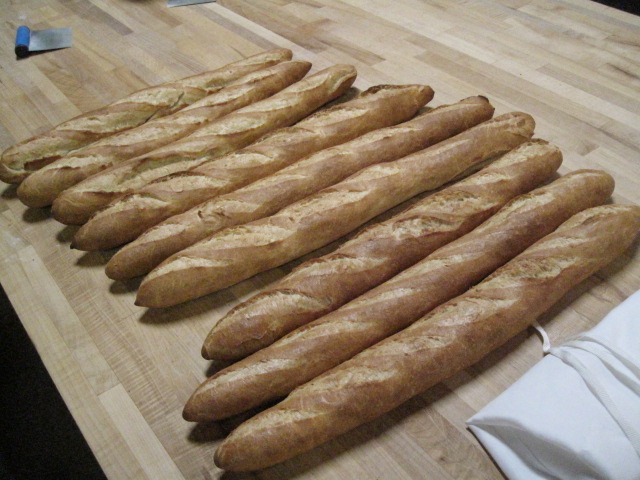 My baguettes (left to right: Improved mix, High-gluten flour and Autolyse). My baguettes today had more even thickness and length. Scoring still needs work.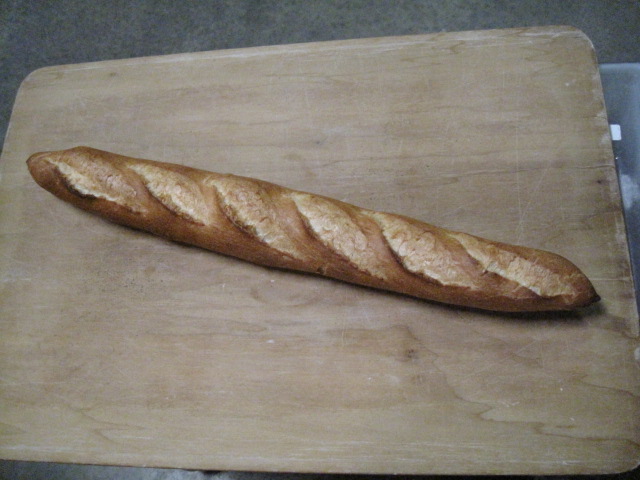 My best-looking baguette of the day.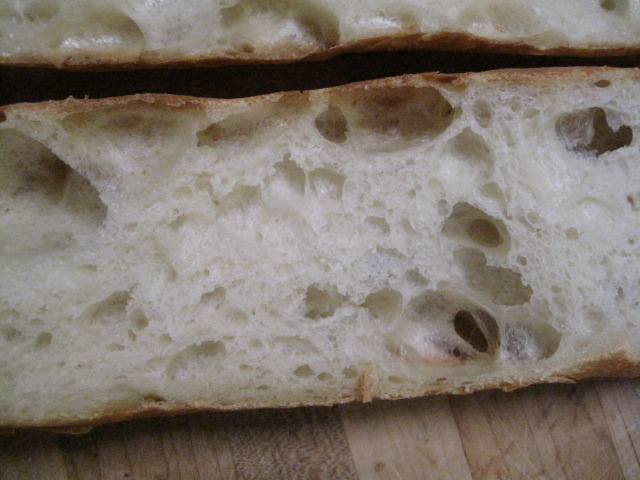 Intermediate mix baguette crumb
Tomorrow, we make 5 kinds of bread, none of which is baguettes!