SFBI Artisan I workshop: Day 2
SFBI Artisan I day 2
Today's emphasis was on the differences between Short, Intermediate and Intensive mixing. Each of us baked 5 baguettes with each type of mix. The formulas for each batch was slightly different - the shorter the mix, the longer the fermentation, the greater the number of folds, the higher the hydration and the less yeast.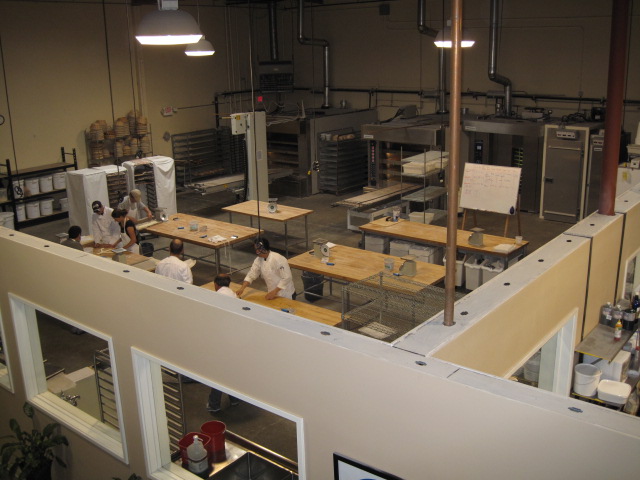 Our lab, aerial view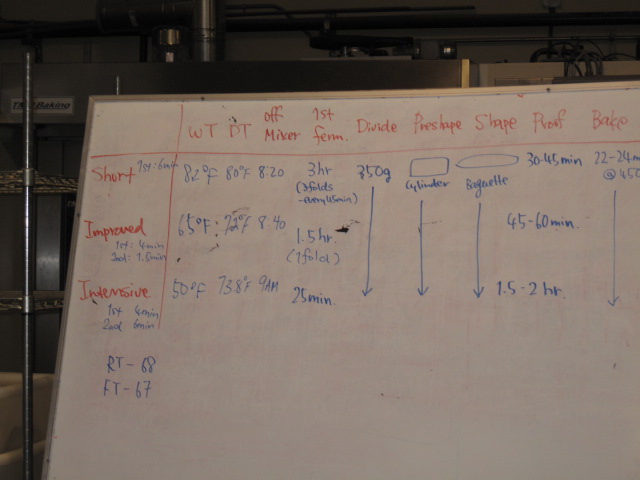 Today's project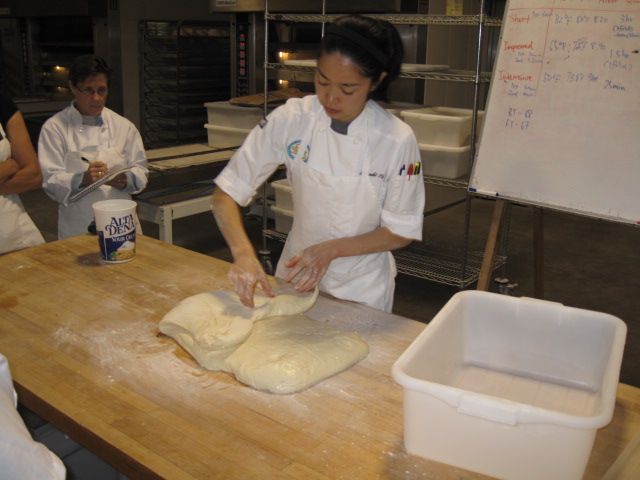 Stretching and folding the Improved Mix dough (Miyuki demonstrated, then each of us did it on our own batch.)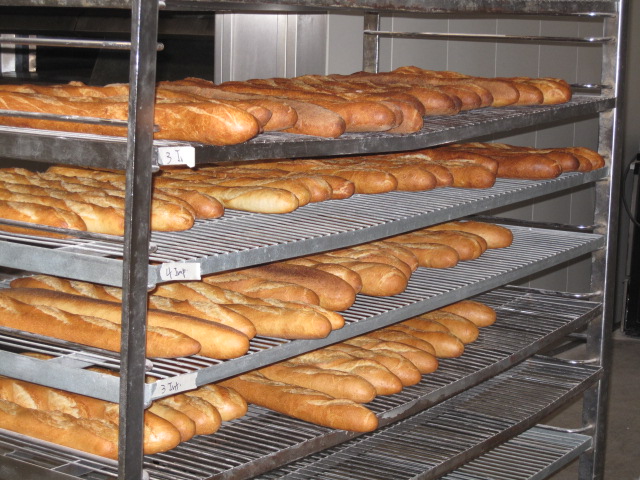 Our breads, cooling
Assessing the breads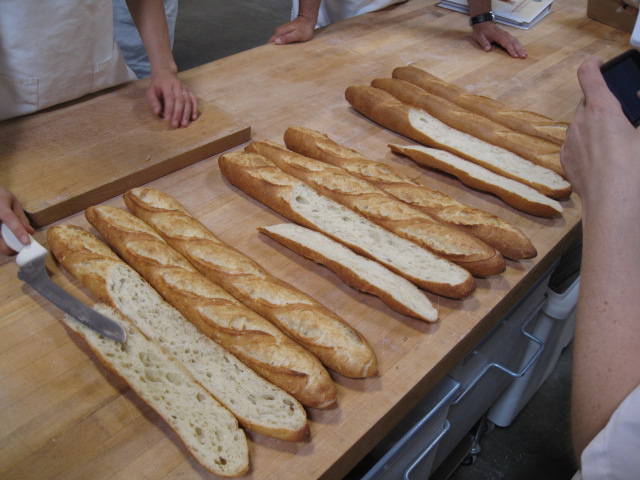 Comparing crumbs (from left to right, short, improved and intensive mix)
Of course, the practice handling the dough with personal critique from Miyuki continued. I was amazed that, with 16 students, she clearly remembered what she had told each of us yesterday and compared today's production to yesterday's in incredible detail. (I chatted with one of the SFBI interns at a break. He clearly worships Miyuki as a very highly skilled baker and teacher. It's like she knows everything and does everything better than anyone - not just breads, but also pastries, cakes, venoiserie … everything. I can see it.)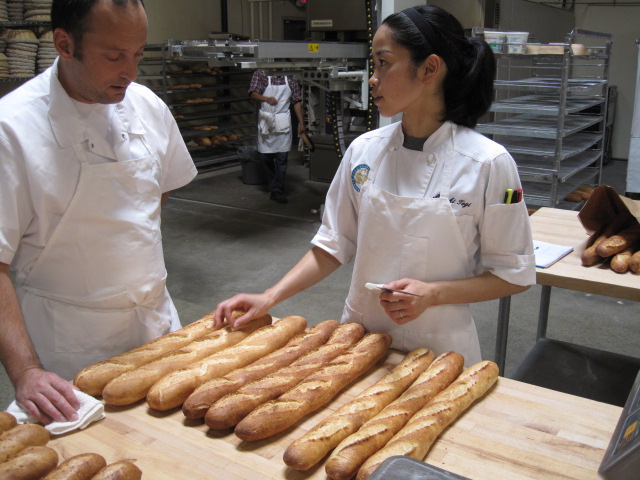 Assessing each student's baguettes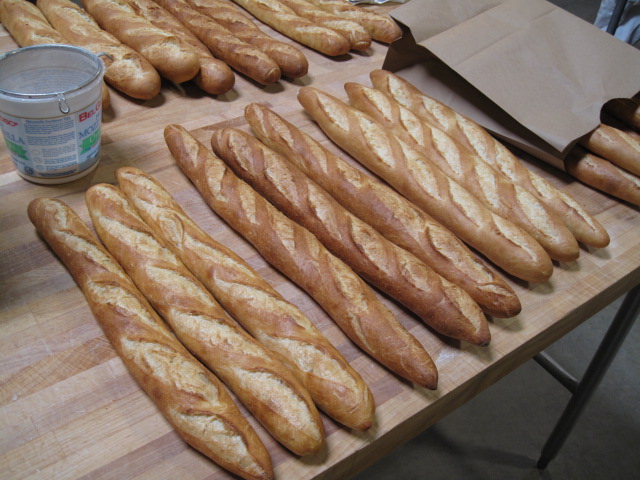 My baguettes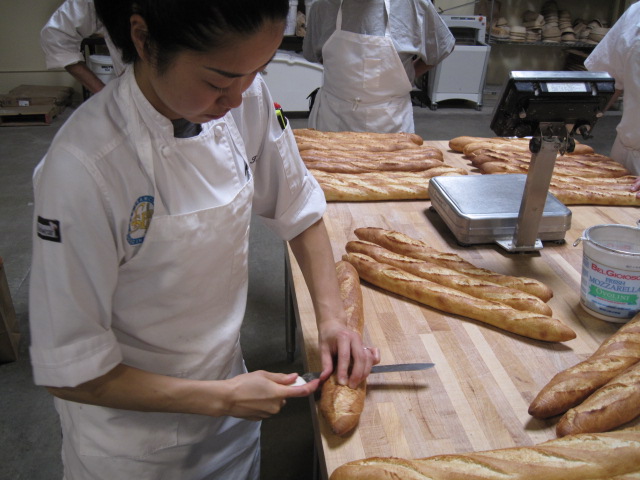 Miyuki cutting one of my baguettes
After all the breads were baked, we assessed each one that Miyuki had made. Then, she evaluated the breads each of the students had made. I need to work on shaping and scoring consistency. She really liked the crumb of my Improved Mix baguette. Her comment after looking at it was, "You have really good dough handling." Ooooooh. That felt good!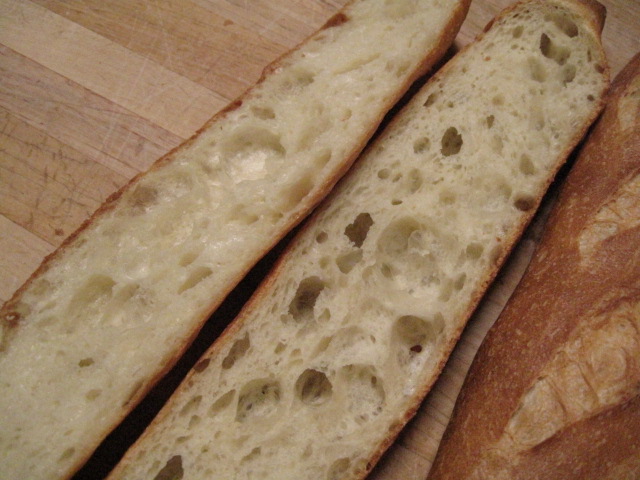 My intermediate mix baguette crumb
David