August 19, 2010 - 10:10pm
SFBI Artisan I workshop: Day 4
SFBI Artisan I, day 4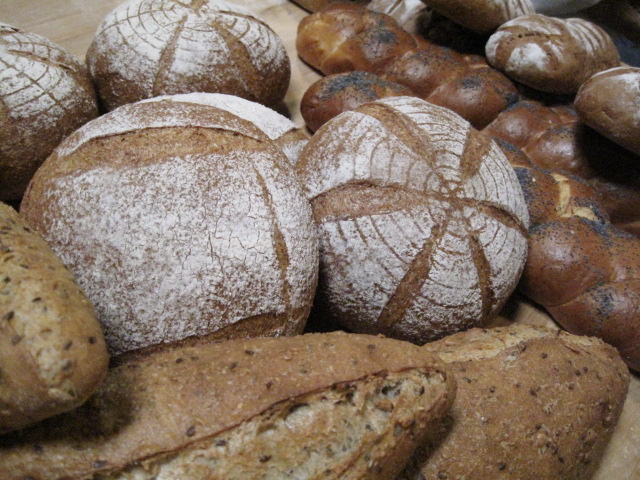 Yesterday, we looked at the effects of two variables - pâte fermentée and high-gluten flour - on one kind of bread - baguettes. Today, we used pâte fermentée as the constant, and made 5 different breads with it. They were:
1. Pan Bread. An enriched sandwich loaf.
2. Rye Bread: A French-style pan de seigle.
3. Whole Wheat Bread 
4. Egg Bread. Very enriched with sugar, eggs and butter and braided.
5. Multi-grain Bread. With a soaker of 3 seeds, rye, whole wheat and AP flour.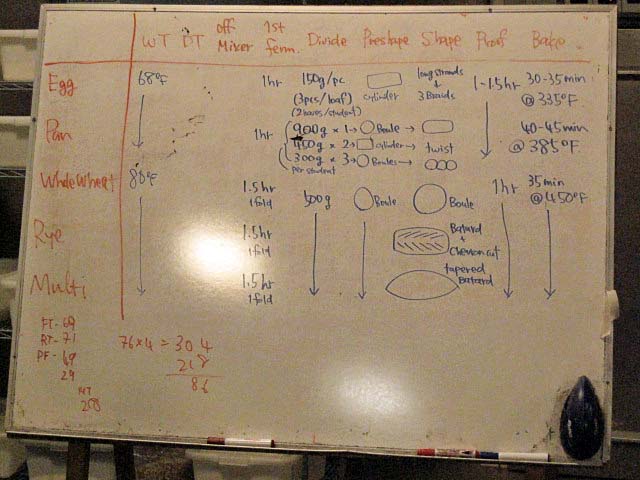 Plan for the day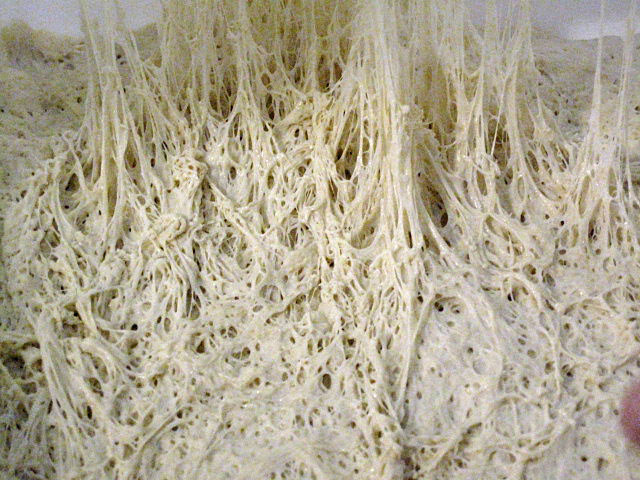 Ripe Pâte Fermentée. (Incidentally, a good illustration of the chaotic pattern of un-organized gluten resulting from a short mix.)
We made multiple loaves of each. We made the pan bread using 3 different shaping methods. We used multiple scoring patterns with the the rye bread and  the whole wheat bread. So, we did 7 shapes, 12 scoring patterns, 5 kinds of dough and 20 loaves, in all. I was truly wiped out by the end of the day.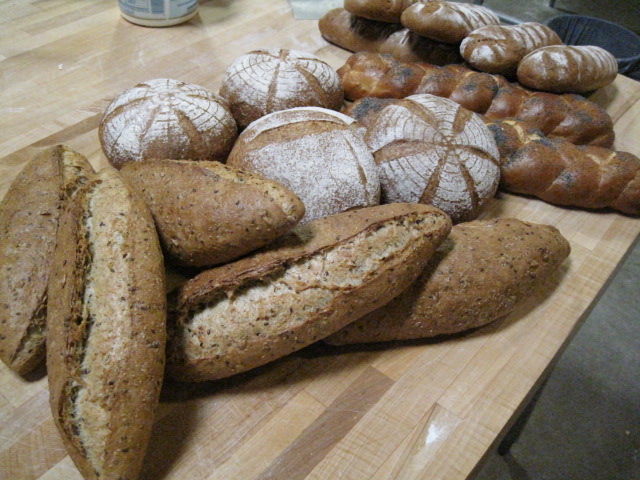 My breads from today (absent the 3 pan loaves). Front to back: Multi-grain, Whole Wheat, Egg Bread and Rye Bread.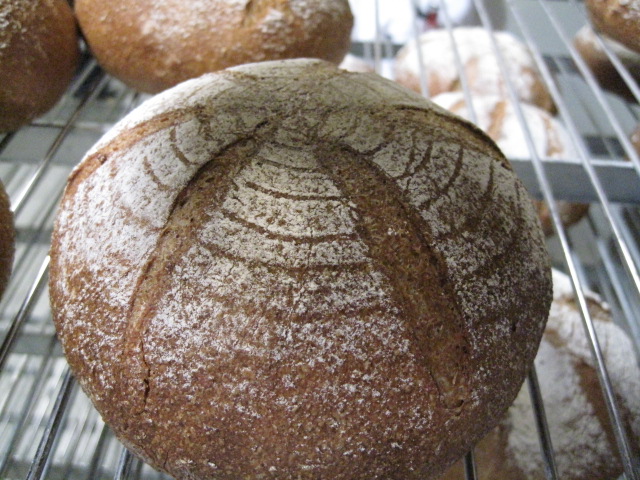 One of my Whole Wheat boules
Miyuki squeezed in a couple classroom sessions on different pre-ferments.
As a very special treat for me, Susan Tenney (SusanFNP) came over to SFBI to chat and stuck around helping Miyuki with racking the baked loaves. It was such a pleasure to meet her face to face. She is such a pillar of the home artisan baking world!
At the end of the day, before tasting all the types of breads we baked today, we mixed pre-ferments - pâte fermentée, poolish and sponge - for tomorrow, when we return to baguettes.
The "aha moment" of the day for me was finally really learning how to pre-shape and shape a boule correctly. It's about time, eh? Again, having Miyuki show me once was all it took. Having to then shape 10 boules help consolidate the technique. I learned more in an hour today about this technique then I've learned in the past 3 years. As Leadbelly said, "It's so easy when you know how." 
David