February 2, 2013 - 1:55pm
A Born Loser Tells a Tale of Too Many Two's and the Evil Twin
That's right.  I'm one of the few people who can truthfully say they were born losers.  I am a twin and the second one born.  So, I managed to lose the first race I ever ran and was born in 2nd place – the worst kind of loser.  Luckily, I can't remember much about my horrible awakening to the outside world that day so long ago, another loss I suppose.  Maybe I'm double, double born loser though.
That's right a second time.  It is not the end of the terrible two's that day.  I was also born on the 2nd day, of the 2nd month in a year that was 2 years past 1/2 a century.   I mean there ought to be a law that limits how many two's a twin can be stuck with on one day don't you think?
I would love to have back all the money I have bet on 2 and 22 over the years - roulette, lotteries, sports, etc.  #2 has never been kind to born losers like me, but that doesn't stop us from trying to make it our lucky number.  We are eternal optimists and think things will change after all these years of suffering.  We think we will wake up from this bad dream and be born first and the number 1 has really been kind to us.  But no – it isn't so – at least not yet.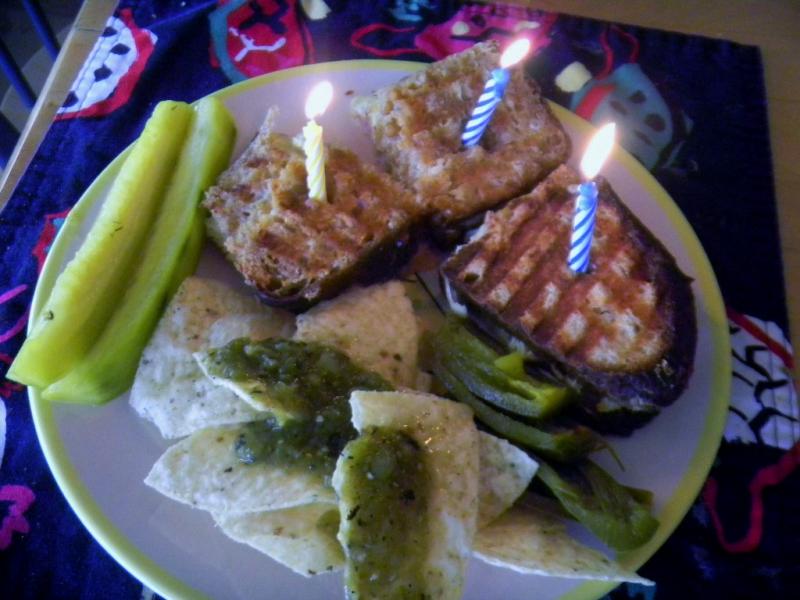 So to celebrate, at lunch today, my wife and I split a 2 cheese, 2 bread and 2 meat panini with 2 homemade kosher dill pickles and 2 hot condiments, salsa verdi on chips and pickled jalapenos sans seeds.  The 2 breads can be found here :  
White Whole Wheat with Combo YW, Poolish, SD Starter, Water Roux and Wheat Berry Scald
Multi-grain Sourdough Chacon with Olives, Sun Dried Tomato, Garlic, Rosemary and 2 Cheeses
We split one of the 2 sandwiches in two to make 3 sandwiches since I was going to eat 2 of them and there was no really good reason for my wife to go hungry again this time.  . My wife lit 3 candles, one on each sandwich representing one for my brother and 2 for me since I am twice as good him on my worst day – which can be pretty bad come to think about it.
He always was and still is - the Evil Twin.  Most people don't even know there is always an Evil Twin but, take it from a real Born Loser, you are twice as likely to be the Evil Twin if you were unlucky enough to be born first on that day - a day of too many twos.  Yes, I guess I'm saying my twin is a real Double Doofuss of the Twofuss! 
Happy Birthday Brother - still thinking of you often and kindly but why…. we can't remember, even though we do forget and forgive at least as easy as any other Born Loser is likely to do – when celebrating the worst day we can remember J
Tonight we will have the panettone birthday cake that is oddly cut in two, with 2 candles.  One candle is for the Evil Twin; the Double Doofuss of the Twofuss and the other is for the Born Loser.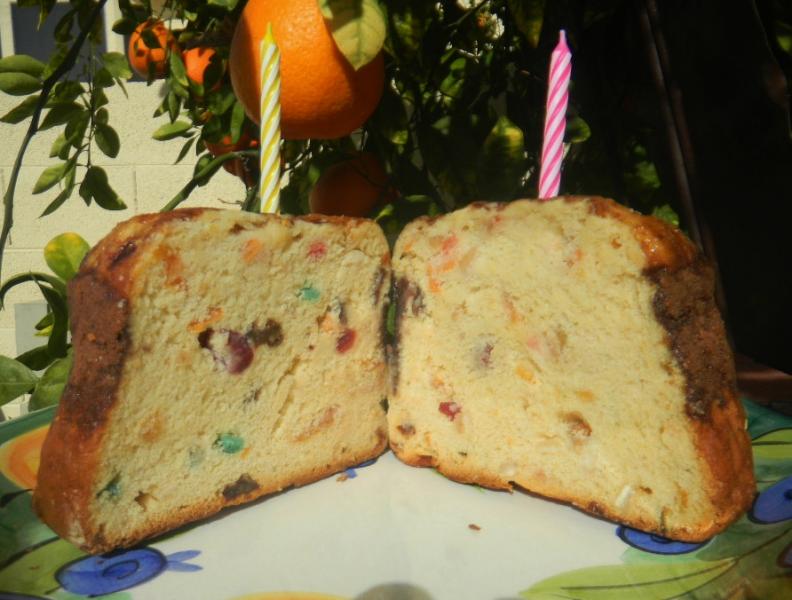 I suppose there could be a sadder tale out there somewhere but, it I think will be difficult to duplicate The Tale of Too Many 2's for Twins.