January 11, 2013 - 12:02pm
Multi-grain Sourdough Chacon with Olives, Sun Dried Tomato, Garlic, Rosemary and 2 Cheeses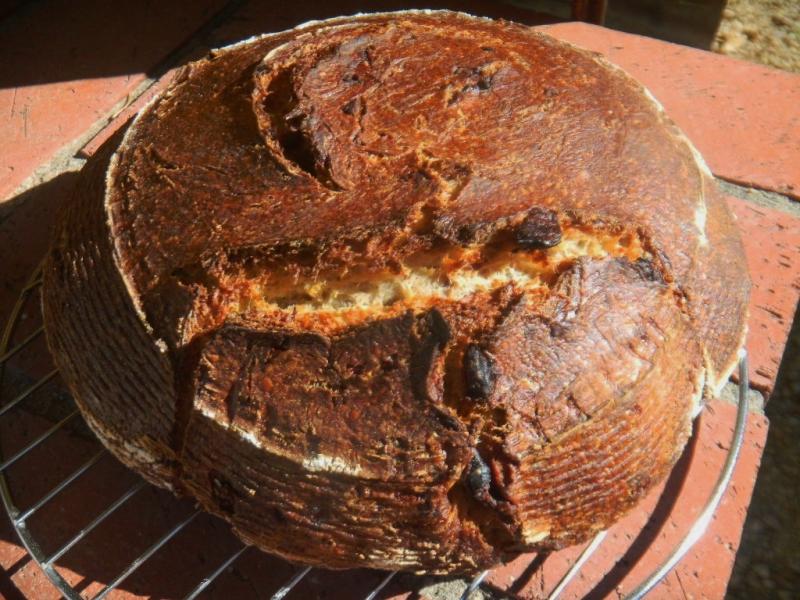 We had one more batch of saved white Italian starter left over from the panettone bake which produced so much excess starter it is nearly obscene.  It was built up over 3 stages and had been previously refrigerated for several days. We decided to do an Italian bread and was torn between an Altamura Pope's Hat or the Chacon it eventually inspired.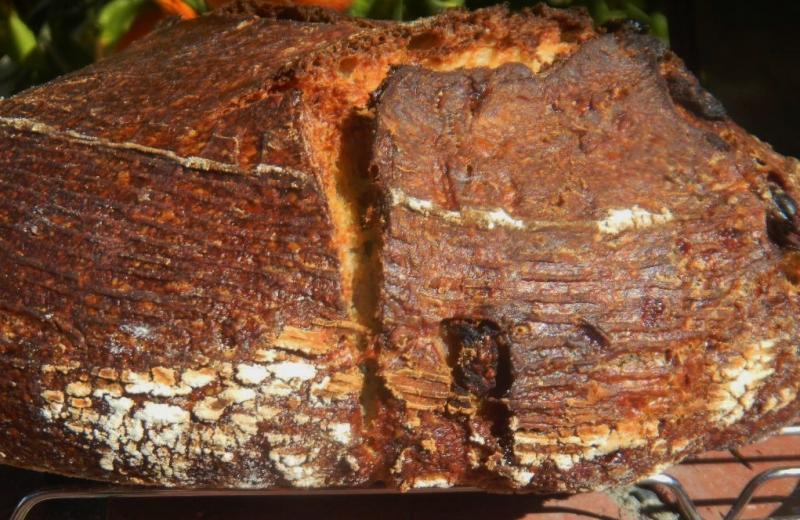 For breakfast a couple of days ago, we were finishing off the last 3 slices of the Eric's Chacon; a marbling of challah with Eric's Favorite Rye, toasted with a schmear of grilled salmon and cream cheese and decided to do a chacon in a way we had not done before.   It is funny how bread decisions get made sometimes.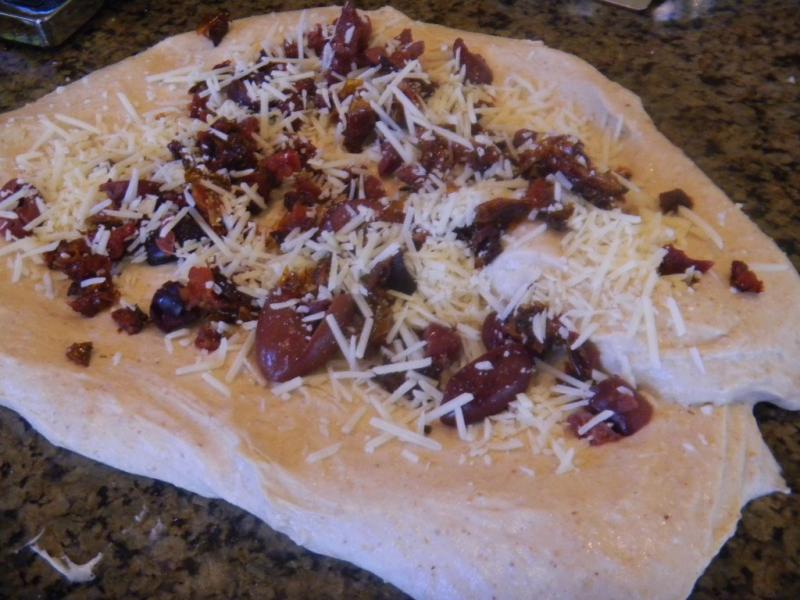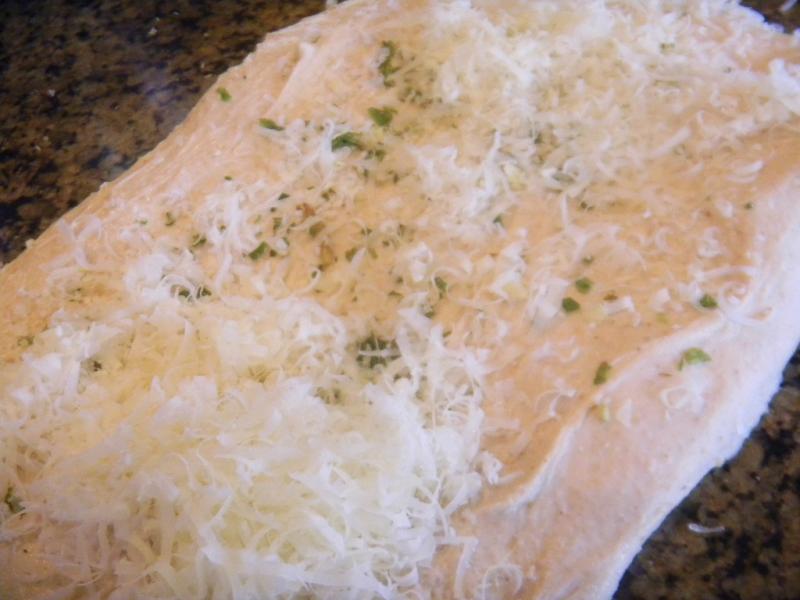 We used the same whole grain variety of Kamut, rye, WW, quinoa, barley and oats with a little potato and Toady Tom's Tasty Toasted Tidbits this time but reduced to 22% of the flours used so that the rest of the add in goodies could possibly come through a little better.  We kept to the 72% hydration of the last bake and hoped that it wouldn't end up feeling as wet overall since the scald was deleted from this bake too.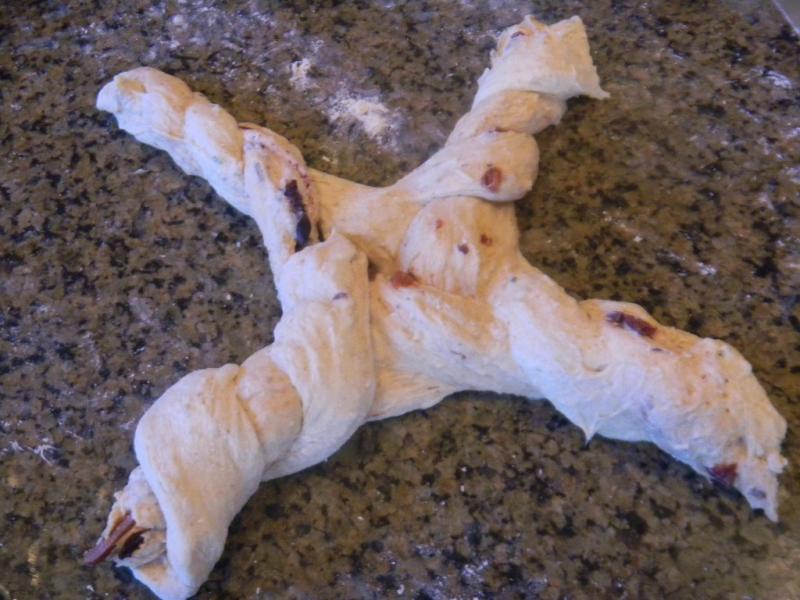 We also decided to reduce the 36 hour retard and final proof in the fridge back to 24 hours after the last batch over-proofed at the 36 hour mark.  Reducing the whole grains in the mix should slow things down a little bit my apprentice noted as well.  She would be pretty smart sometimes if she wasn't so dumb, if cute, otherwise.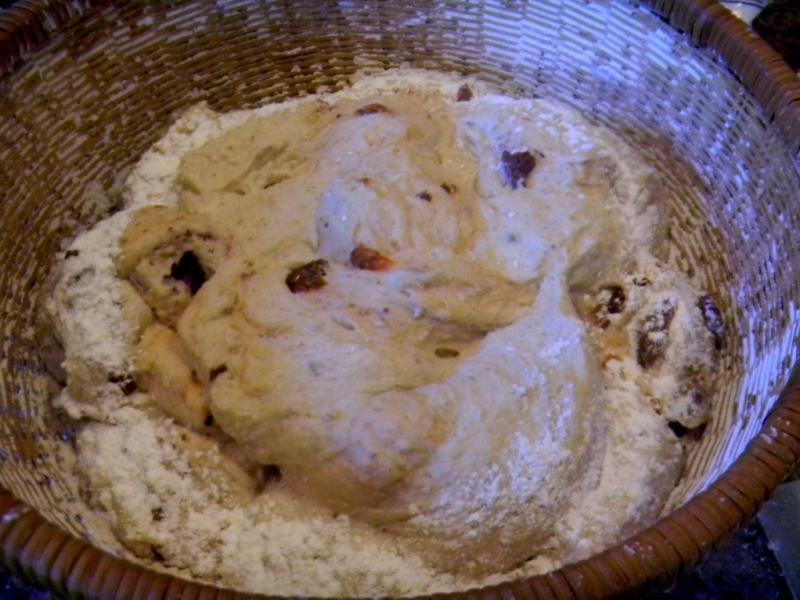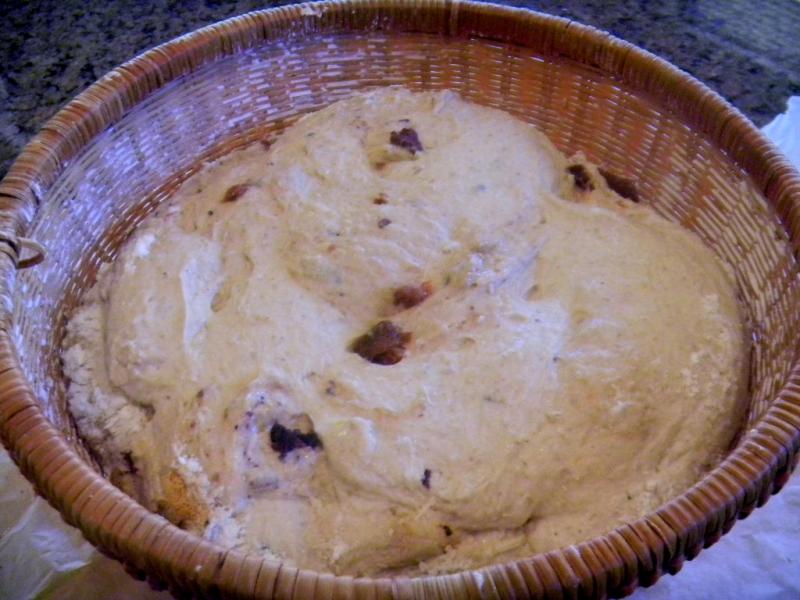 We used a high percent of levain (20%) of the total dough weight again, which is more than we normally would use if we were going for sour, but that is what we had left over and after refreshing it to bread speed.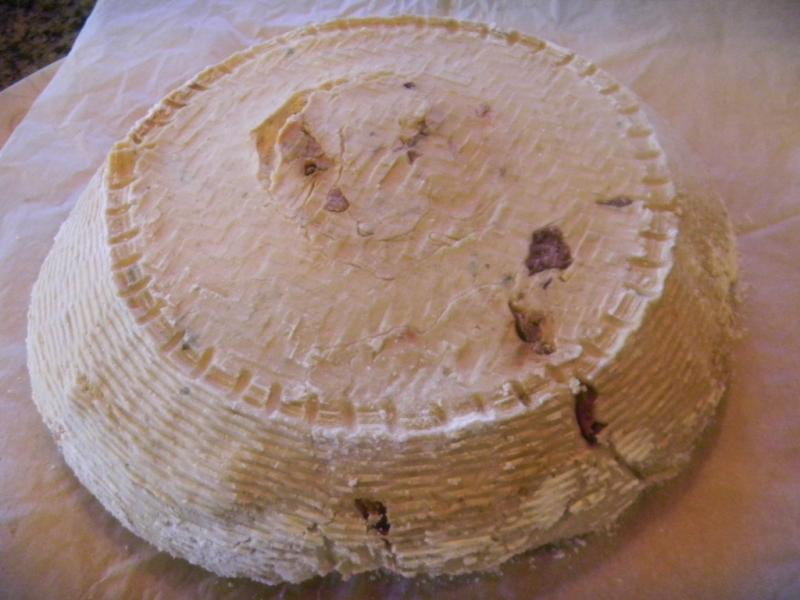 Some fine bakers like to use large levain amounts in their bakes like Peter Reinhart and our own Ian.  This might have contributed to the over proofing of the last bake though and another reason to go with a 24 hour retarded proof this time. But, after 15 hours it sure hasn't proofed itself up much in the fridge.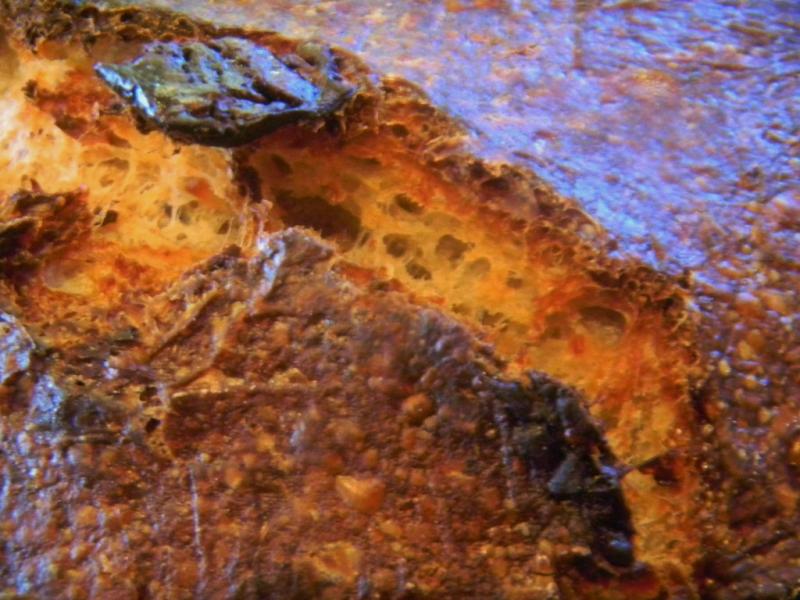 The method was the same this time as the last bake except for the 24 hour final proof and retard in the fridge and we divided the dough into two, not to make two different loaves but to make two different kinds of bread in one chacon.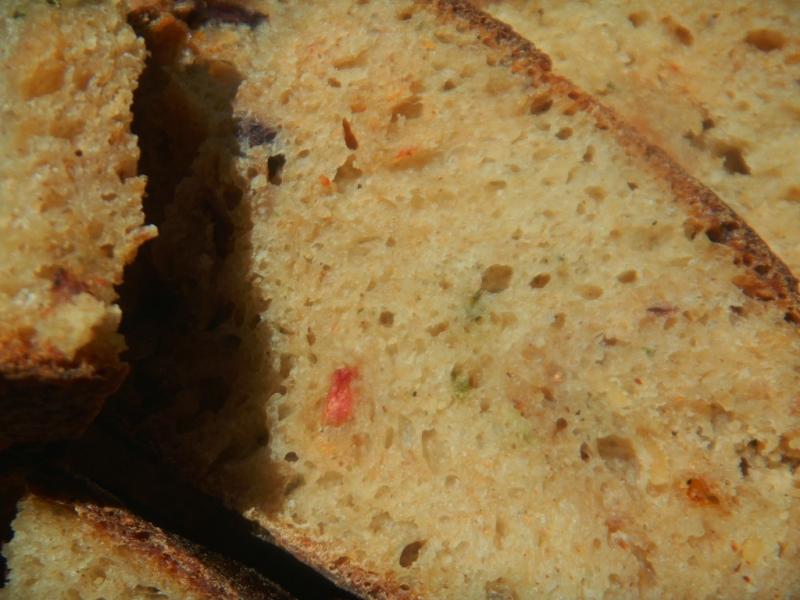 One half of the dough had kalamata olives, home made sun dried tomatoes and grated asiago cheese added to it and the other half had fresh rosemary, garlic and grated parmesan cheese.  Now that sounded pretty Italian to me but I cut the salt down some to account for the salt in the add ins.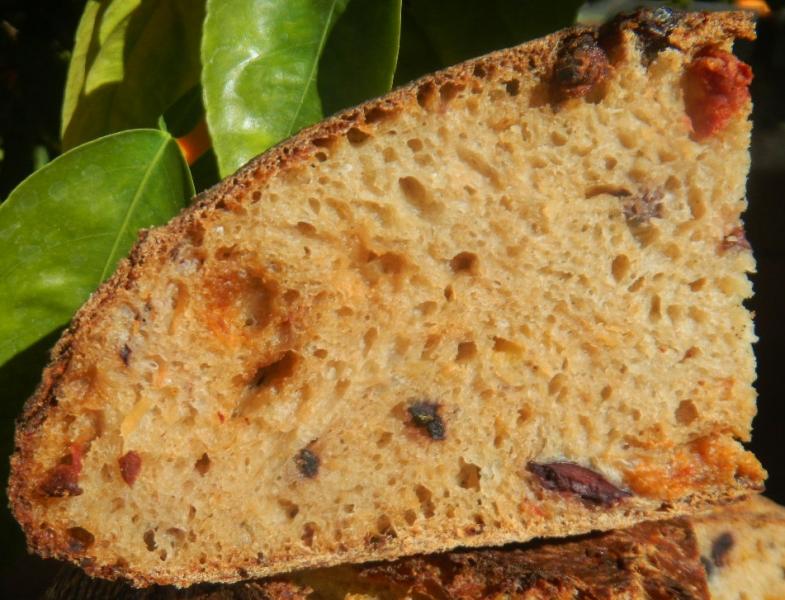 The chacon started with an olive knotted roll in the middle surrounded by a rosemary twisted rope.  The rope was surrounded by balls of alternating doughs.  The remaining dough was separated into 2 ropes each and made into an alternating 4 strand round challah shape.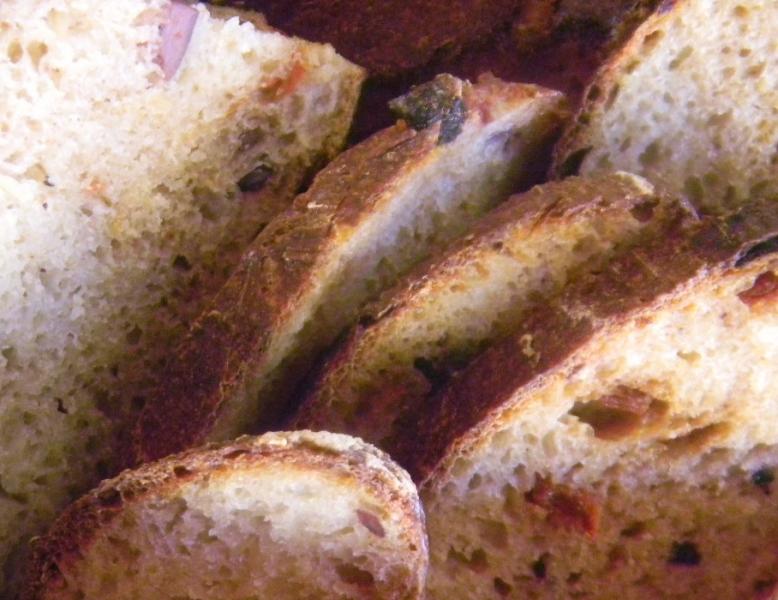 The ends were braided but instead of being tucked under they were rotated to the side to make the challah larger in diameter.  This was placed on top of the rest of the shapes in the basket.  It didn't quite cover but we didn't want to smoosh it up too much to see what the shape would be like on the bottom of the loaf after baking.  Why should top get all the pretty decoration?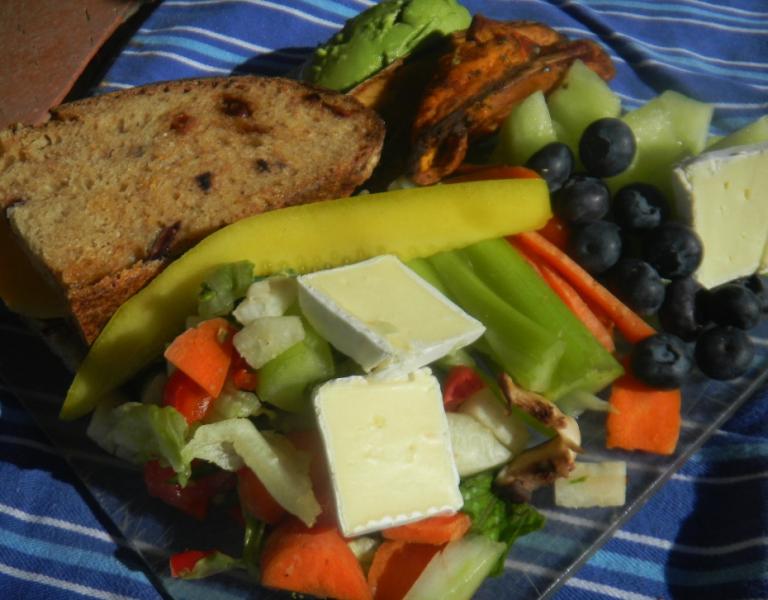 This dough was still pretty wet, much wetter than our normal chacon dough, so it will be interesting to see how the shapes come though the cracking stage when baked.  Hopefully it will still crack as expected.  If it tastes half as good as it smells before baking, we will have some fine Italian bread to eat.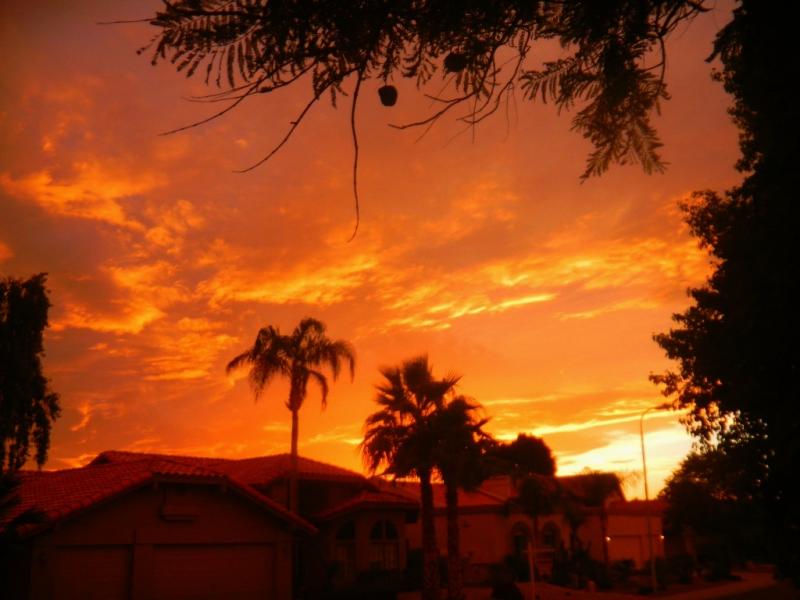 Just checked on it and this bread needs much more time in the fridge to proof right so, 36 hours is back on the table but it will have to be 40 hours because I'm not putting this bread in the oven a 5 AM!  Or 10 AM either.
Just put it on the heating pad to warm up and proof before we heat up Big Old Betsy.  It should bake it in A DO to be consistent with the last bake but consistency is far from my baking prowess.
Wow! After 42 plus hours in the fridge and on the counter this bread baked up the deepest, richest, mahogany color with blisters I have seen on any bread coming out of our Big GE.  It was baked on a stone at 500 F for 2 minutes and then an additional 12 minutes at 450 F all under steam with 2 of Sylvia's steaming pans and a 12" skillet with lava rocks, ala David Snyder, that I threw a half cup of water into as I closed the door.
 This chacon is awfully handsome on the outside and it sure smells just as tasty too.  Can't wait to slice this bread and have a taste but I will – at least till it cools.  Sadly, all the intricate balls didn't crack due to too much hydration.  The challah on the bottom didn't even show a sign of being there much less crack.
I turned the oven off and cracked the door when the chacon got to 203 F since it was so dark and let it sit on the stone till it hit 205 F on the inside.
The crumb came out not quite as open as the last bake but it was moist and soft.  The crust went softer as it cooled but was mighty tasty and chewy.  This bread is delicious and I can't wait to have it with some lemon flavored olive oil, fresh Italian herbs, black pepper and Italian grated cheese.  This is some kind of delicious that should be patented or illegal.
Formula
| | | | | | |
| --- | --- | --- | --- | --- | --- |
| Starter | Build 1 | Build 2 |  Build 3 | Total | % |
| SD Starter | 20 | 0 |   | 20 | 2.92% |
| AP | 35 | 45 | 45 | 125 | 22.69% |
| Water | 35 | 45 | 45 | 125 | 22.69% |
| Total Starter | 90 | 90 | 90 | 270 | 49.00% |
|   |   |   |   |   |   |
| Starter |   |   |   |   |   |
| Hydration | 100.00% |   |   |   |   |
| Levain % of Total | 20.50% |   |   |   |   |
|   |   |   |   |   |   |
| Dough Flour |   | % |   |   |   |
| Red Malt | 3 | 0.54% |   |   |   |
| White Malt | 3 | 0.54% |   |   |   |
| Toady Tom's Tasty Toasted Tidbits | 5 | 0.91% |   |   |   |
| Quinoa | 10 | 1.81% |   |   |   |
| Whole Wheat | 10 | 1.81% |   |   |   |
| Dark Rye | 10 | 1.81% |   |   |   |
| Spelt | 10 | 1.81% |   |   |   |
| Barley | 10 | 1.81% |   |   |   |
| Dark Rye | 10 | 1.81% |   |   |   |
| Potato Flakes | 10 | 1.81% |   |   |   |
| Oat Flour | 10 | 1.81% |   |   |   |
| AP | 400 | 72.60% |   |   |   |
| Dough Flour | 551 | 100.00% |   |   |   |
| Salt | 11 | 1.60% |   |   |   |
| Water | 355 | 64.43% |   |   |   |
| Dough Hydration | 64.43% |   |   |   |   |
|   |   |   |   |   |   |
| Total Flour | 686 |   |   |   |   |
| Total Water | 490 |   |   |   |   |
| Total Dough Hydration | 71.43% |   |   |   |   |
|   |   |   |   |   |   |
| Hydration w/ Adds | 71.43% |   |   |   |   |
| Total Weight | 1,317 |   |   |   |   |
|   |   |   |   |   |   |
| Whole Grains | 22.01% |   |   |   |   |
|   |   |   |   |   |   |
| Add - Ins |   | % |   |   |   |
| Asiago & Parmesan Cheese | 50 | 9.07% |   |   |   |
| Olives & Sun Dried Tomato | 80 | 14.52% |   |   |   |
| Total | 130 | 23.59% |   |   |   |
|   |   |   |   |   |   |
| 1/2 T of Fresh Rosemary |   |   |   |   |   |
| 1 Clove of Minced Garlic |   |   |   |   |   |