January 23, 2013 - 11:03am
White Whole Wheat with Combo YW, Poolish, SD Starter, Water Roux and Wheat Berry Scald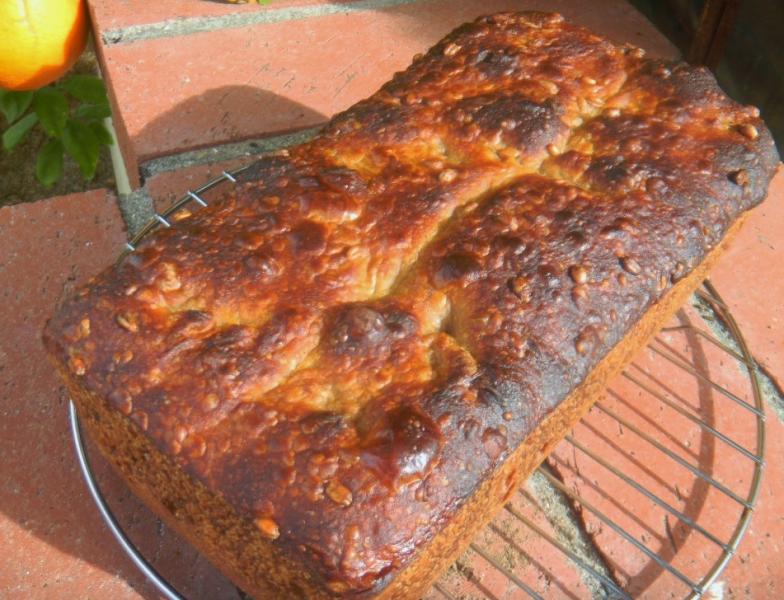 I had some KA WWW flour that was almost 8 months old hanging around doing nothing.  We like whole grains around here mostly but needed to get rid of the WWW in some kind of bread.  We hate throwing flour away for any reason if possible even if it flour we don't use much.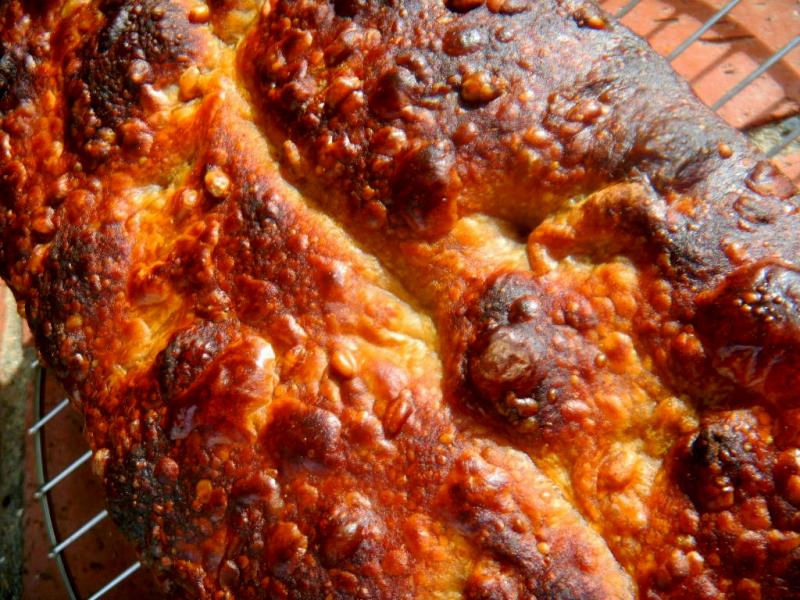 We also wanted to try out the water roux method by using 25 g of flour mixed with 125 g of water and cooked on the stove top until it sets up like a thick gravy.  It weighed 135 g when done.  The roux was not used in the hydration calculations in the formula.  We also made a scald with wheat berries and saved the soaker water for the liquid in the dough.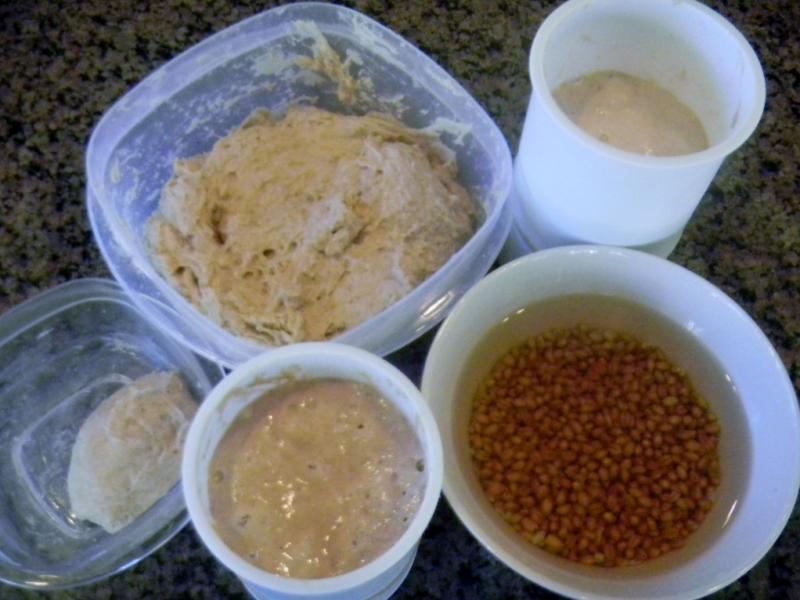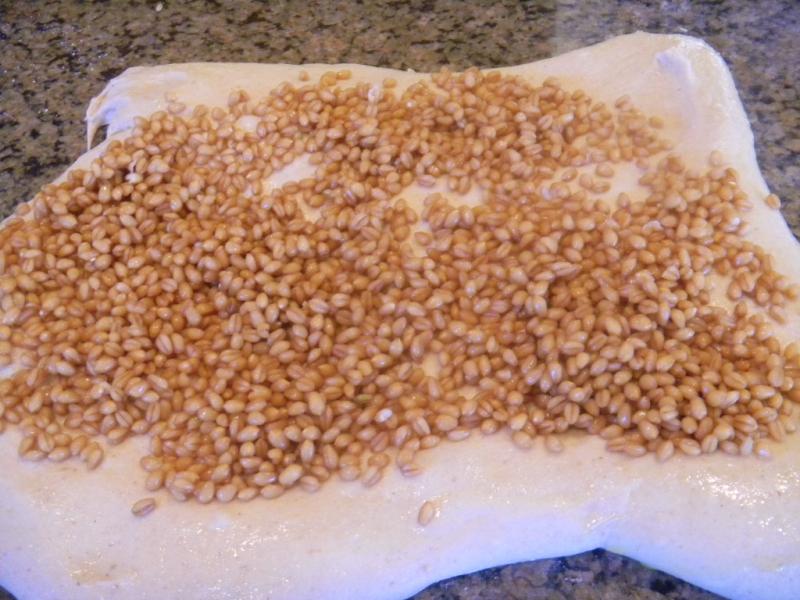 After reading lumos's post on adding a pinch of yeast to his last baguette post  we decided to go all in on a 3 way leavening by making a quick 4 hour poolish with50 gof autolyse and a pinch of yeast along with separately prepared YW and SD starters.  This is a first, at least for us if you include my faithful apprentice Lucy, at making a triple threat leavening for one loaf of bread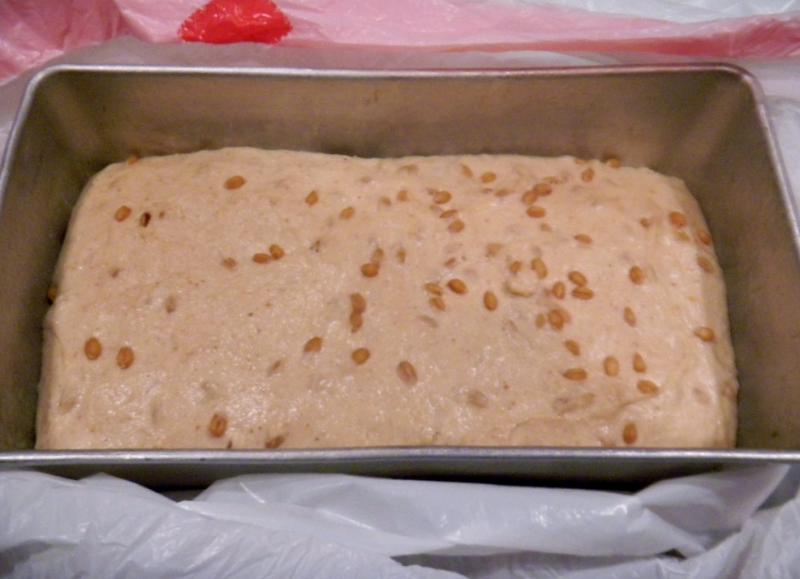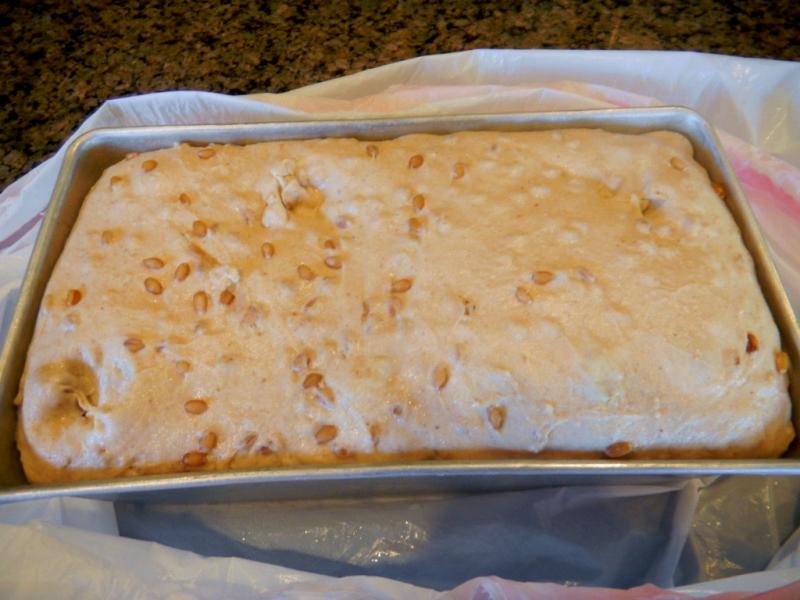 We were into 4's so after we did the 4 hour scald and 4 hour poolish we did the 4 hour autolyse with the soaker water and the rest of the non leavening and  soaker ingredients.   After all of these 4's we decided to continue with them a little longer.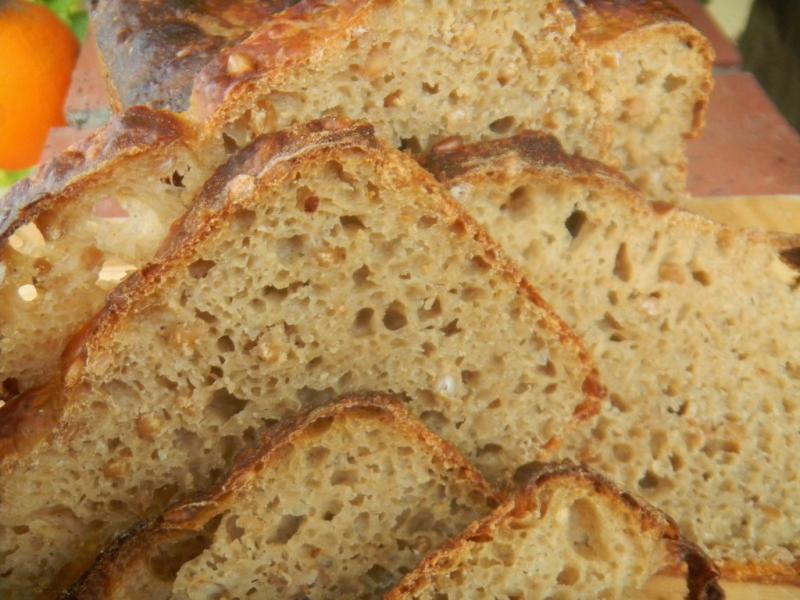 We thought we would limit ourselves to a 4 hour maximum, after the autolyse met the leavens, before the finished dough hit the fridge, panned up, for a 40 hour retard as has been our norm of late.
After mixing them together with a spoon we let the dough sit for 15 minutes before starting 12 minutes of French slap and folds.  By the time you take out the time for scraping up the counter a sew times we figure we had about 10 good minutes of slapping and folding the dough around and it made a beautifully smooth ball when formed.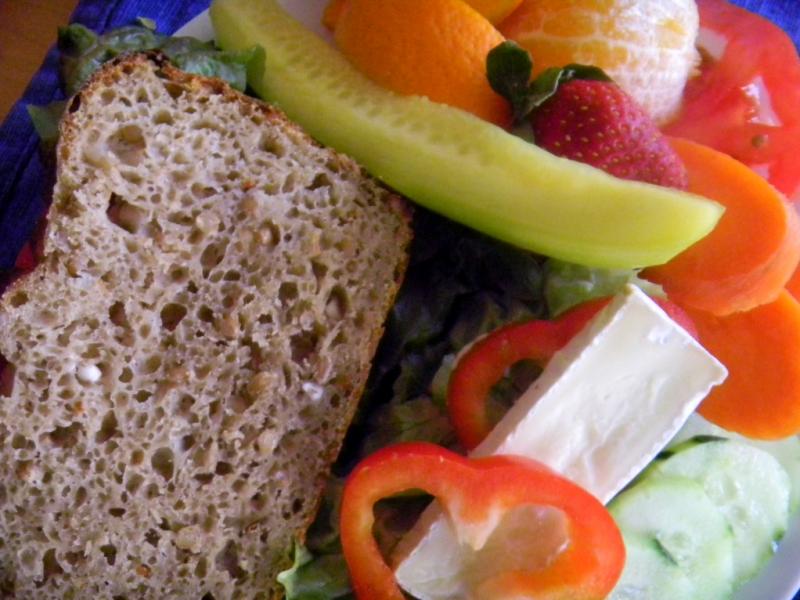 We then let the dough sit for 15 minutes before doing the first of 3 S&F's that were performed 15 minutes apart.  We incorporated the scalded and soaked wheat berries on the first set and they were fairly distributed after the 3rd.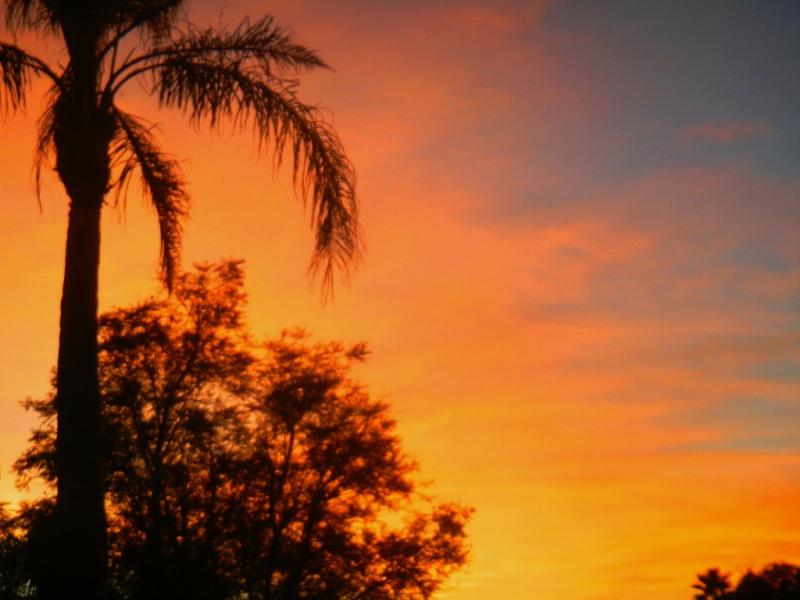 Red sky in the mnorning , baker take warning. 
We let the dough rest for 1 hour to ferment and develop before panning it up using S&F's to try to corral this wet dough into something resembling a loaf.   Even though the dough hydration is low at 68% it really is much wetter with the roux and scald contributing extra water. It felt like a high 70's hydration and the reason we panned it. 
We let it proof for 1 hour on the counter, in a used trash can liner (for bread only), before placing the tin of dough in the fridge for its anticipated slow proofing for 40 hours.
My apprentice gets all excited when we try something new and is always skeptical that her master can pull off these odd bakes we seem to make on the fly.   With a water roux included and an added commercial pinch poolish, her master wasn't too sure that a 40 hour retard could be met either in all truthfulness.
You don't know for sure how things will work out till you do and my apprentice thought we, meaning I,  could always keep and eye out for the dough to double and bake it off ahead of time if required, if we weren't asleep - and my apprentice is asleep nearly 16 hours a day it seems.  But, it looked OK after its long proofing rest and had risen just above the lip of the tin and near ready for the oven.
We decided to bake off the loaf in the big oval Magnalite Turkey Roaster like we do some tinned other breads on occasion.  It can really do steam with the trivet insert and water on the bottom.  It puts the best crust on bread that we have discovered to date.
We took the dough out of the fridge to warm up a little and finish proofing for and hour before Betsy was fired up to heat the roster to 450 F.  The loaf was slashed right before the tin went in the roaster with a half a cup of water.  The lid went on and the roaster went back in the oven.
We steamed the bread for 15 minutes before taking the lid off, removing the bread and let it continue baking at 425 F, convection this time,  another 10 minutes.  We rotated the tin 180 degrees every 5 minutes to ensure even browning.  We also removed the bread  from the tin at the 30 minute mark and finished the baking on the oven rack.
The bread did not spring at all in the roaster or out of it but it or bloom at the cut either.  It did blister and browned up as expected though.  Well. At least it didn't over-proof so much that it fell when slashed or in the oven.  40 hours with 2 levains  adn poolish working must have been too much for it even though it only rose to the rim of the pan. 
Can't wait for the bread to cool and slice to see how it compares to our normal boule crumb for this kind of bread after adding in a water roux and a 3rd leaving with the 4 hour poolish. 
It is now sliced and eaten.  Just delicious.  Very wheaty in taste.  The crumb was pretty open for a bread with whole grains and so much soaker.  It had to be the 3 leavens working together.  they couldn't get it to spring and bloom but the crumb was moist as can be, tasty and chewy with the soaker.  This is a really =nice sandwich bread that can be sliced very thin which is great for those of us who need to watch out bread intake.  We like it a lot.  Toasted with butter is a dream come true.
Formula
Combo YW & SD   Starter

Build 1

Total

%

WWW & AP SD Starter

10

10

1.94%

White Whole Wheat

62.5

62.5

12.14%

AP

62.5

62.5

12.14%

Yeast Water

75

75

14.56%

Water

50

50

9.71%

Total

185

260

35.92%

 

 

 

 

SD Starter Totals

 

%

 

Flour

130

25.24%

 

Water

130

25.24%

 

Starter Hydration

100.00%

 

 

Levain % of Total

 

23.34%

 

 

 

 

 

Dough Flour

 

%

 

Red Malt

2

0.39%

 

Toadies

6

1.17%

 

Vital Wheat Gluten

5

0.97%

 

White Malt

2

0.39%

 

White Whole Wheat

185

35.92%

 

AP

185

35.92%

 

Total Dough Flour

385

74.76%

 

 

 

 

 

Salt

9

1.75%

 

 

 

 

 

Soaker Water

225

43.69%

 

 

 

 

 

Dough Hydration

58.44%

 

 

 

 

 

 

Add - Ins

 

%

 

Water Roux

135

26.21%

 

Total

135

26.21%

 

 

 

 

 

Total Flour w/ Starter

515

 

 

Total Water w/ Starter

355

 

 

 

 

 

 

Hydration w/ Starter   & Adds

68.93%

 

 

Total Weight

1,114

 

 

% Whole Grain

54.17%

 

 

 

 

 

 

Water Roux is not   included in hydration calculations