Tip - Pan Breads Simplified
As I write this, we're in the midst of the Covid-19 Pandemic and many of us are home baking bread. Whereas a few short months ago large numbers of us were focused on "The Perfect Loaf", now we are happy to be able to bake our own nutritious sandwich bread for utilitarian purposes.
I have become hooked on Covered Pullman Pans. By the way (at this time), Amazon has a great deal on 2 large covered Pullman Pans. Anyway, in an effort to simplify and streamline the sandwich bread I wondered if the dough could be shaped immediately after mixing and then placed in the Pullman to BF and later bake. I supposed that the pan would constrain the dough from spreading so shaping might be done at the beginning of fermentation rather than towards the end after the BF. With typical free formed loaves the dough is pre-shaped and shaped after the BF in order to build structure and strength back into the slackened dough. With SD many bakers are careful to maintain as much of the gas created during the BF as possible. With the method above the dough is never touched again after the initial mix, so maximum gas retention would be expected.
For those contemplating baking in a large Covered Pullman (13x4x4"), this 70/25% (WW/BF) used a total dough weight of 1550. I didn't weight the actual dough before panning but it started out at 1550g. When determining your dough weight for a covered Pullman you need to consider the type of flours used. Obviously whole wheat will require more dough than and all white flour dough.
How to calculate Total Dough Weight (TDW) for a different sized pan. This method should at least get you in the ball park.
Since we know that this formula at 1550 fills a larger (13x4x4") pan and bakes up well, we can easily calculate the cubic inches of the pan and determine how much dough will be needed to fill a pan of a different size.
It is important to note that different doughs with produce different crumb structure and densities. A light and airy all white flour formula may only take 1200 grams to fill a large Pullman. Experimentation is needed to dial in your particular dough. It is probable best to guess a lower weight of total dough and proof and bake with the top off initially. 
An example -
13*4*4=208 cubic inches.
1550g of dough is needed for 208 cubic inches. For each cubic inch 7.45g of dough is needed.
the smaller USA Pullman is 9x4x4" and that equals 9*4*4=144 cubic inches.
Since the smaller pan is 144 cubic inches, it will require 1073g of dough (144*7.45=1072.8)
For an even more accurate method of converting Total Dough Weight for a different sized pan.
The beauty of grams (weight) and milliliters (volume) is that 1 gram of water is equal to 1 milliliter.
Put your pan on the scale and tare it out
fill the pan with water and record the weight in grams. If the pan leaks try lining with plastic wrap
Weigh your next pan as above
Divide the two weights as shown above using the same math
Since many bakers use USA Pans here are the milliliter weights for the small and large Pullman pans -
Large USA Pullman          3185
Small USA Pullman          2266
(9x5x3") USA Bread Pan  1460
NOTE - I like the Pullman pans much better because they are both 4" high and the Bread Pan is only 3" high.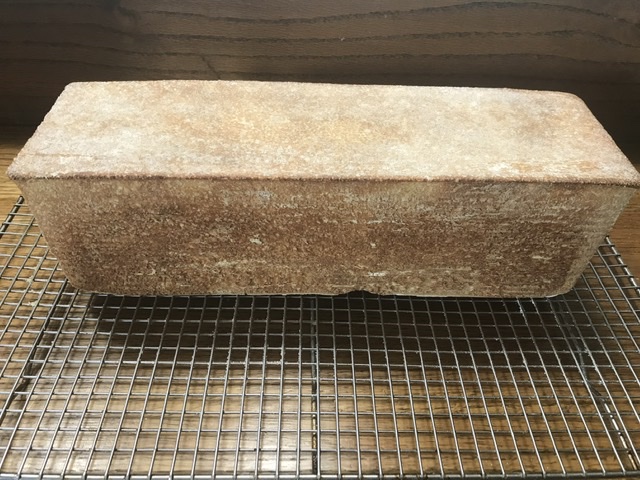 I am dangerously close to the end of my frozen bread stash. The dough above was thrown together in "Easy Peasy" fashion. I figured if it baked up a brick, I'd eat it anyway :D Thank God! That wasn't the case.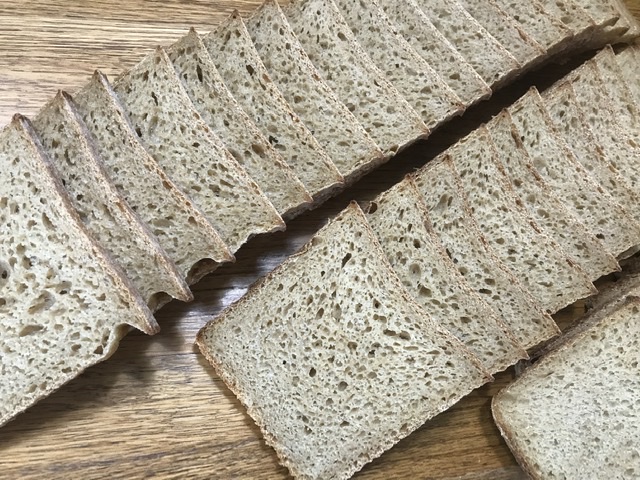 This large loaf produced 36 thin slices. They will be frozen individually and uncovered for ~1 hr on a cooling rack, then separated and placed back in the freezer in a ZipLok for our supply of daily bread.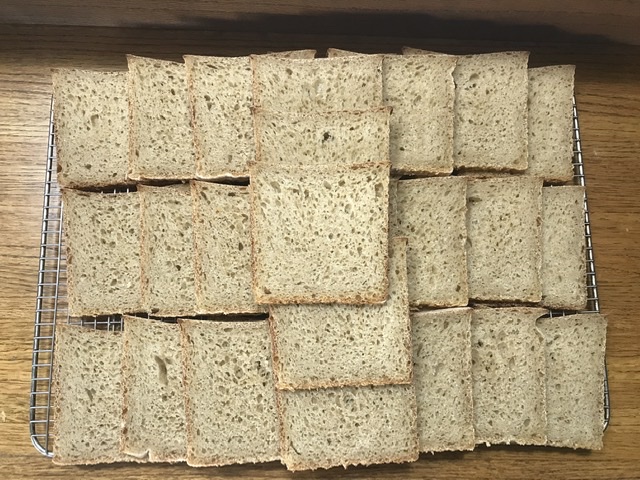 I may never again bake pan breads any other way.
Dan