Community Bake - Maurizio's Fifty-fifty Whole Wheat Sourdough - Everyone is Welcome
It's that time again, this will be our second "Community Bake". The FIRST ONE was a great success! This time we are baking Maurizio's Fifty-fifty Whole Wheat Sourdough. Guess what? As luck would have, today Maurizio celebrates the 5th anniversary of his website, The Perfect Loaf.
Since most bakers are separated by many miles and even different countries, this "community bake" may be the best way to share information and learn together along the way. The idea, for those who want to participate, is that we document our progress with pictures and post. It is suggested that each participant start a new comment to document their progress. As more information and images are available for your bake you can edit that post and append it. We'll share our success, and just as informative, our failures. During the process we can ask questions, compare results, or offer suggestions. Both expert and novice have a place here.
We plan to start our bake today. We will be following Maurizio's well documented instructions. They can be found here. https://www.theperfectloaf.com/fifty-fifty-whole-wheat-sourdough-bread/
I hope you choose to join in. The more the merrier. Even if you don't come aboard now you can still post your bake and results at any time in the future. All threads are constantly monitored for recent activity. Be sure, someone will be available to assist you.
Some may prefer to bake small loaves. It seems 500 grams loaves are the choice of many. Below I setup the spreadsheet for 1050 grams of total dough. This would make (2) 500 gram loaves or divide the ingredients weights in half to make a single 500 gram loaf. NOTE - the total dough weight is slightly increased to account for loss. On most of these bakes I choose to omit the Diastatic Malt and they baked well. I know many don't have this ingredient in their kitchens.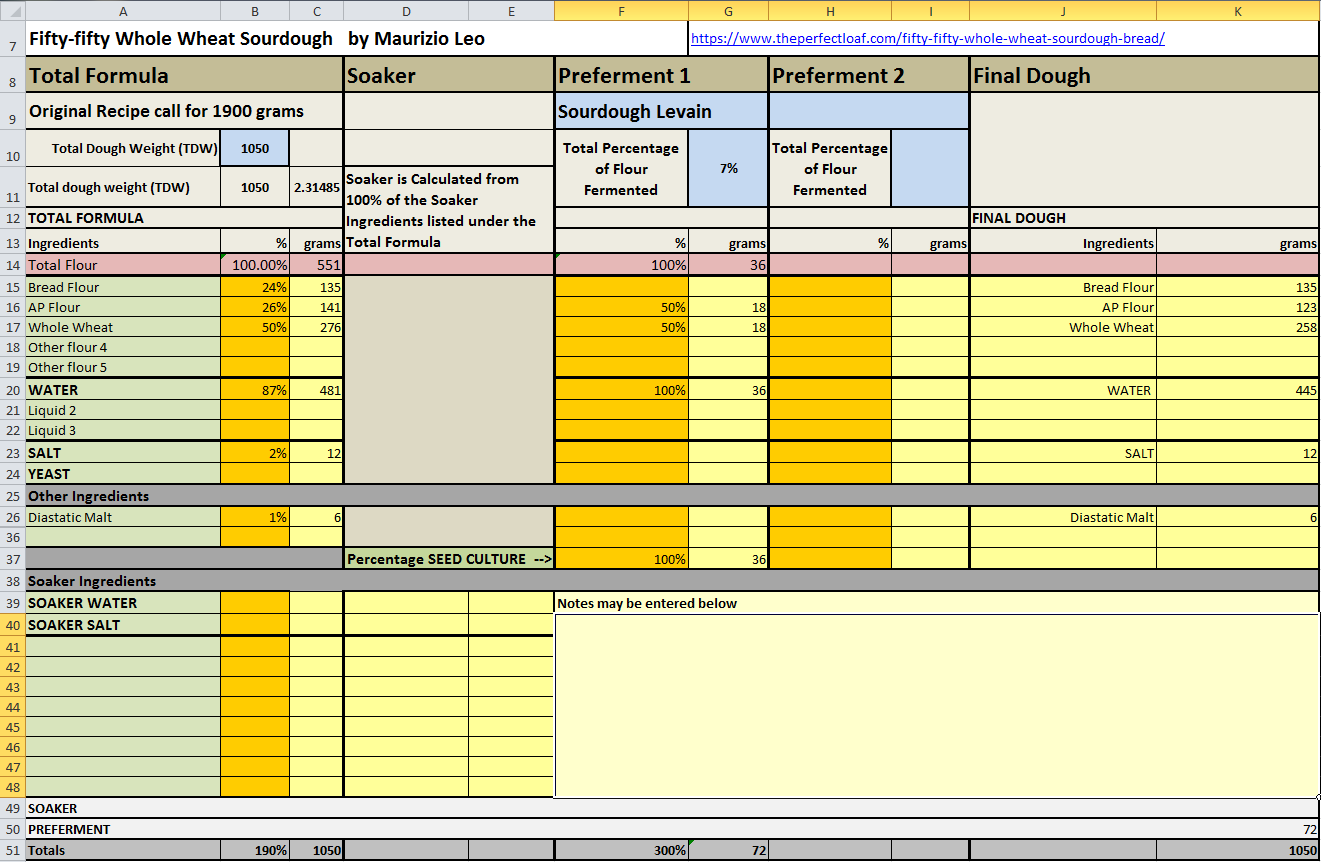 Dan
Always remember this, "we learn more from our failures than we do from success".
   Post it all. The good, the bad, and (if you dare) the ugly.