January 13, 2018 - 1:36pm
Maurizio's 50-50, as baguettes. But wait, there's more...
The first time I tried Maurizio's 50-50 I added figs and pecans and had an unusual experience with: shaping as baguettes / retarding / unretarding / reshaping the three as one batard / and finally retarding again.  All documented here.  
But one must (kinda) soldier on.  This time I made only baguettes.  Without the interruptive figs and pecans.  And also a second difference.  I cut the hydration down from ~87% to 82% - super high hydration and baguettes seem to have an anti-affinity for one another, so I chopped 5% off the top.  
My limited experience with baguettes at so high a percentage of WW (50% as the title implies), close to nil, seems to also create some problems with density and loft.  Perhaps typical, or perhaps my inexperience with this blend of flours.  But shape and bake I did.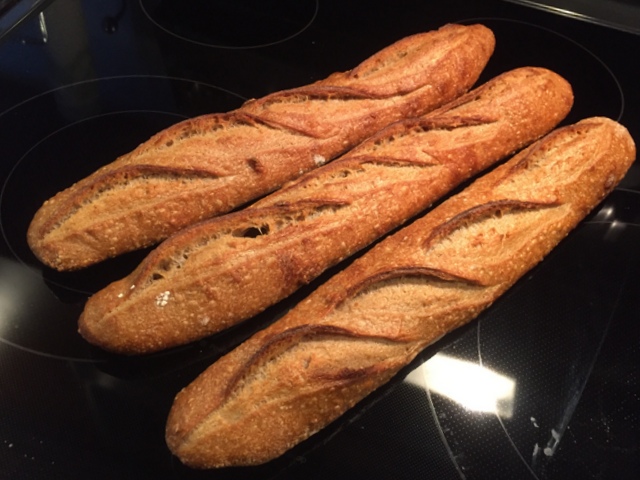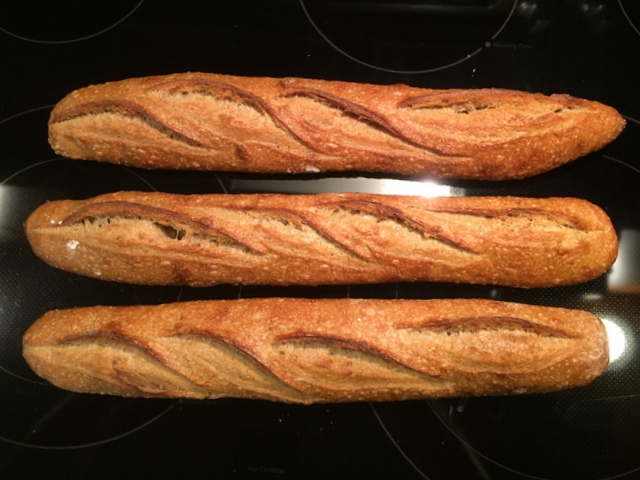 And finally, slathered up with butter for my morning toast.
That was yesterday.  Today I was meeting our old building manager for lunch.  He was a regular recipient of my oven goods, and so I also baked up a batch of Vermont SD this morning and included 1 and 1 in the goody bag.  
As usual, the oven spring on the Vermont's is pretty explosive, quite a feat for a 65% hydration bread.  And for those who think that one needs high hydration for good oven spring, I'm here to testify that it just ain't so.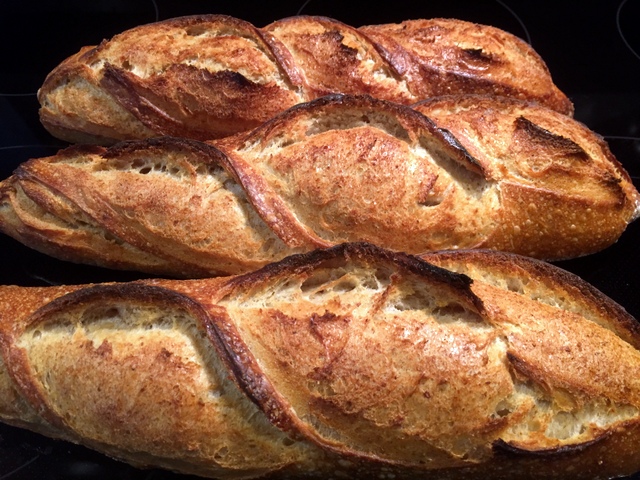 All three came out shaped a little club-like.  Can't exactly explain it.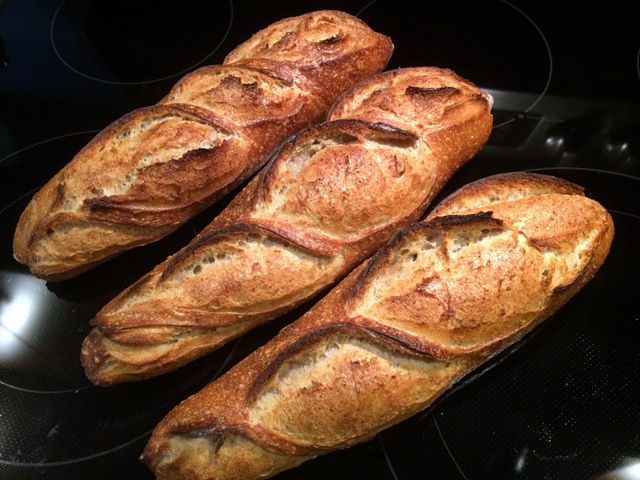 Side by side, there are some differences I wish to point out about the two, other than the overabundance of WW in Maurizio's.  
50-50 WW:
50% WW and 50% Bread flour.
100% hydration levain of equal parts BF and WW.
6.5% total flour in preferment.
82% overall hydration.
minimum of 2 hour autolyse with just water and flour
5 Letter Folds every 30 minutes for 2 1/2 hours.  Additional ~45 min. bench rest before retard.
Dough remains very slack throughout shaping, but did start to tighten up on 3rd Letter Fold.
A lot of flour on couche.
 Vermont SD:
~90% AP and ~10% WW/Rye blend.
125% hydration levain of predominantly Rye then equal parts AP & WW (this was built from excess Maurizio 100% levain)
15% total flour in preferment.
65% overall hydration.
30 min. "autolyse" with flour, water and levain.
2 letter folds at 50 and 100 min. Additional 20 minute bench rest before retard. 
Dough remains extensible but firm through shaping, having tightened up at first Letter Fold.
Just about no flour on couche.
And as you can see, there is no comparison as to oven spring between the two, with each starting off at ~400g apiece, and the WW shedding considerably more weight in water during the bake.