Italian Tang Zhong, Fig, Hazelnut & Ricotta Cheese Sourdough Chacons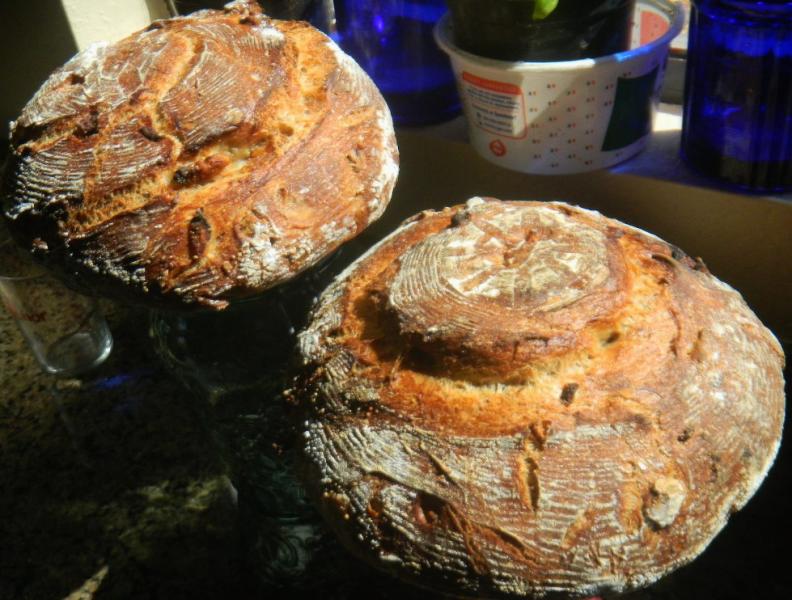 After our recent experiments with 100% whole grain bread, and DaPumperizing some of them, we found out that our limited supply of what we call white breads was exhausted.  These 'white breads' still have 20%-30% whole grains in them so they have some decent flavor and healthfulness.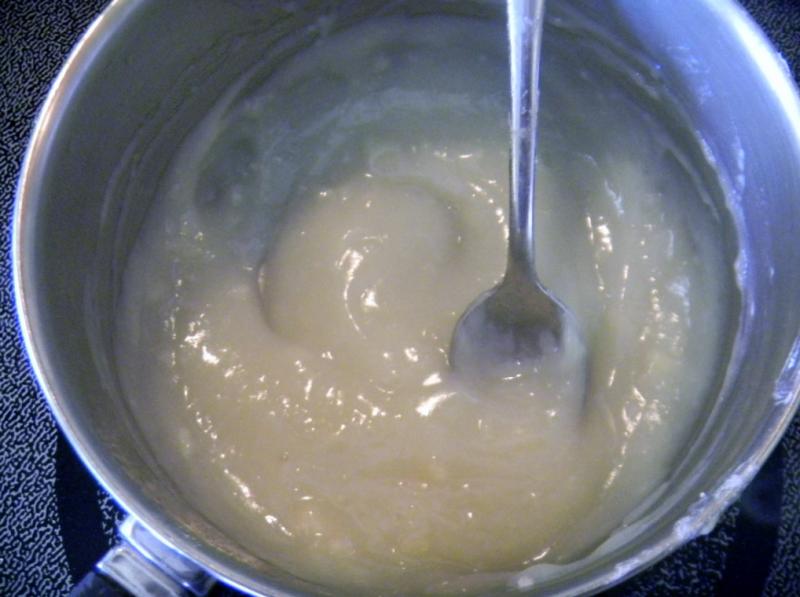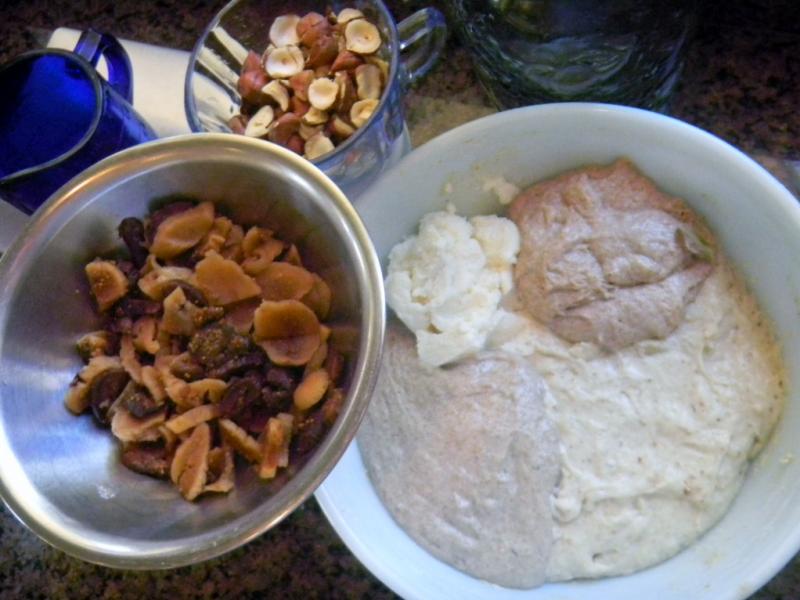 We thought we would go Italian for this bake because of the sneaky ricotta, goat cheese and citrus cheese cake my apprentice baked while no one was looking.   It had also been awhile since we had done a chacon shape too.  We could have done an Italian shape like an Altamura but these shapes usually need some durum flour in hem and we are saving the last of Desert Durum for something else.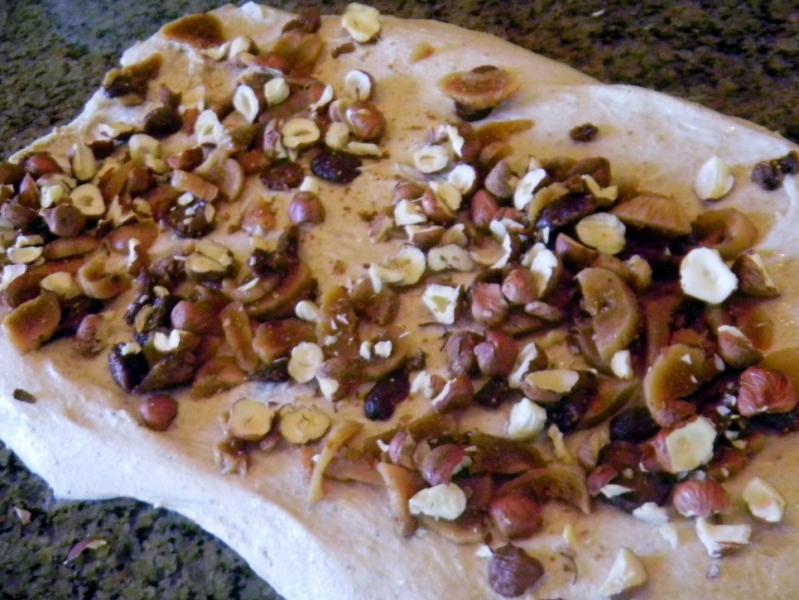 Instead of out usual pesto, parmesan and sun dried tomato Italian bread that we like so much we decided to go in a different Italian direction by using figs, hazelnuts and ricotta cheese to go along with the 22% whole grain Rye, spelt and WW that was mainly used in the levains.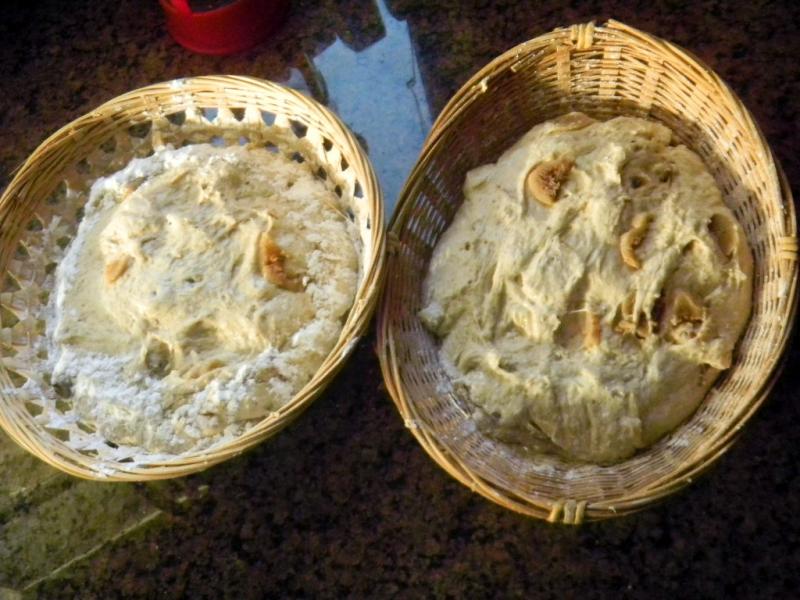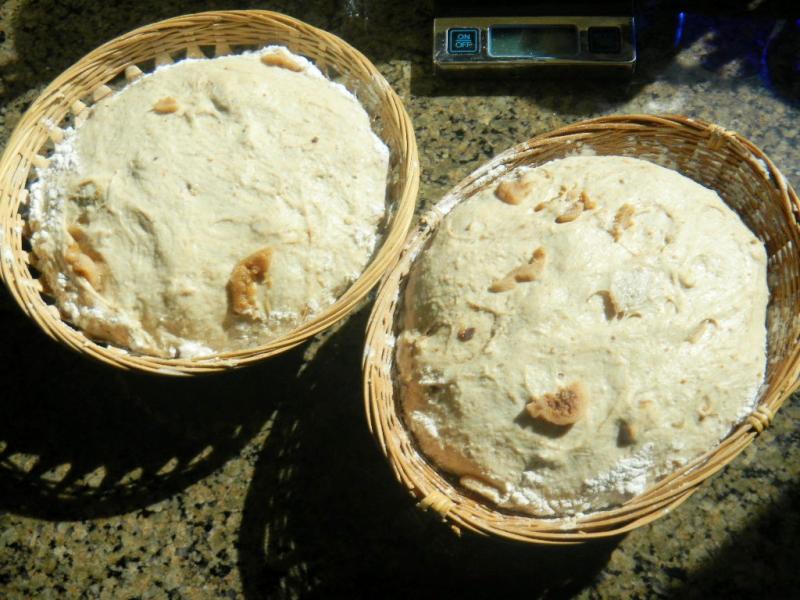 Yes, we had 2 levains for this bake but they were both of the SD variety instead of YW we usually use for 1 of them.  We used out Rye Sour and our Not Mini's Ancient WW starters for this bake.  We love what both of them do for bread so why not combine them and see what happens.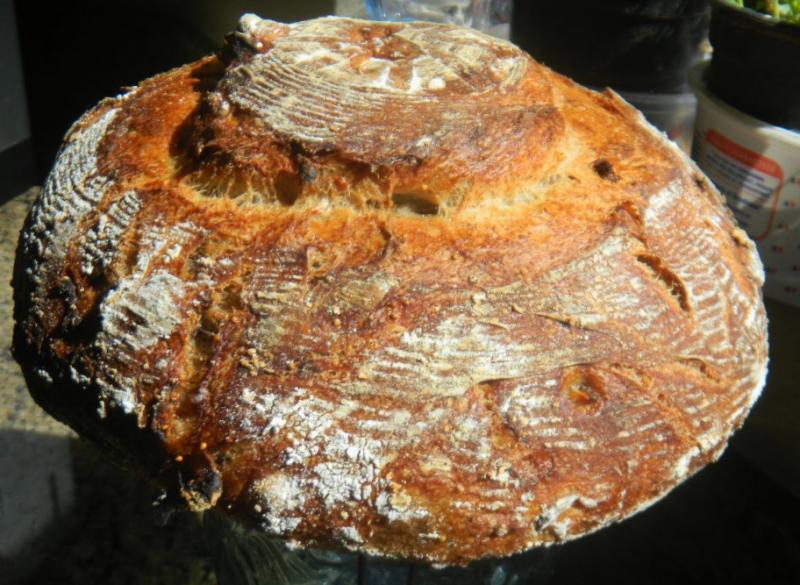 So not to have enough to do for this bake we also decided to use whey water for some of the liquid and do a Tang Zhong with 25 g of the dough flour with an additional 125 g of water not included in the liquid amounts in the formula.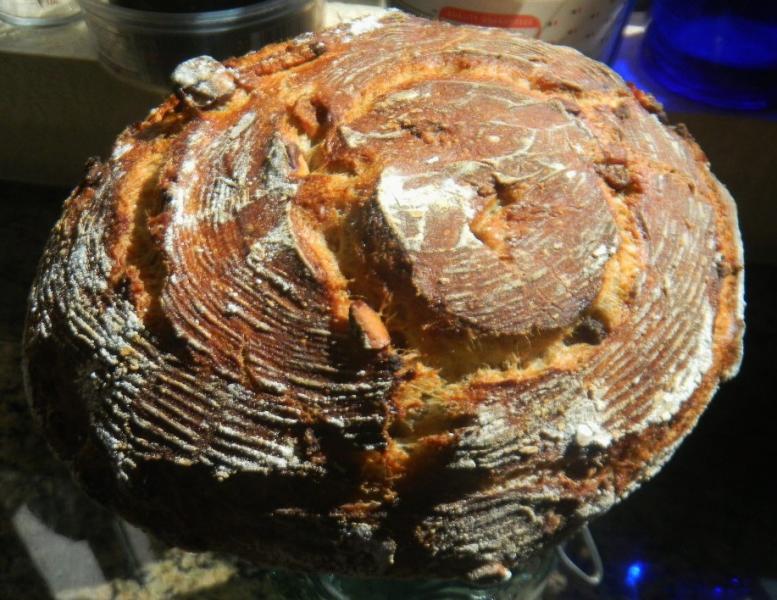 We thought about throw in some of our aromatic seed mix but the apprentice nixed that at the last minute wanting to know what was German about this bake anyway?  For being mainly nutzoid when it comes to breaking the bread mold, she can be traditional when you least expect it – usually right before doing a nose rip on you – which is also not expected.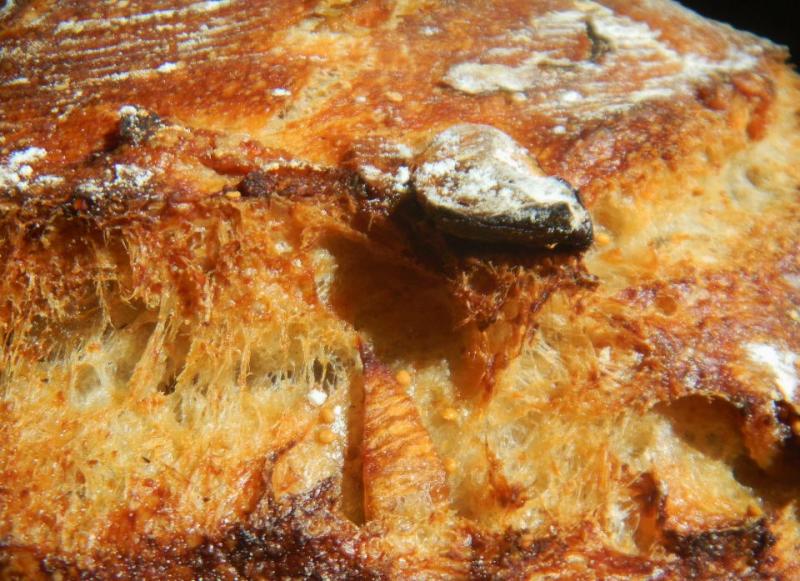 These levains built themselves up to doubling in 4 hours so only one build was needed to get them full strength.  We did not retard the levains when built as is our usual practice of late but we did do a 4 hour autolyse of the dough flours with the malts, VWG and Toadies.  We kept the nuts, figs, cheese and salt out.  Usually we put the salt in the autolyse so we don't forget it but thought we try to have Lucy remember to put it in later.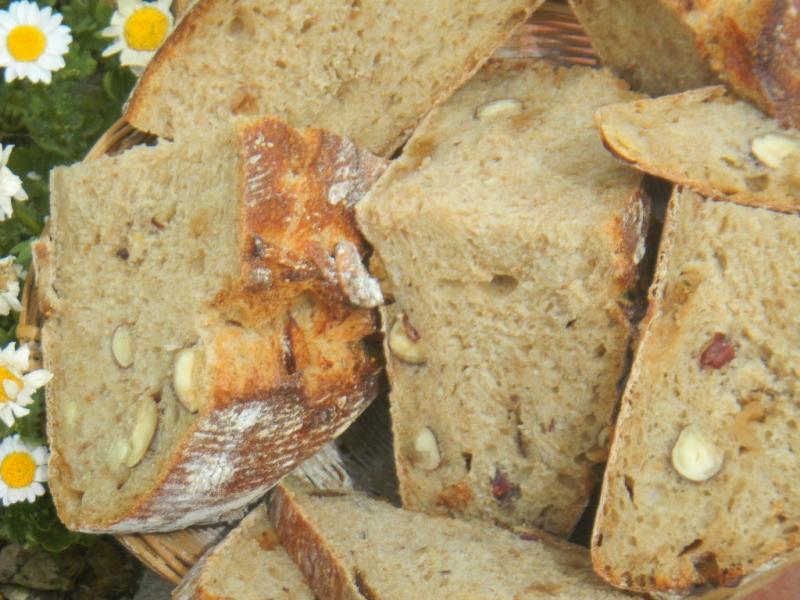 After the 2 levains, the Tang Zhong, ricotta cheese and autolyse came together, we mixed it withy a spoon for 1 minute and then did 4 minutes of slap and folds before adding the salt.  This dough feels much wetter that the just short of the 69% total hydration with the add ins.  This is due to the Thang Zhong and the cheese.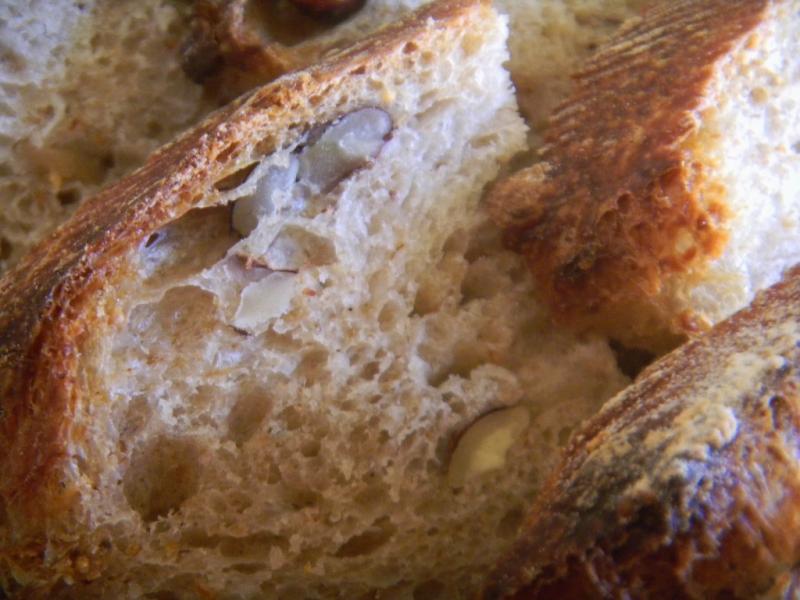 After the salt went in, we did another 8 minutes of slap and folds before the dough finally came together fore a 20 minute rest.  We then did (3) sets of S&F's on 15 minute intervals and incorporated the nuts and re-hydrated figs in the 2nd one and by the 3rd one they were well distributed.   The wet figs also added some more unaccounted liquid to the mix.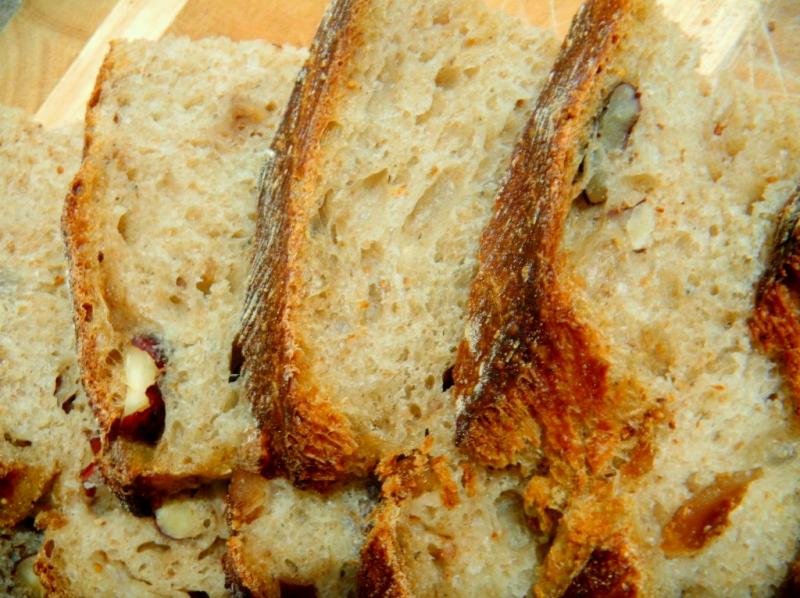 After a hours worth of ferment on the counter the dough was bulk retarded for 12 hours, ala Ian's typical retard mastering.  In the cold it had risen to the rime of the bowl and after 1 ¾ hours on the counter the next morning it has risen above the rim of the bowl .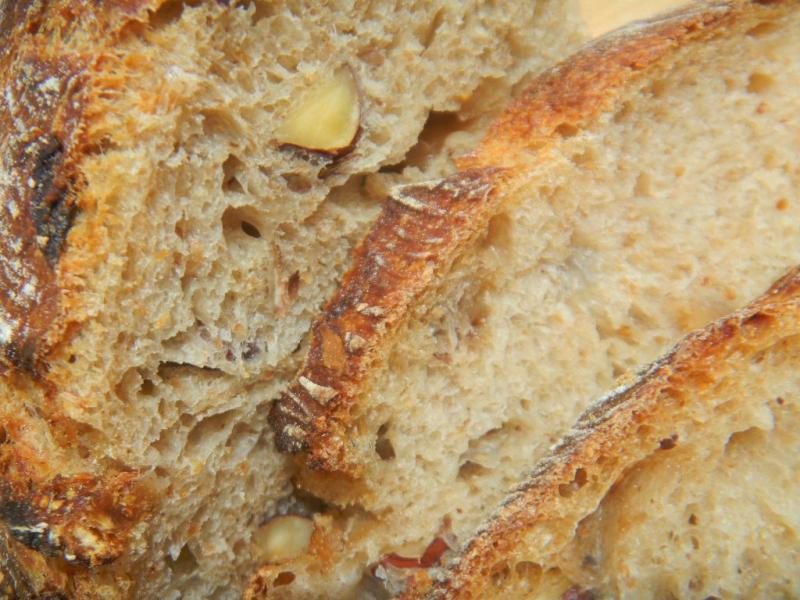 We then divided it and shaped the knotted rolls; one each for the bottom of each basket, and shaped the twisted rope in addition of the oval basket so these Chacons wouldn't end up looking too similar after baking.   So no braids, balls or other intricate shapes and designs in the bottom of the basket were used in keeping with this simple Italian bake.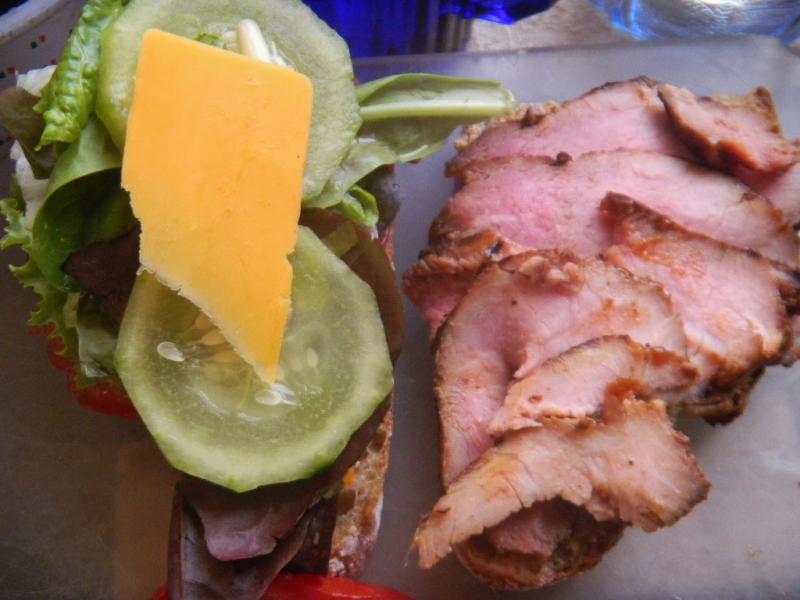 After 2 hours of final proof on the counter in a plastic bag, they were ready for Big old Betsy that had bee preheated to 500 F with one of David Snyder's lava rocks in a large cast Iron skillet along with a large size one of Sylvia's steaming pans with 2 rolled up towels in it.  Both were put into the oven half full of water when the 40 minute preheat started and they supplied their usual mega steam.  We also used top and bottom stones as we always do since they never come out of the oven.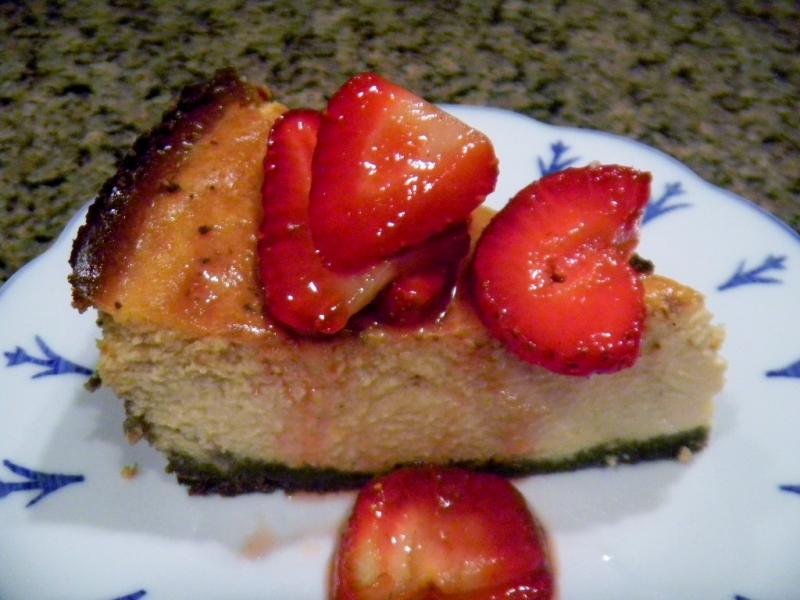 My apprentice thought that the loaves were over proofed again when the came out of the bag since the dough jiggled like jello or a croissant and the dough had risen above the rim of the baskets.   But, since Chacons do not need to be slashed, they went straight into the oven on the bottom stone after un-molding onto parchment paper and peel.  They still managed to spring nicely anyway and my apprentice's over proofing fear was as unfounded as her legal immigration status.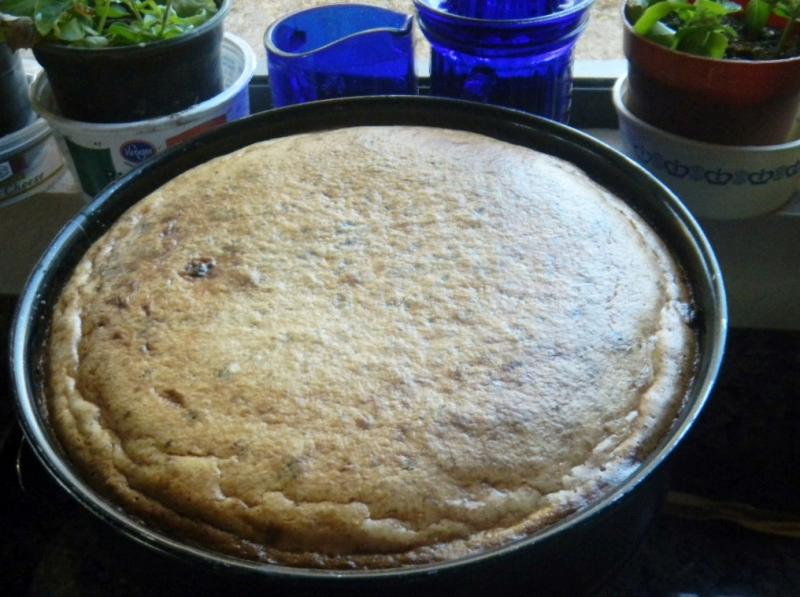 After 2 minutes the temperature was turned down to 460 F and then after a total of 12 minutes the steaming apparatus came out of the oven and the temperature was turned down to 425 F , convection this time.  The loaves were rotated on the stone every 5 minutes for 15 minutes when they tested 205 F and were removed from the oven to a cooling rack.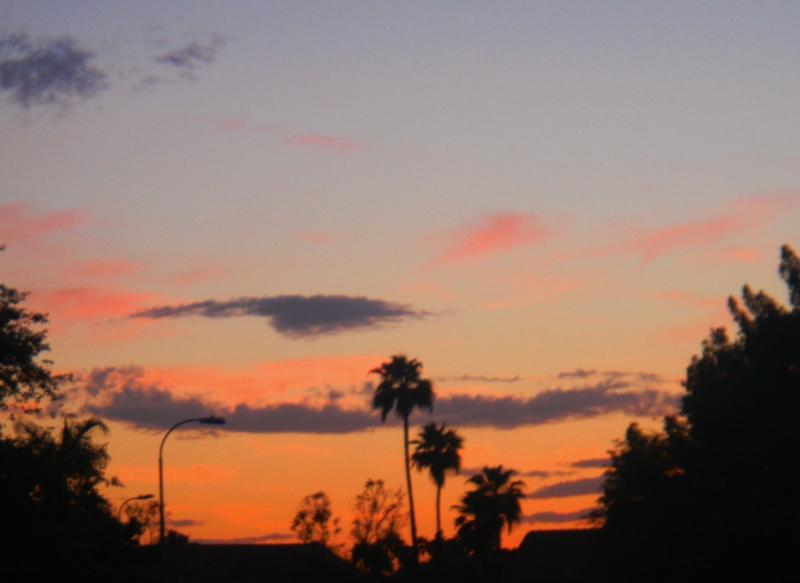 The loaves cracked well on top as they should and they ended up being nicely browned,  crisp but un-blistered despite the long retard and mega steam.  They are awfully nice looking loaves none the less and we can't wait to cut into one to see what the crumb looks like.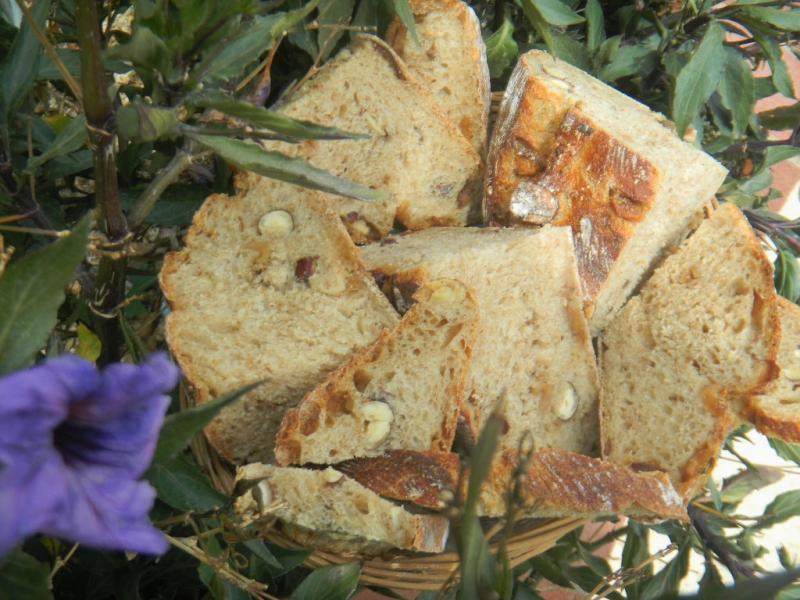 The crumb turned out fairly open, glossy and super soft.  The Tang Zhong really came through as it always does.   I like to use it on whole grain, multi-grain breads since we discovered that it does the same thing for these breads as it does for white breads.  Now we know it isn't just the YW that makes the crumb soft.  We like this bread very much and it is worth the extra effort required to pull it off.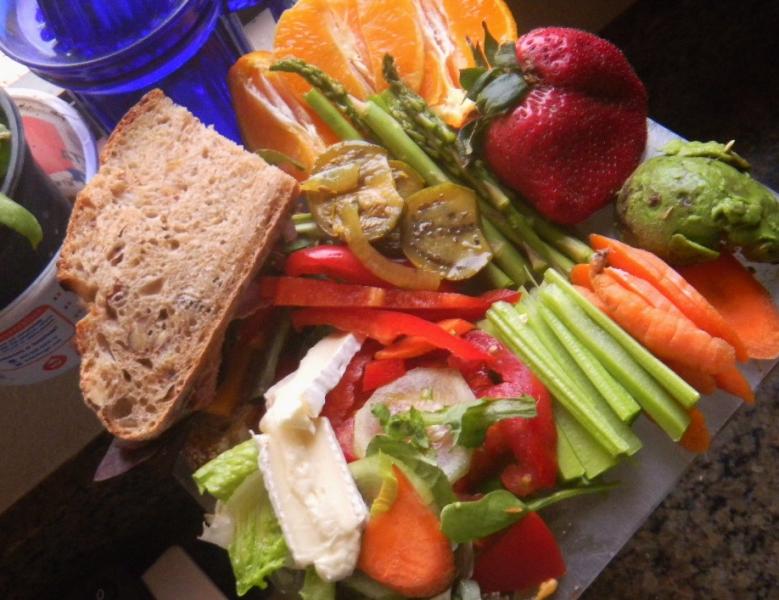 Formula
| | | | |
| --- | --- | --- | --- |
| WW and Rye Sour Levain | Build 1 | Total | % |
| WW SD Starter | 25 | 25 | 3.79% |
| Rye Sour Starter | 25 | 25 | 4.67% |
| Spelt | 25 | 25 | 4.67% |
| Whole Wheat | 50 | 50 | 9.35% |
| Dark Rye | 25 | 25 | 4.67% |
| Water | 100 | 50 | 9.35% |
| Total | 250 | 200 | 37.38% |
|   |   |   |   |
| Levain Totals |   | % |   |
| Flour | 125 | 23.36% |   |
| Water | 125 | 23.36% |   |
| Hydration | 100.00% |   |   |
|   |   |   |   |
| Levain % of Total | 17.82% |   |   |
|   |   |   |   |
| Dough Flour |   | % |   |
| Whole spelt | 5 | 0.93% |   |
| Dark Rye | 5 | 0.93% |   |
| AP | 525 | 98.13% |   |
| Dough Flour | 535 | 100.00% |   |
|   |   |   |   |
| Salt | 10 | 1.52% |   |
| Whey 200 Water100 | 300 | 56.07% |   |
| Dough Hydration | 56.07% |   |   |
|   |   |   |   |
| Total Flour | 660 |   |   |
| Soaker Water 300 & Water | 425 |   |   |
| T. Dough Hydration | 64.39% |   |   |
| Whole Grain % | 22.27% |   |   |
|   |   |   |   |
| Hydration w/ Adds | 68.92% |   |   |
| Total Weight | 1,403 |   |   |
|   |   |   |   |
| Add - Ins |   | % |   |
| White Rye Malt | 3 | 0.56% |   |
| Red Rye Malt | 3 | 0.56% |   |
| Toadies | 6 | 1.12% |   |
| VW Gluten | 10 | 1.87% |   |
| Ricotta Cheese | 100 | 18.69% |   |
| Adriatic & Mission Figs | 115 | 21.50% |   |
| Hazelnuts | 71 | 13.27% |   |
| Total | 308 | 57.57% |   |
|   |   |   |   |
| Weight of figs is pre re-hydrated weight |   |   |   |