October 30, 2012 - 8:09am
Two DO Chacons Couldn't Be Any Different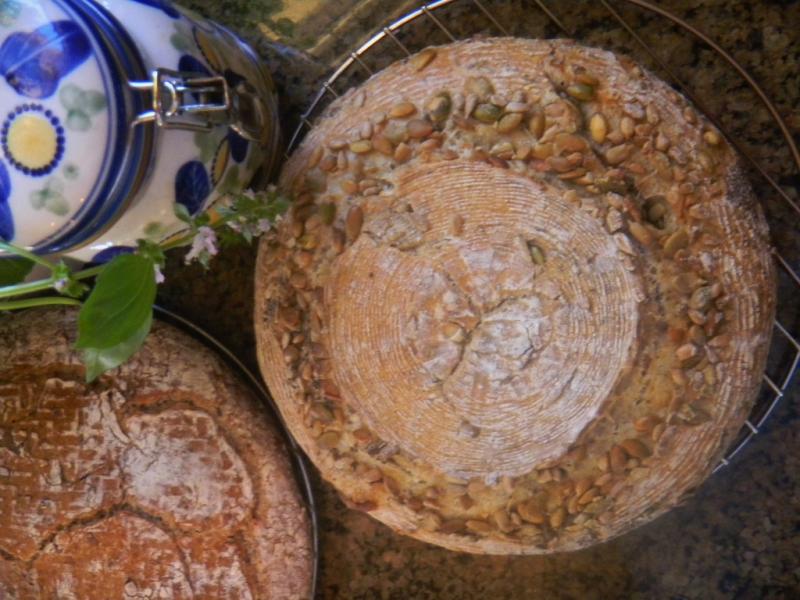 We had two experiments going on at the same time and thought we would kill two birds with one stone by combining them sort of like a YW SD combo starter.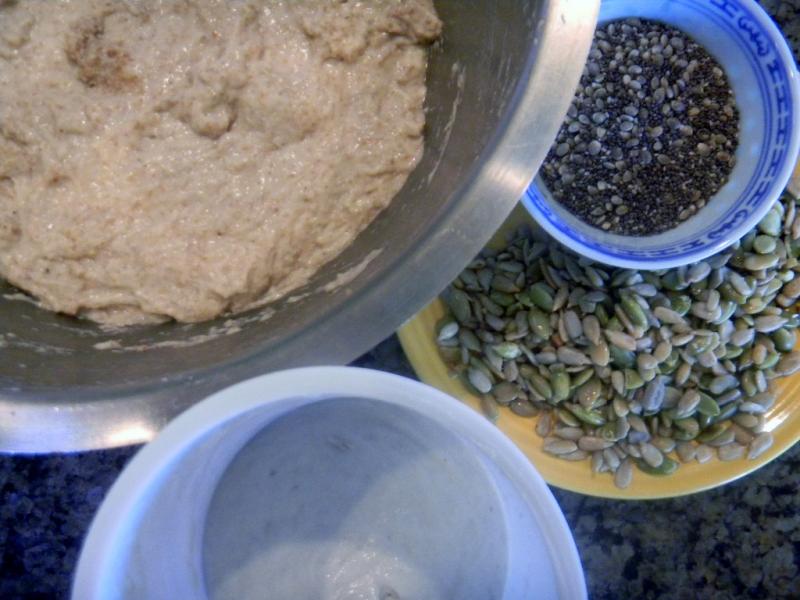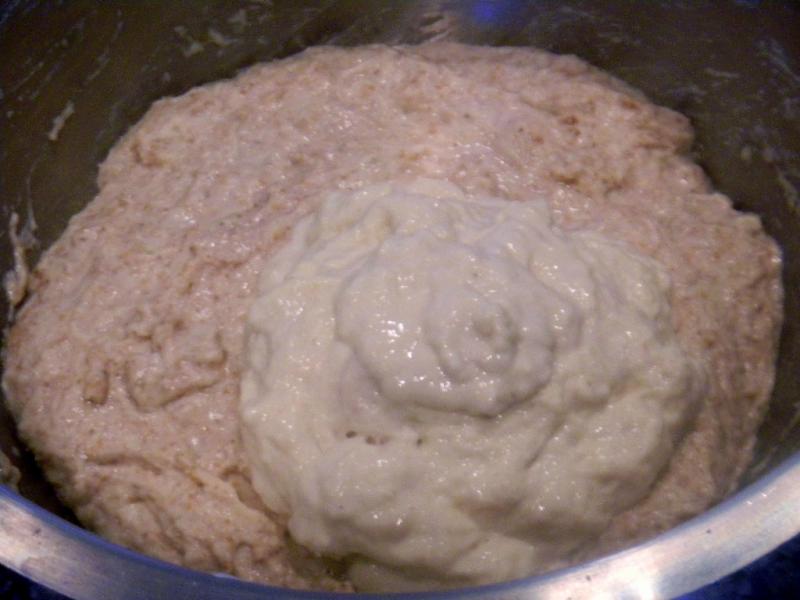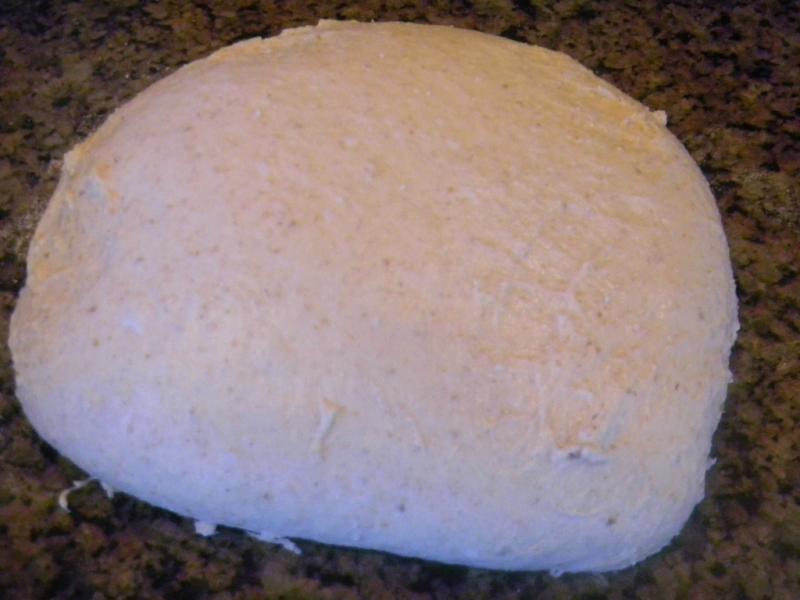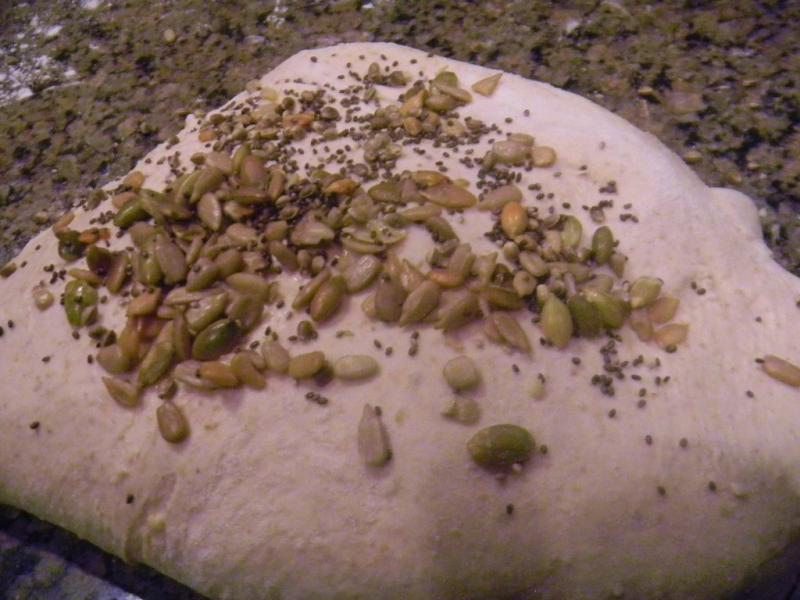 Our 1 gram SD 36 hour before retard levain build went well and we split it in two to make a white flour one and a whole grain one here:
http://www.thefreshloaf.com/node/30755/sd-starter-experiment-how-long-can-it-ferment-counter-goo-overtakes-it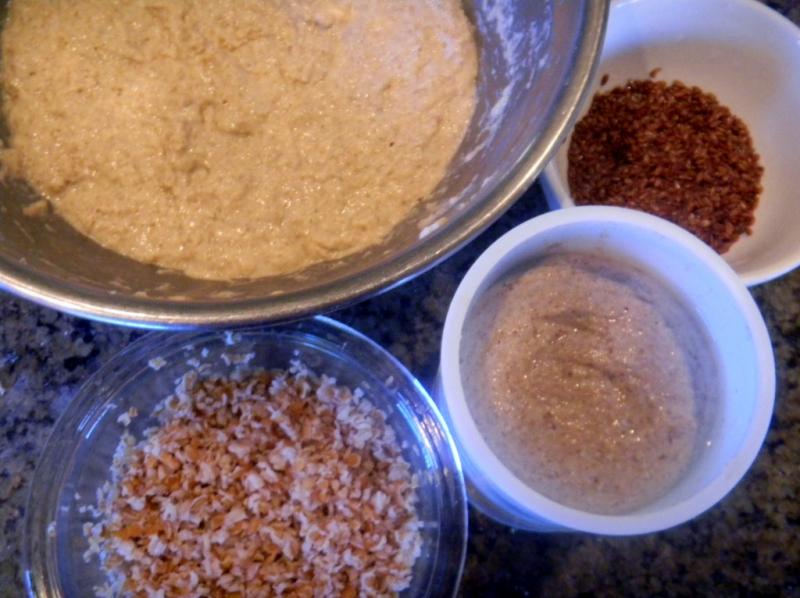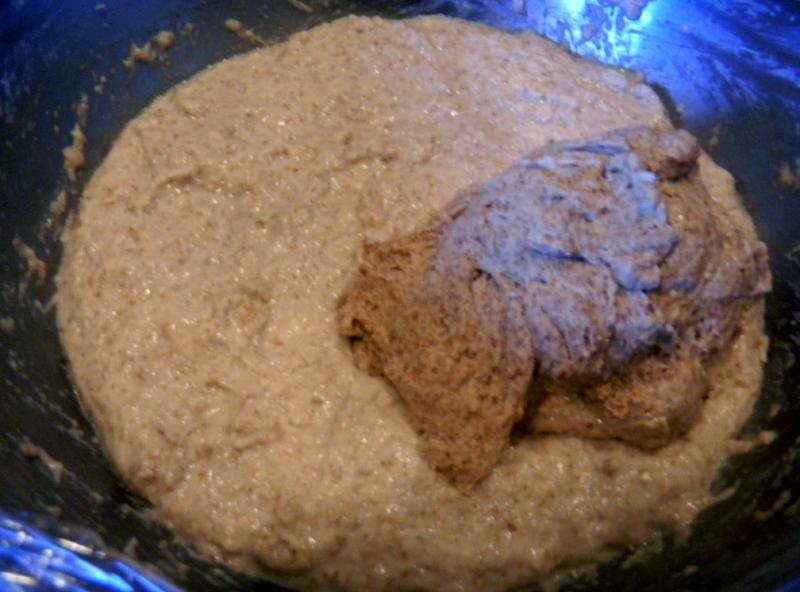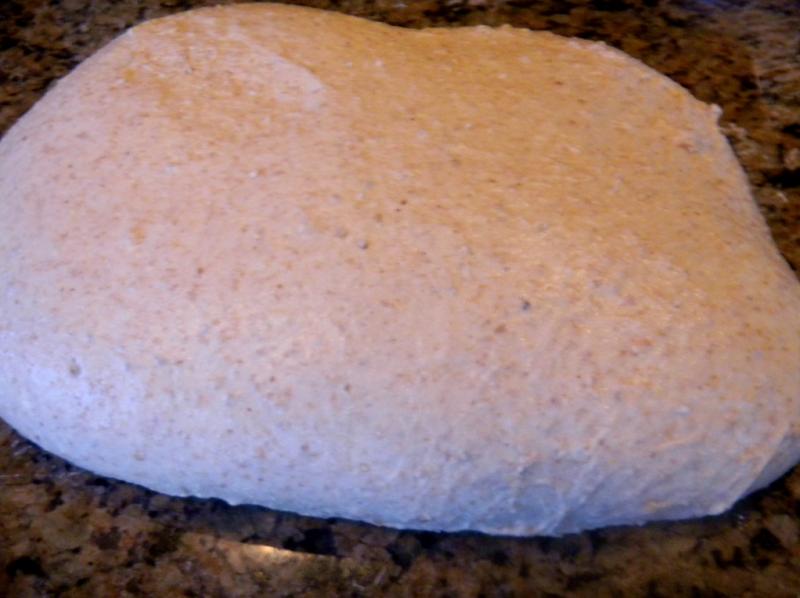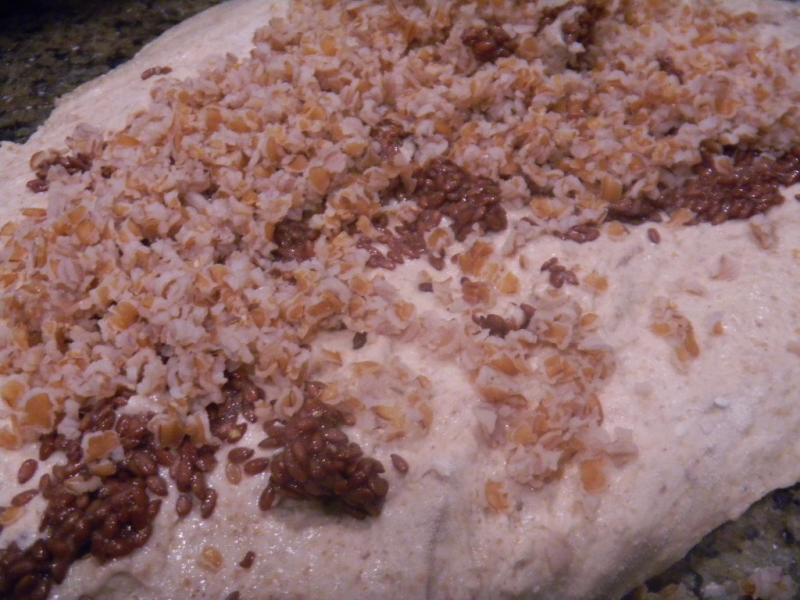 We also had our 15% whole grain SD project that we wanted to increase up to 40% whole grains too.  So we used the whole grain levain(after a 24 hour retard in the fridge making it a 60 hour build) to make a 40% whole grain SD bread using spelt, rye and WW.  To make things interesting and even more tasty we included a bulgar and flax seed scald to round out the flavor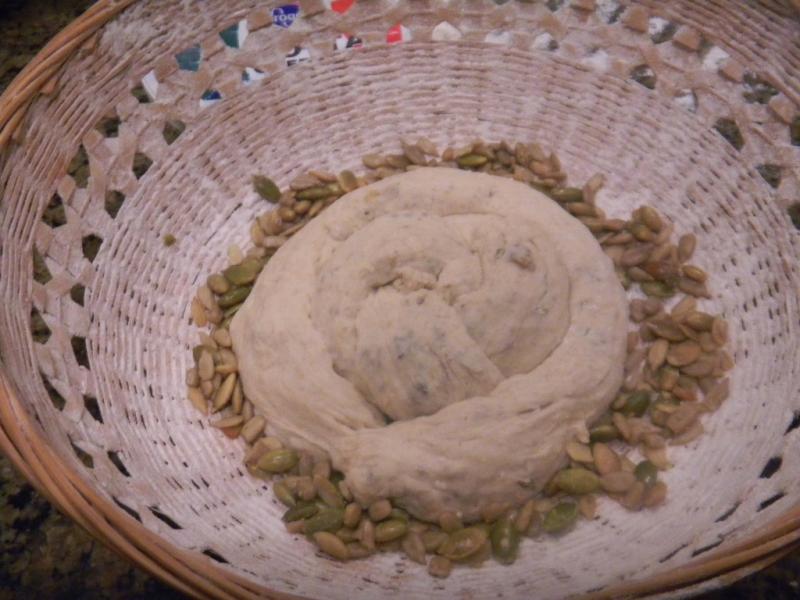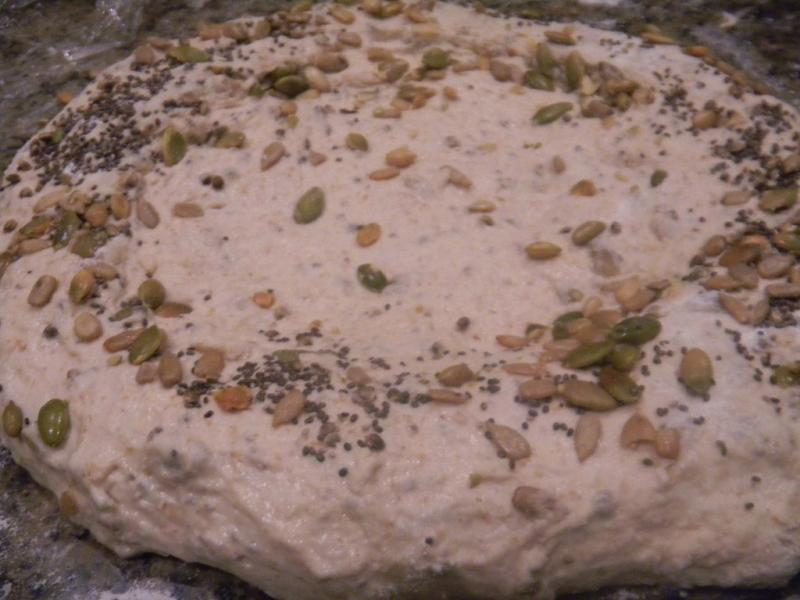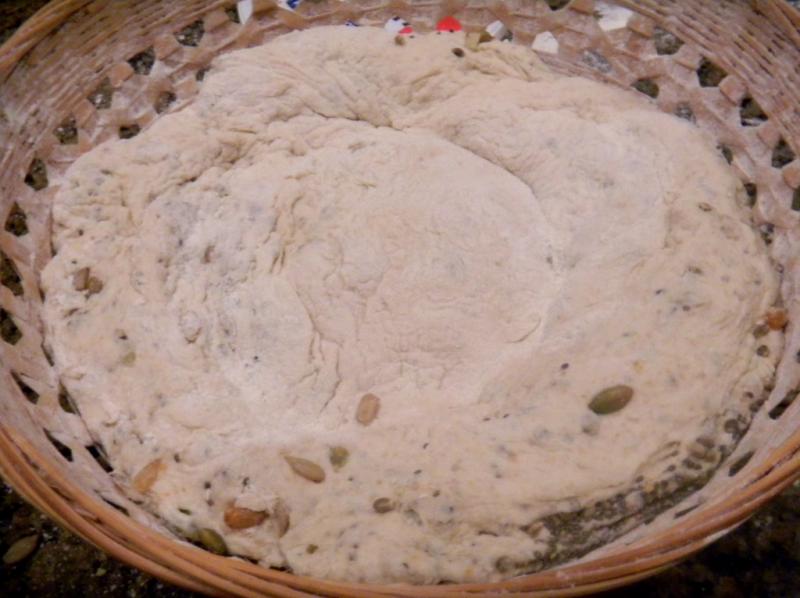 With the white flour 60 hour levain we made another 15% whole grain SD but also perked it up some with pumpkin, sunflower, chia and hemp seeds inside and out.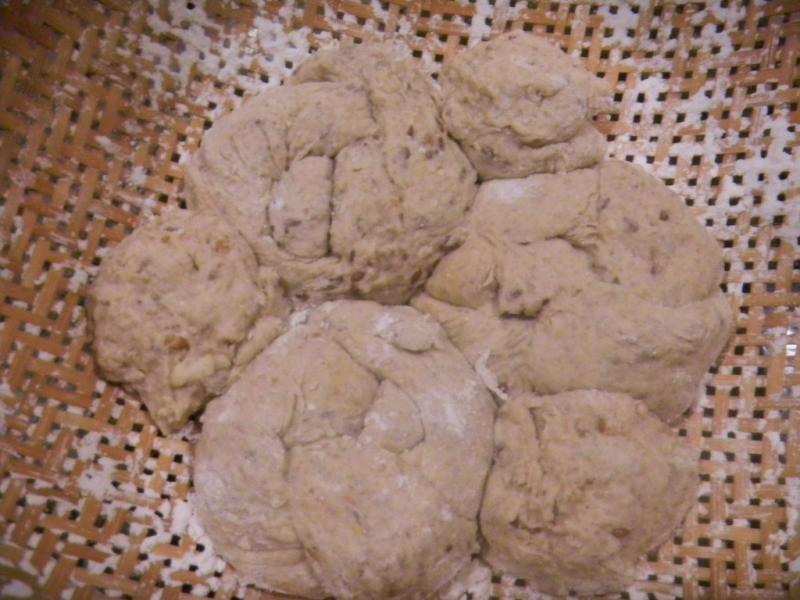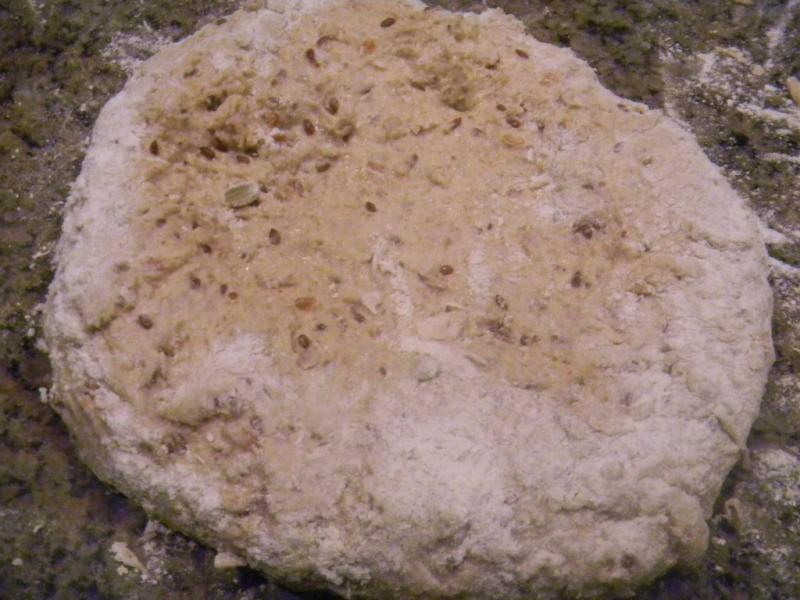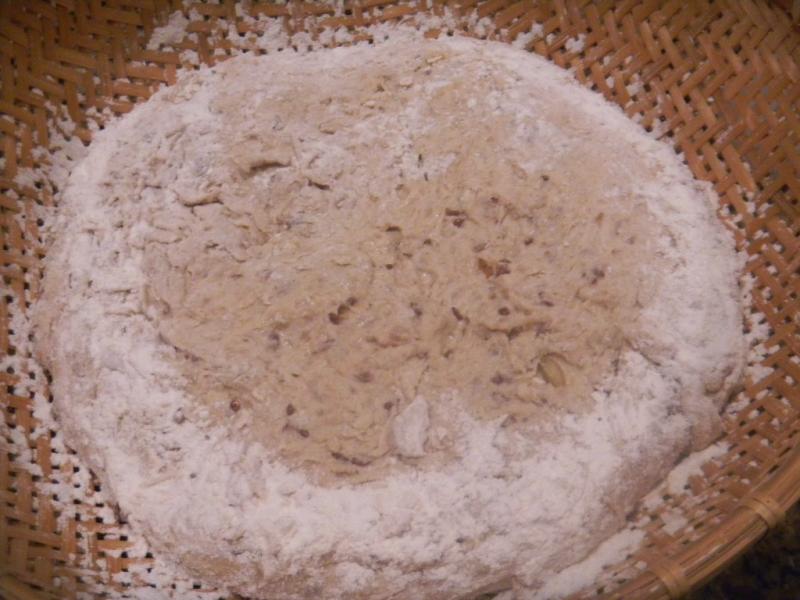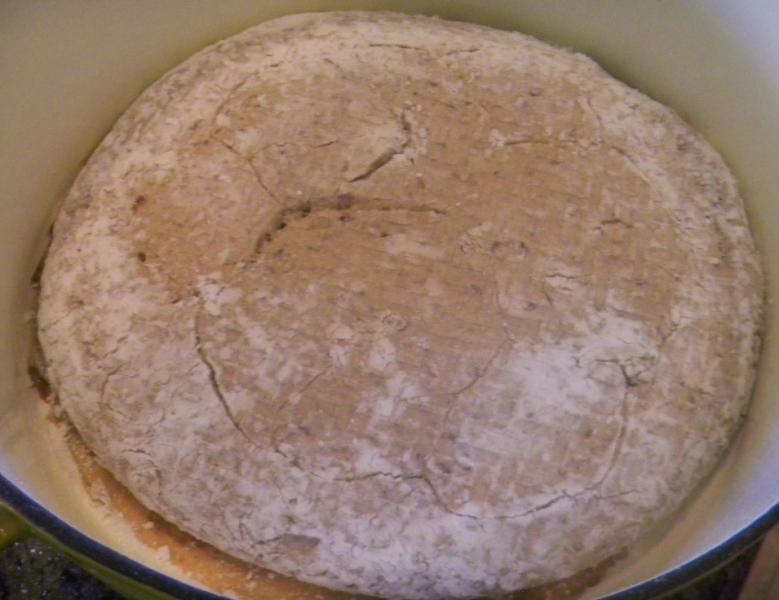 We decided to bake both in Chacon shapes and also in Dutch Ovens.  The white seeded Chacon was made with one central knotted roll surrounded by a non twist rope and covered with a huge bialy shaped main dough.  Hydration was 75,5%.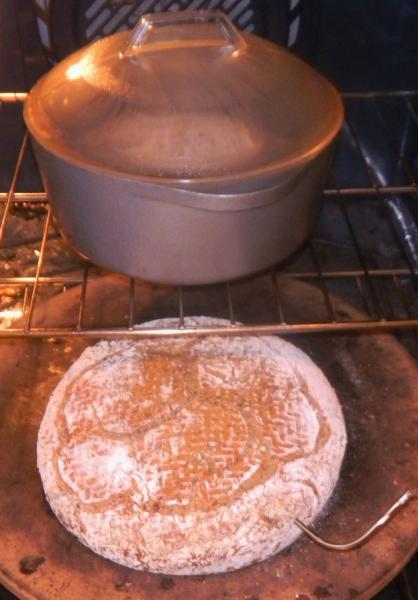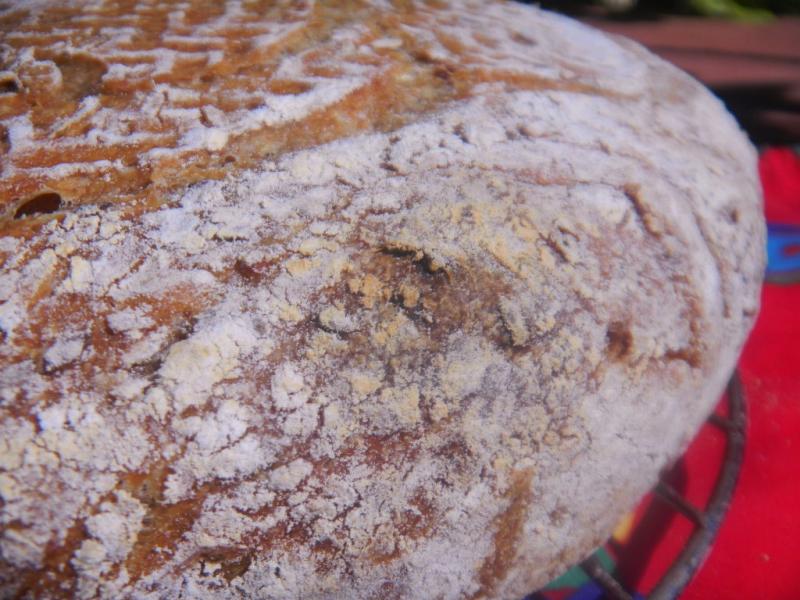 The flours and water were autolysed with the salt for 3 hours for both breads.  Each started out with 10 minutes of French Slap an Folds followed by a 30 minute rest in a plastic covered, oiled bowl.  Then 3 sets of stretch and folds we done every 30 minutes with the add ins being incorporated on the 2nd set.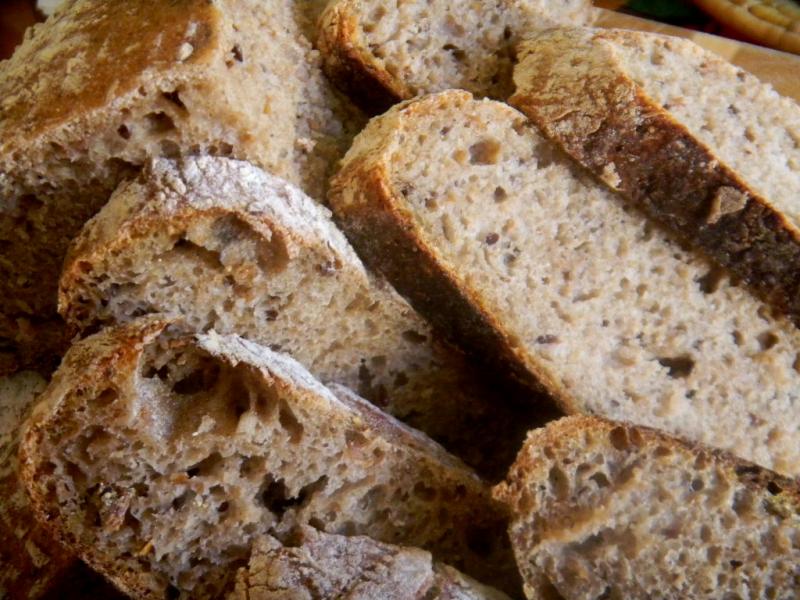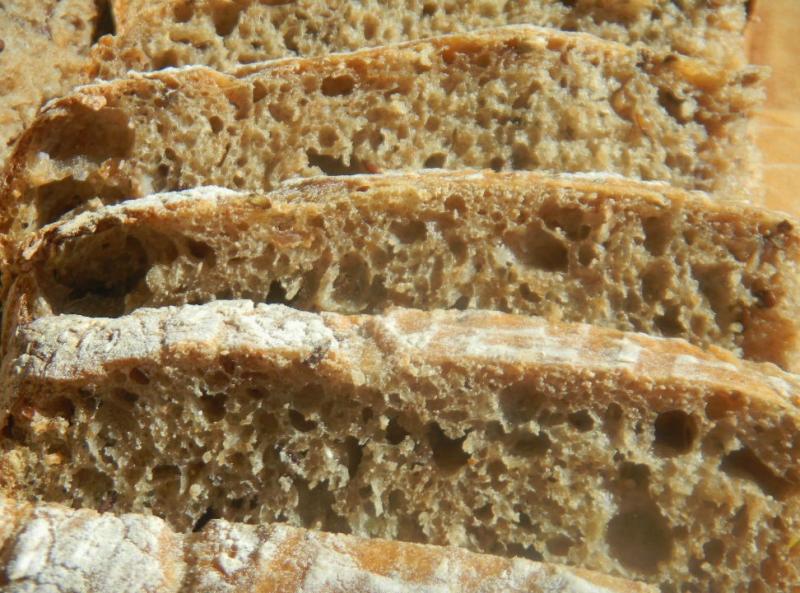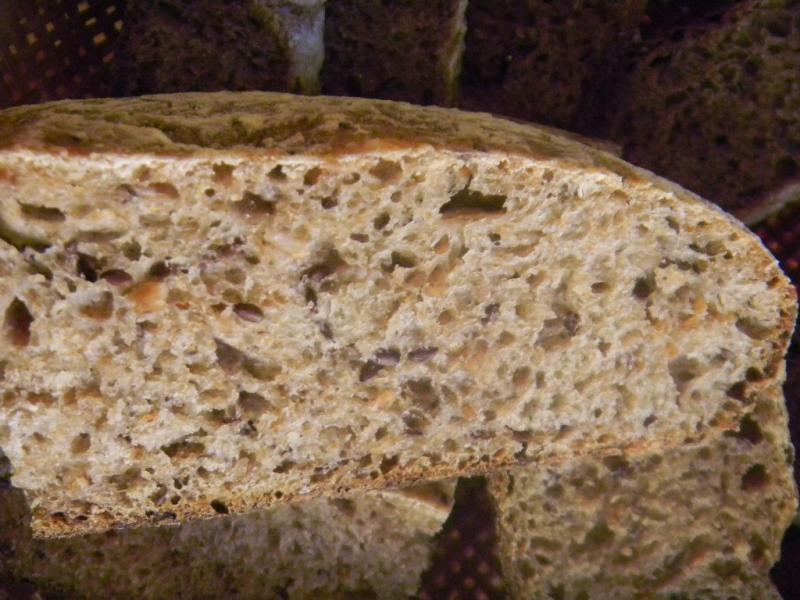 Once the S& F's were completed each dough was allowed to ferment for 1 hour before being shaped into Chacons in the rice floured baskets.  They were immediately placed into sealed trash can liners and placed in the fridge for a 12 hour retard.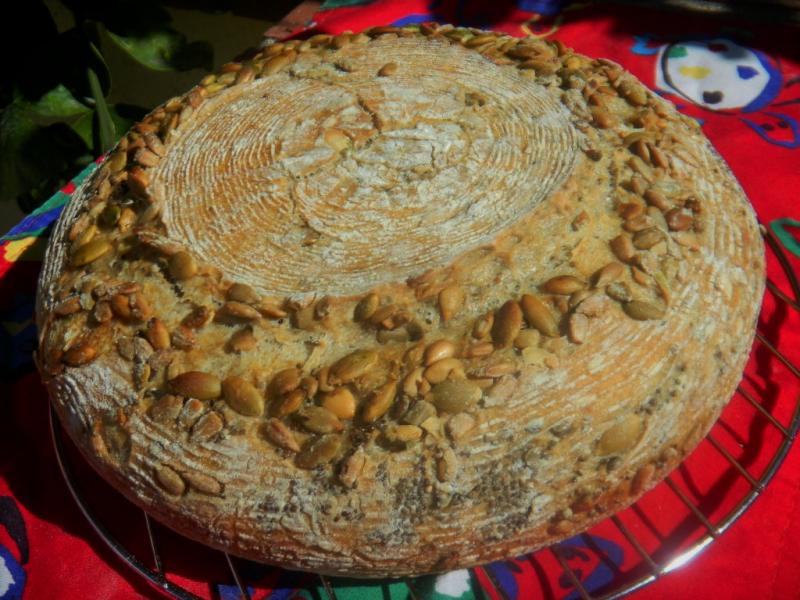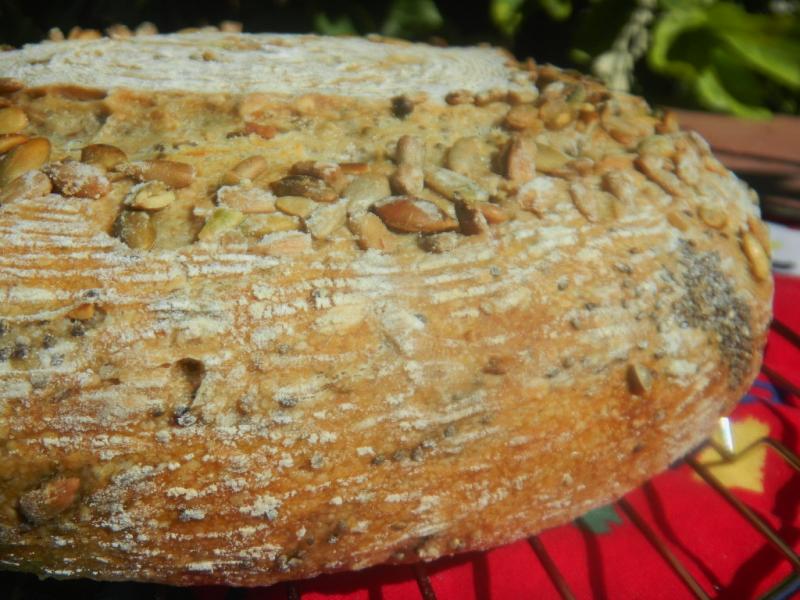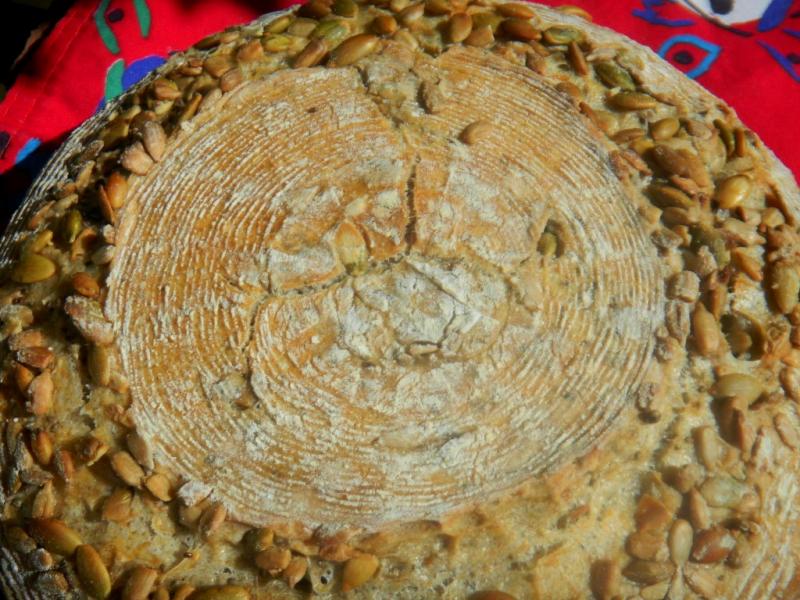 The 40% whole grain Chacon was nearly fully proofed during the retard but the white one was only half way there.  So well pulled the white one out of the fridge, leaving it in the bag to warm up and proof an hour and half at room temp before we took out the 40% whole grain Chacon.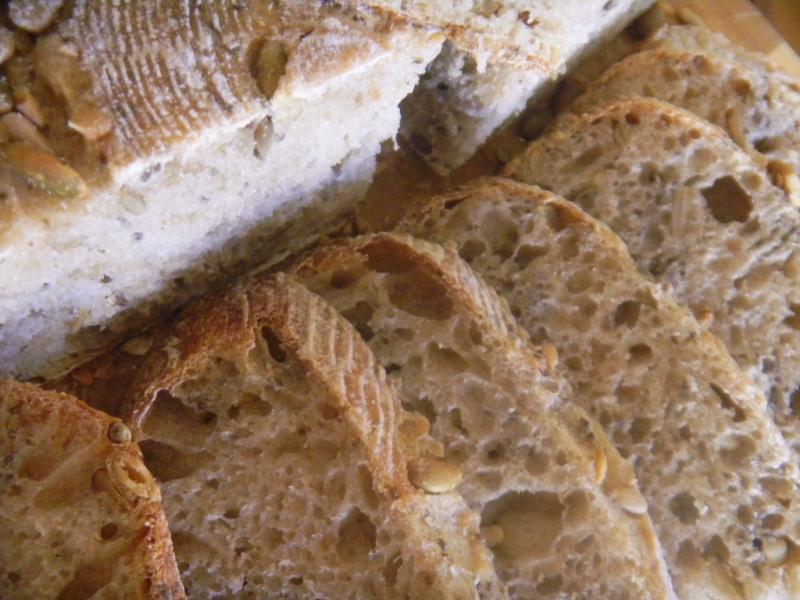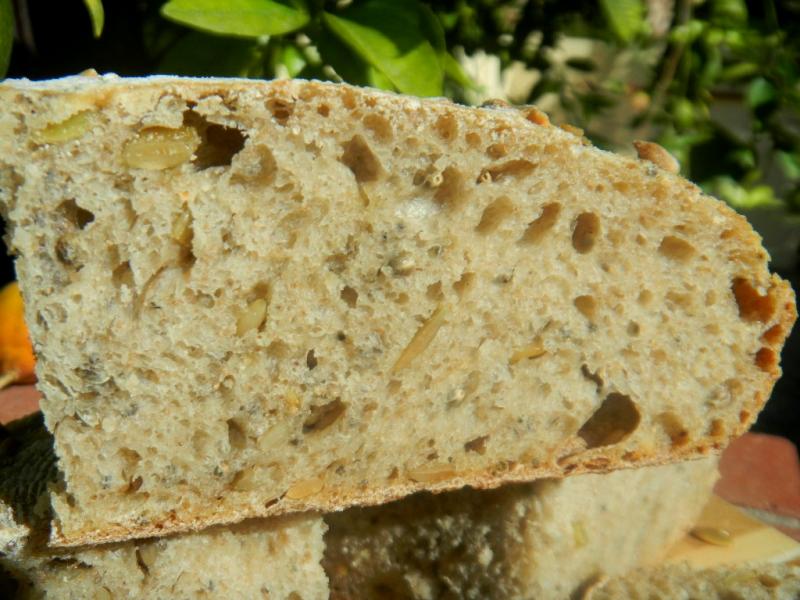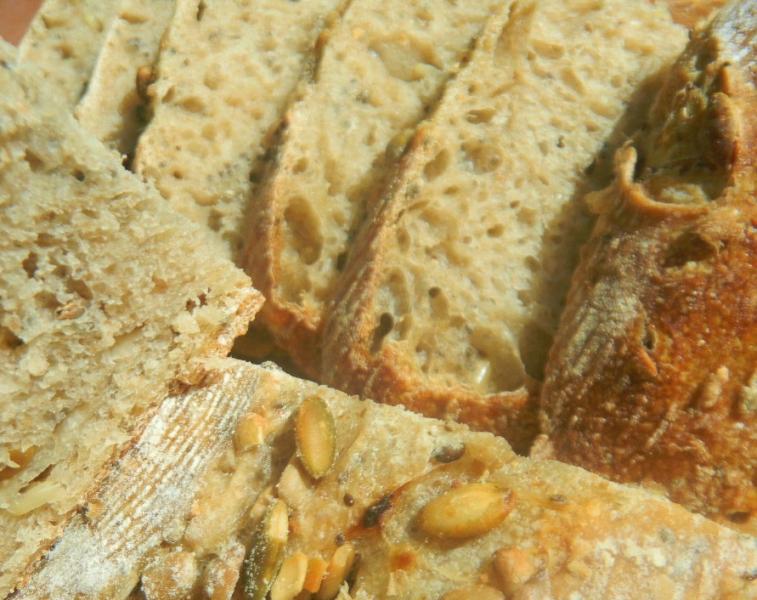 Both were baked at 450 F for 15 minutes to steam with the lid on starting the 40% whole grain Chacon 15 minutes before the white one went in.  After the lids were removed they were allowed to continue to bake in the DO for 5 minutes before being removed from the DO and allowed to finish baking on the stone.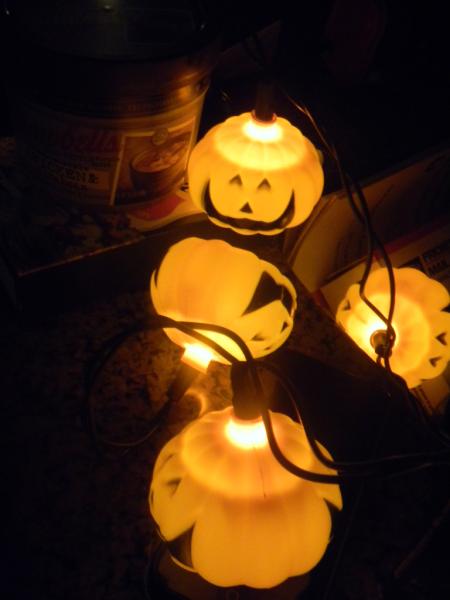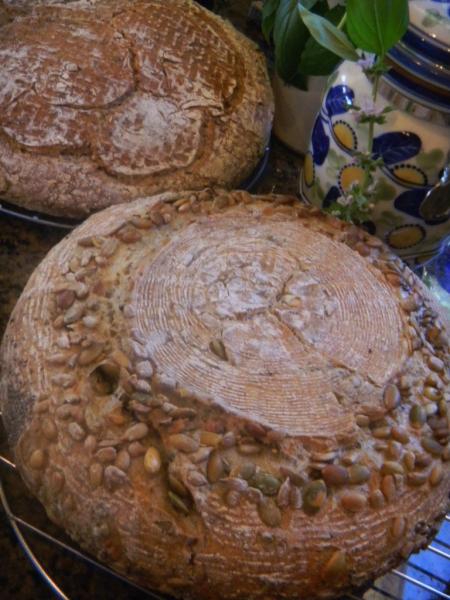 Both were deemed done at the 25 minute mark when they read 209 F in the middle.  They were removed to the cooling rack immediately and allowed to cool for 1 ½ hours before slicing into quarters and slicing 1 quarter into ½"slices.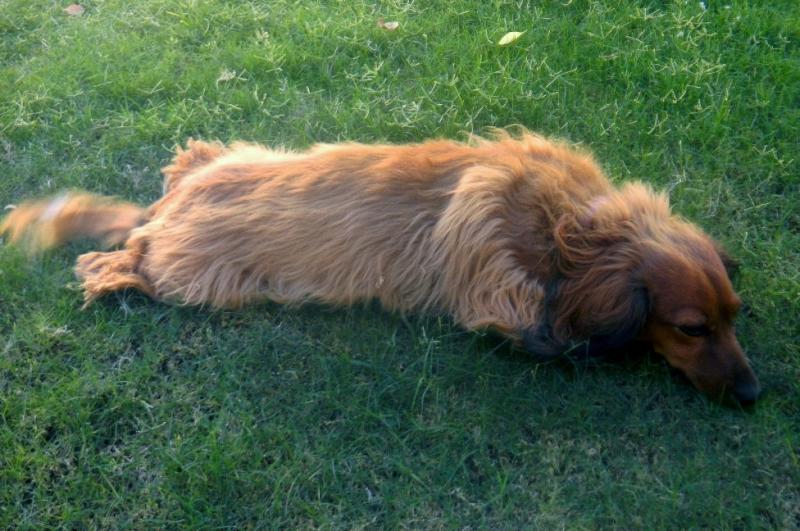 The seeded white Chacon browned a little more on the outside and also had a slightly more open crumb – but not much.  Both crusts went soft as they cooled and were chewy. The crumbs were soft, airy and moist with a little gloss.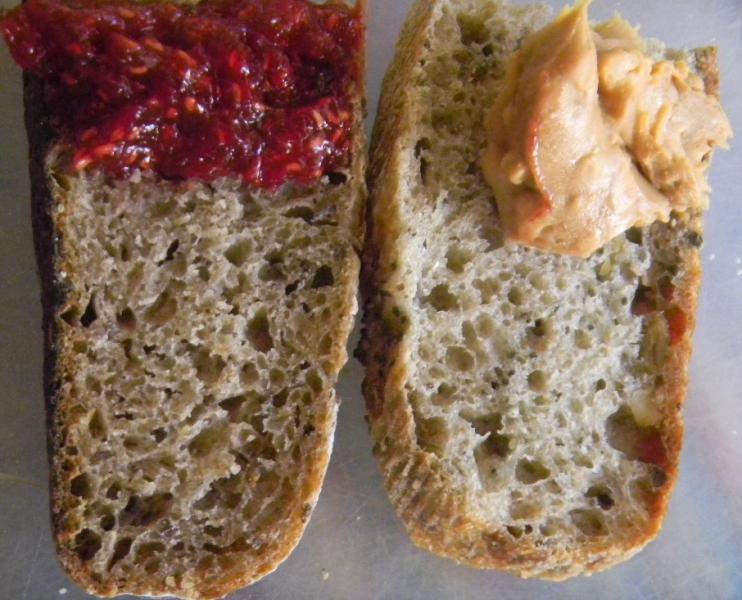 For once my wife agreed.  The 40% whole grain variant tasted noticeably better to each of us and was our favorite even thought the seeded white Chacon was a fine and dandy SD bread.  Both were noticeably more sour tangy than our standard SD breads made with a normal 6 hour build and a 24 hour retard of the levain.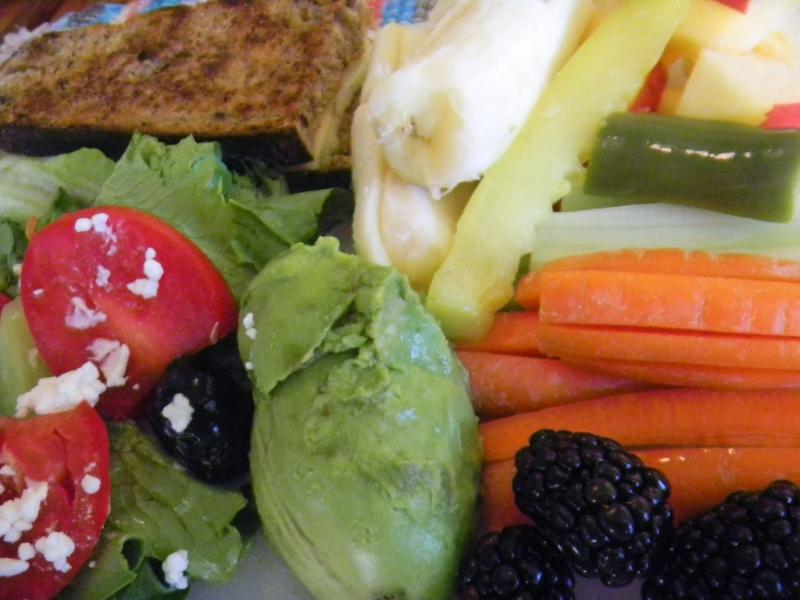 When ever we have 60 hours to kill and only 1 g of SD starter we now know what to do with it to make some nice SD bread.
40% Whole Grain SD with Scald Formula   
| | | | | | |
| --- | --- | --- | --- | --- | --- |
| SD Starter | Build 1 | Build 2 |  Build 3 | Total | % |
| SD Desem & Rye Sour | 1 | 0 | 0 | 1 | 0.19% |
| Spelt | 0 | 15 | 0 | 15 | 3.95% |
| Whole Wheat | 0 | 29 | 0 | 29 | 7.63% |
| Dark Rye | 0 | 44 | 0 | 44 | 11.58% |
| AP | 50 | 0 | 0 | 50 | 13.16% |
| Water | 37.5 | 45 | 10 | 92.5 | 24.34% |
| Total Starter | 88.5 | 133 | 10 | 230.5 | 60.66% |
|   |   |   |   |   |   |
| Starter |   |   |   |   |   |
| Hydration | 67.15% |   |   |   |   |
| Levain % of Total | 23.09% |   |   |   |   |
|   |   |   |   |   |   |
| Dough Flour |   | % |   |   |   |
| Bread Flour | 130 | 34.21% |   |   |   |
| Whole Spelt | 40 | 10.53% |   |   |   |
| Dark Rye | 40 | 10.53% |   |   |   |
| Whole Wheat | 40 | 10.53% |   |   |   |
| AP | 130 | 34.21% |   |   |   |
| Dough Flour | 380 | 100.00% |   |   |   |
|   |   |   |   |   |   |
| Salt | 8 | 2.11% |   |   |   |
| Water | 325 | 85.53% |   |   |   |
| Dough Hydration | 85.53% |   |   |   |   |
|   |   |   |   |   |   |
| Total Flour | 518.5 |   |   |   |   |
| Total Water | 418 |   |   |   |   |
| T. Dough Hydration | 80.62% |   |   |   |   |
| Whole Grain % | 40.21% |   |   |   |   |
|   |   |   |   |   |   |
| Hydration w/ Adds | 80.62% |   |   |   |   |
| Total Weight | 1,003 |   |   |   |   |
|   |   |   |   |   |   |
| Scald |   | % |   |   |   |
| Flax Seed | 20 | 5.26% |   |   |   |
| Bulgar | 38 | 10.00% |   |   |   |
| Total Scald | 58 | 15.26% |   |   |   |
15% Whole Grain Seeded SD Formula
Starter

Build 1

Build 2

 Build 3

Total

%

SD Desem & Rye Sour

1

0

0

1

0.26%

AP

50

88

0

138

36.22%

Water

37.5

45

10

92.5

24.28%

Total

88.5

133

10

231.5

60.76%

 

 

 

 

 

 

Total Starter

 

 

 

 

 

Hydration

67.15%

 

 

 

 

Levain % of Total

23.14%

 

 

 

 

 

 

 

 

 

 

Dough Flour

 

%

 

 

 

Bread Flour

150

39.37%

 

 

 

Whole spelt

27

7.09%

 

 

 

Dark Rye

27

7.09%

 

 

 

Whole Wheat

27

7.09%

 

 

 

AP

150

39.37%

 

 

 

Dough Flour

381

100.00%

 

 

 

 

 

 

 

 

 

Salt

8

2.10%

 

 

 

Water

300

78.74%

 

 

 

Dough Hydration

78.74%

 

 

 

 

 

 

 

 

 

 

Total Flour

519.5

 

 

 

 

Total Water

393

 

 

 

 

T. Dough Hydration

75.65%

 

 

 

 

Whole Grain %

15.69%

 

 

 

 

 

 

 

 

 

 

Hydration w/ Adds

75.65%

 

 

 

 

Total Weight

1,001

 

 

 

 

 

 

 

 

 

 

Add - Ins

 

%

 

 

 

Chia  15, Hemp 15

30

7.87%

 

 

 

Pumpkin 25, Sunflower 25

50

13.12%

 

 

 

Total

80

21.00%

 

 

 

 

 

 

 

 

 

Additional 30 g of Sunflower and Pumpkin

 

 

 

Seeds Used as Topping Not Included