January 22, 2012 - 9:22pm
My San Francisco Sourdough Quest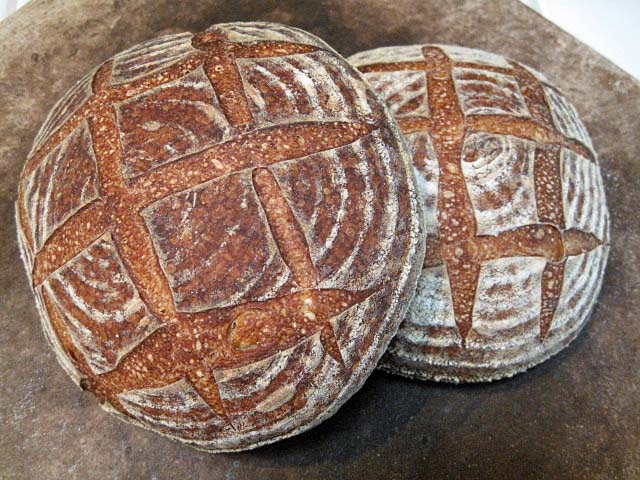 Progress is being made!
After my disappointment with the Kline, et al San Francisco Sourdough method, I re-read and re-digested what I know about time, temperature, ingredients and the care and feeding of sourdough flora. I suppose the principal new concept to sink in was that the fermentation temperature matters a whole lot, and what's best for yeast growth is not best for lactobacillus growth, and what's best for lactobacillus multiplication is not what's best for acid production. In a way, I rediscovered something I found out several years ago but neglected to pursue. (Reading old blogs was interesting.) Those very smart fellows at Detmolder were on to something: You can have it all, if you do it in stages. I'm pretty sure that what I did was not the only way to achieve pretty much the same result. It may not be the best way, but it worked for me. Note that I achieved the necessary temperature control with a Brød & Taylor Folding Proofer, but you can achieve this with a home-made proofing box as well.
My goal has been to make a moderately sour, mostly white "San Francisco style" sourdough bread that has a crunchy crust, an open crumb and a nice, sweet, complex flavor, not just sourness. Today's bake achieved all of these characteristics, and I'm a very happy baker (and bread eater)!
I started with the "San Francisco Sourdough" formula in Michel Suas' Advanced Bread and Pastry, but modified the method, as described below:
My stock starter is 50% hydration. My sourdough starter is fed with a mix of 70% AP, 20% WW and 10% whole rye.
I started by refreshing my stock starter with 40 g starter, 100 g water and 100 g flour mix and fermenting it at room temperature for 12 hours. I used this to build the stiff levain. (Note: This is a liquid starter - 100% hydration.)
| | | |
| --- | --- | --- |
| Stiff levain | Bakers' % | Wt (oz) |
| Bread flour | 95 | 2.5 |
| Medium rye flour | 5 | 0.15 |
| Water | 50 | 1.25 |
| Liquid starter | 80 | 2.15 |
| Total | 230 | 6.05 |
Dissolve the starter in the water. Add the flour and mix thoroughly until the flour has been completely incorporated and moistened.

Ferment at room temperature for 6 hours.

Cold retard overnight.

The next day, take the levain out of the refrigerator and ferment at room temperature for another 2-4 hours. The levain is ready when it has expanded about 3 times, and the surface is wrinkled (starting to collapse). 
| | | |
| --- | --- | --- |
| Final dough | Bakers' % | Wt (oz) |
| AP flour | 100 | 14.85 |
| Water | 72.8 | 10.85 |
| Salt | 2.53 | 0.35 |
| Stiff levain | 40 | 6.05 |
| Total | 215.33 | 32.1 |
Method
In a stand mixer, mix the flour and water at low speed until it forms a shaggy mass.

Cover and autolyse for 1-2 hours. (Yup. I autolysed for 2 hours.)

Add the salt and levain and mix at low speed for 1-2 minutes, then increase the speed to medium (Speed 2 in a KitchenAid) and mix for 5 minutes. Add flour and water as needed. The dough should be rather slack. It should clean the sides of the bowl but not the bottom.

Transfer to a lightly floured board and do a stretch and fold and form a ball.

Place the dough in a lightly oiled bowl and cover tightly.

Ferment at 78º F for 3 hours with a stretch and fold at 1 hour.

Divide the dough into two equal pieces.

Pre-shape as rounds and rest, covered, for 10 minutes.

Shape as boules or bâtards and place in bannetons. Place bannetons in plastic bags.

Proof at room temperature (68-70º F) for 1-2 hours.

Cold retard the loaves overnight.

The next morning, proof the loaves at 85º F for 2-3 hours.

45-60 minutes before baking, pre-heat the oven to 480º F with a baking stone and steaming apparatus in place.

Transfer the loaves to a peel. Score the loaves as desired, turn down the oven to 450º F, and transfer the loaves to the baking stone.

Steam the oven.

After 15 minutes, remove the steaming apparatus, and turn down the oven to 425º F/Convection. (If you don't have a convection oven, leave the temperature at 450º F.)

Bake for another 25 minutes.

Turn off the oven, and leave the loaves on the stone, with the oven door ajar, for another 10 minutes.

Transfer the loaves to a cooling rack, and cool thoroughly before slicing.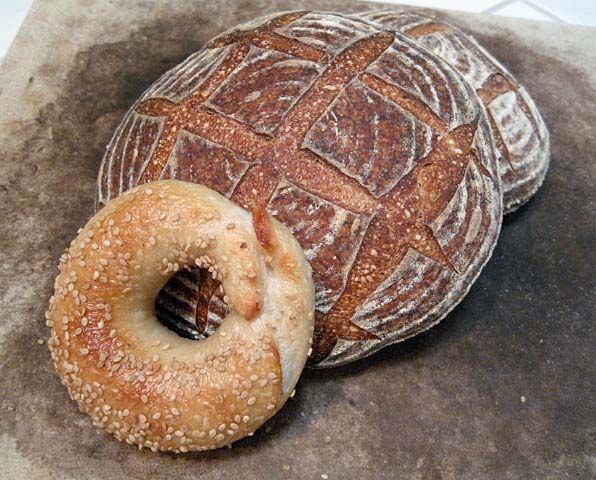 San Francisco Sourdough (and New York Bagel from ITJB. This weekend's "Coast to Coast" baking.)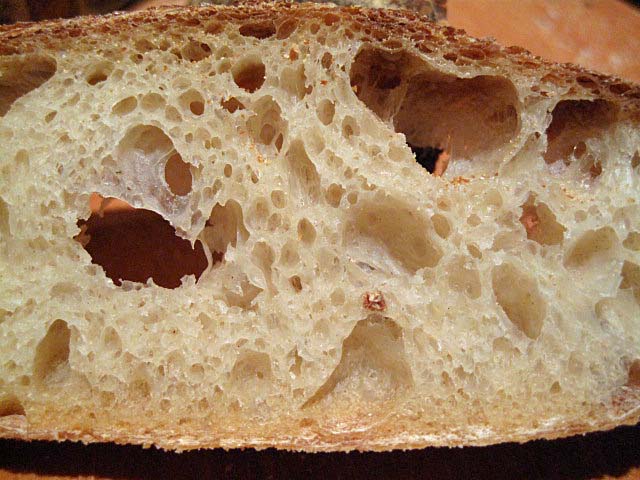 San Francisco Sourdough Crumb
These loaves had a rather flat profile but did have fair oven spring and bloom. When sliced after cooling for 4 hours, the crust was crunchy. The crumb was open. The aroma was decidedly sour. The crumb was tender-chewy and cool in the mouth. The flavor of the crumb was a bit sweet and wheaty with a moderately sour after taste. The crust was nutty, but I would have personally enjoyed it more had it been darker, even though that would not have been strictly in the the "San Francisco Style" of old.
This method is spread over 3 days, so it requires some advance planning. Since it requires little time, except on the second day, it should be easy to fit into almost anyone's schedule. It this is the kind of bread you're after, it's definitely worth the effort.
Future plans
Substitute 5-10% whole wheat for some of the AP flour in the final dough.

Make some larger loaves.
 David
Submitted to YeastSpotting
Addendum added 2/4/2012: Please see My San Francisco Sourdough Quest, Take 2 for my next bake. The modifications resulted in improvements in the crumb and a more assertively sour bread.