My Current Projects: Gluten Free / Bread for a "Treasure Island" fair
At the moment I am pursuing two totally different themes in my baking: Gluten Free bread and bread for a school summer fair themed "Treasure Island".
This blog post is intended as a journal for my thoughts and ideas, nothing is final yet.
The photo above is my take on "Pease Bread", the 18th century wheat-free alternative. See below.
Let's start with Gluten Free (GF) bread:
After my initial success with a Buckwheat-Millet Sourdough I am aiming to understand more indepth how GF flours behave. I will be using Psyllium husks as a gelling agent, avoiding all processed ingredients like gums etc.
My plan is:
To determine the optimum amount of Psyllium needed for several GF flours. I will use a 60:40 flour:starch mix and instant yeast for these experiments. I will aim to adjust hydration in a way that makes the doughs feel similar. 
To determine the fermentability of the individual flours Plus Psyllium  using Raisin Yeast Water, Rye Sourdough and Yeast.
To develop a reliable GF Starter
To work on flour combinations and taste
This is a lot of work, but i am really excited to do this.
My spreadsheet (work in progress) is here:
https://docs.google.com/spreadsheet/ccc?key=0AkcYHhPxccKtdG5aRV96RVY3TUkzdWM1R0tWcndmaXc&usp=sharing
/*  UPDATE */
Posted some photos of step 1 above: http://www.thefreshloaf.com/node/33651/some-gf-experiments
/* ************ */
Having spoken to several people with food allergies it is clear to me that it might be necessary to design a bread for an individual person and their specific sensitivities. 
A big Thank You to Gluten Free Gourmand and Laura T. for your inspirations:
http://www.thefreshloaf.com/node/32708/glutenfree-sourdough-progress
"Treasure Island" baking:
My son kindly volunteered me to have a bread stall at their school's summer fair. 
This fair is meant to be organised by the children, and the theme is "Treasure Island". 
It took me a few days to figure out what I could do within this frame of reference, and the pieces are starting to come together.
I looked into 18th century baking, and Andy (ananda) generously pointed me to an article about the history of flour usage in Britain.
I will have a group of children do most of the work on the day before the fair, using the school kitchen.
And this is what I intend to bake with them:
Ships Biskets (Hardtack): the staple food of the sailors; this will be more for curiosity. Wholegrain Wheat flour 100%, Water 50%, Salt 2%, Mix until evenly hydrated, rest for 1 hour or so, shape flat palm-size biscuits 4oz each, dock, bake until completely dry, but not brown (I have to figure that one out). 4 of these was a sailor's daily ration.
Pease Bread (see the picture at the top): The staple food of the very poor, or in times of bad wheat harvests.This is my take, quite tasty: Ground Haricot Beans: 30%, Ground Pearl Barley: 30%, Oatmeal 30%, Water 80%, Salt 2%, Rye Sour (100% HL) 20%. DT 28C. Bulk fermentation 2 hours, proof in basket 1 hour, long bake in falling oven.
Maslin Bread: This would have been the staple bread of the lower classes in south England. My take on this: Wholegrain Rye: 50%, High Extraction Wheat: 50%, Water 75%, Salt 2% Rye Sour 20%. DT 28C. Bulk fermentation 2 hours, proof in basket 1 hour. Bake in falling oven starting hot.
Manchet Bread: This is what the Squire, Doctor and Captain would have eaten. There are several historical recipes about, this is my first take. Everybody loved it: Stoneground White Strong flour: 100%, Water 54%, Salt 2%, Instant Yeast 0.7%. Mix, knead and beat the living daylights out of it with a rolling pin, until very silky. Get those carotenoids oxidized. They want WHITE bread!  Proof 2 hours. Shape into batard. Proof 40 minutes. Bake at 210C.
I will try out some other recipes for Manchet, and I intend to use ale barm - this afternoon I will pick up some from the brewery.
Here is a picture of Manchet and Maslin breads: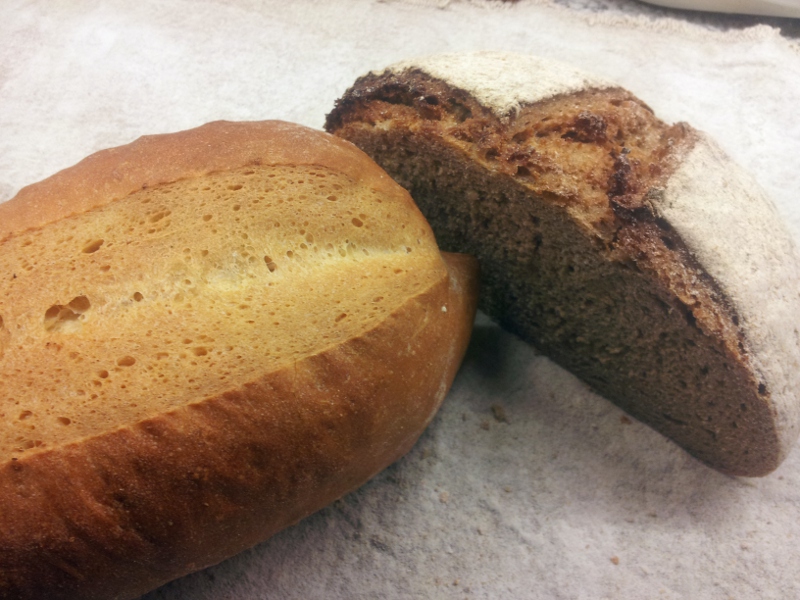 And here is a crumb shot of Maslin, Manchet and Pease Breads: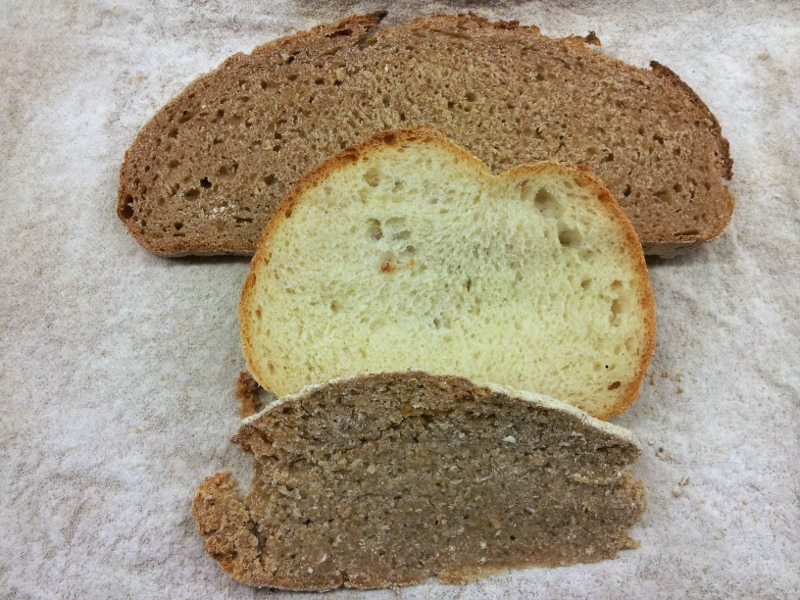 I am off to my kitchen now...
Cheers,
Juergen