Warning - this contains lots of photos
I outlined the experiments I wanted to undertake with regards to GF baking  in a previous post and here is a brief personal log of the first steps.
I baked gluten free breads with a mix of tapioca flour, potato flour and five other flours using instant yeast as rising agent and psyllium husk as gelling agent.
The psyllium husks have been soaked with 20g water per g Psyllium.
For each of the "main" flours (making up 60% of the total flour, the rest are the starches) the amount of psyllium has been varied and hydration has been adjusted to give the doughs a similar feel as far as possible.
The details of the bakes are in a google sheet here:
https://docs.google.com/spreadsheet/ccc?key=0AkcYHhPxccKtdG5aRV96RVY3TUkzdWM1R0tWcndmaXc&usp=sharing
The sorghum was a flour from TRS, the millet was a GF certified flour from Infinity Foods and the others were freshly milled.
The breads were baked at 210C for about 40 minutes.
Now to the results:
Quinoa gets the best marks in terms of color, Sorghum in terms of handling, consistency and crumb. Rice bread was surprisingly light and tasty.
The amount of psyllium has a great influence on the handling qualities of the dough, there is a fine line between yielding a pliable and a dough that feels more like jelly.
Because Psyllium attracts so much water the amount of Psyllium also hugely determines the final hydratiuon of the dough.
1. Buckwheat:
With 2% Psyllium / 90% Hydration and 4%Psyllium / 110% Hydration the crumb was pleasant and the taste strong but not overpowering. Above 110% Hydration the taste became watery.
The batch after "shaping":

After baking (the same labels apply):

And here the crumb:

2. A batch with brown rice, sorghum and quinoa, after shaping: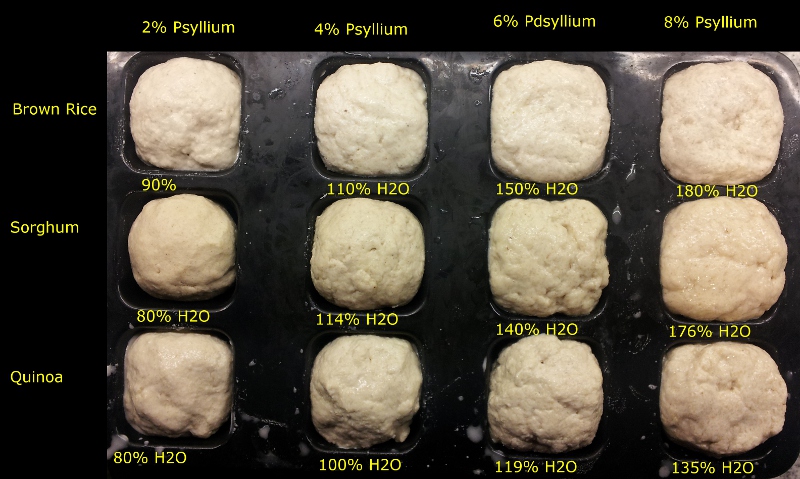 After proofing (the same labels apply):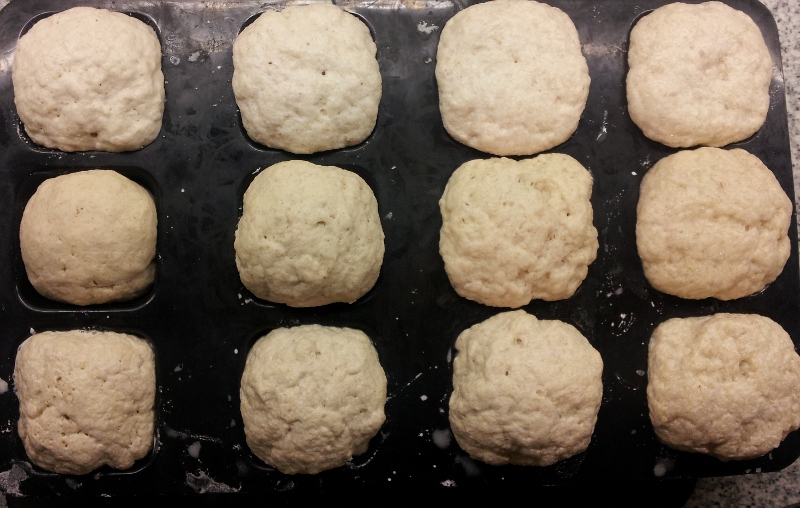 After baking: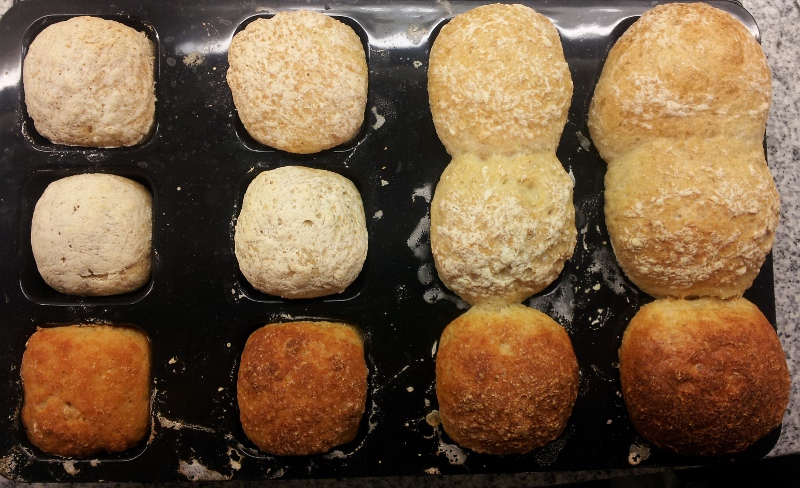 And here the crumb: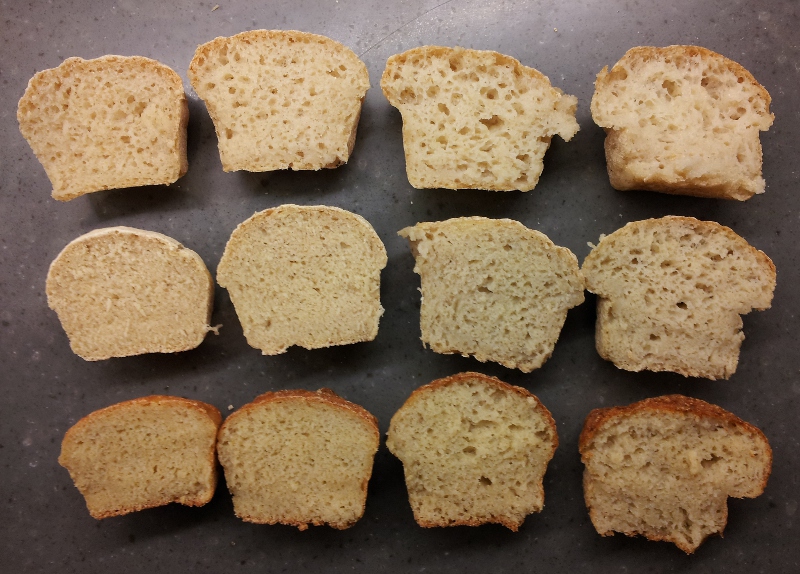 3. Millet
This was the first of the batches, and I might have overproofed a bit.
The shaped batch: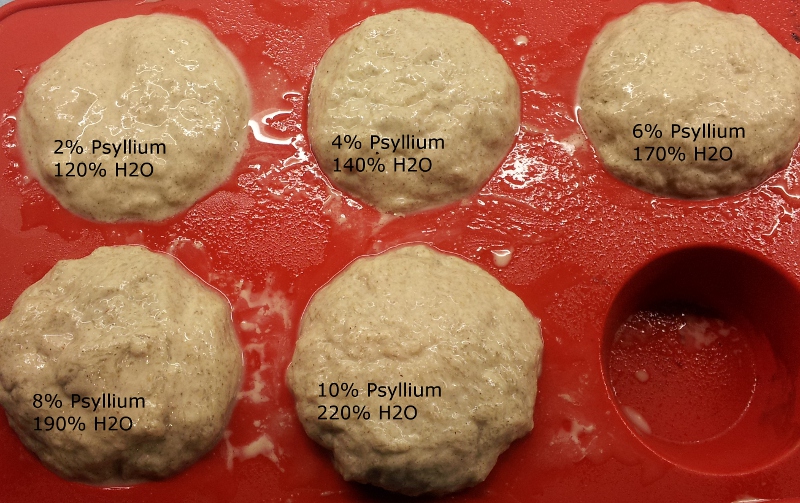 After proofing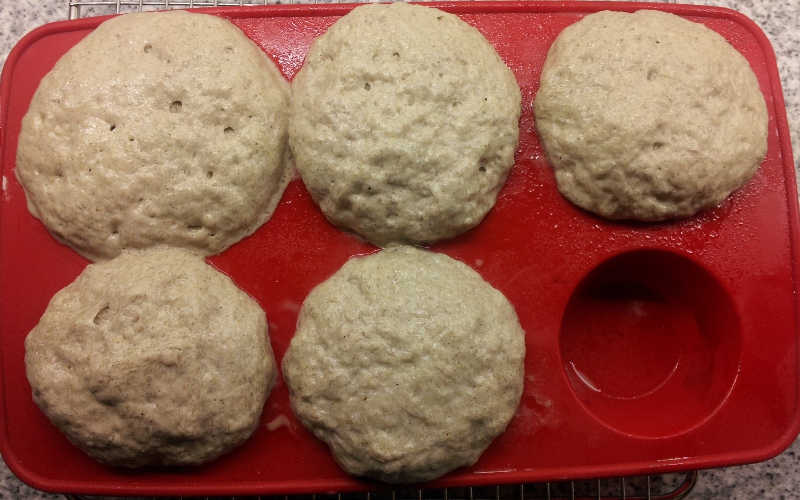 After baking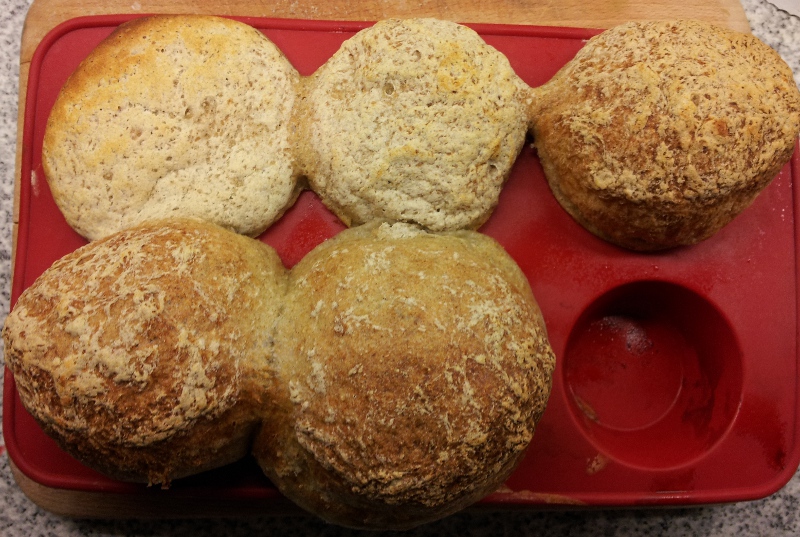 And here the crumb: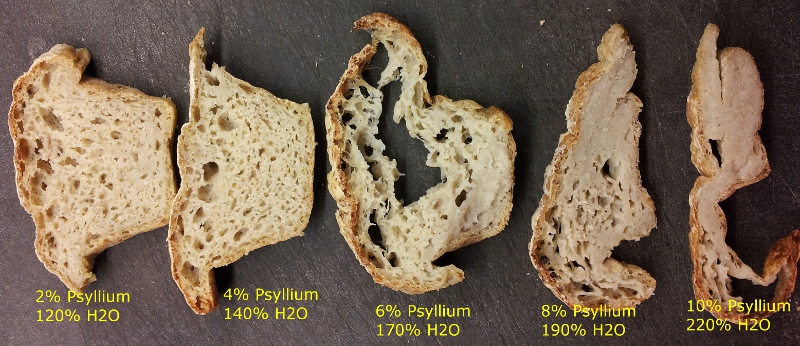 The 4% Psyllium Millet loaf is agreeable. I might repeat this with less hydration, although I must say that for me millet is the clear looser in terms of texture, taste and handling.