Gluten-free Sourdough Progress
I just joined TFL this year and I've already learned so much.  I've been tagging along looking at responses to basic questions to figure out some of the technical things I need to know.  My goal is to develop some gluten-free sourdough recipes for my blog Gluten-free Gourmand.  I've been making progress and wanted to share some of the ideas I had as well as pose a few questions.  Here's a photo of one of my better loaves.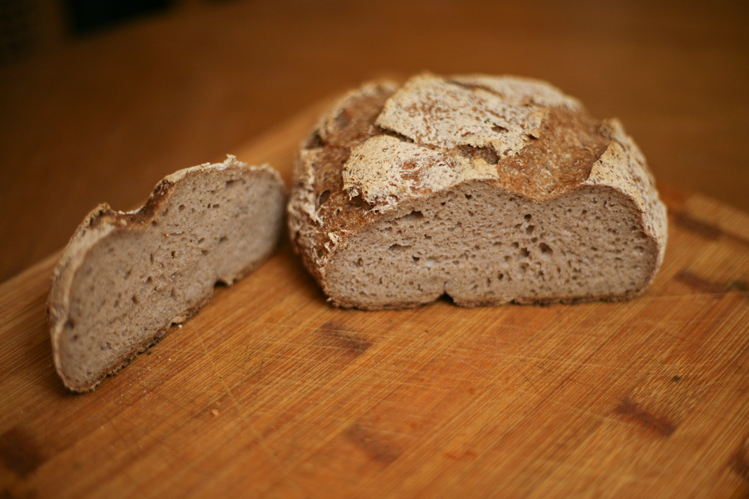 As you can see I'm still trying to perfect my scoring, and unfortunately I haven't gotten much closer since I started.  This boule was made with a 100% hydration starter.  I use my own blend of flours for both feeding the starter and making the bread.  I have tried several things for feeding the starter with only one or two types of flour at a time, with minimal success.  Teff flour has beenthe only thing that has worked, but it wasn't quite right every time so I'm still playing with it.  Sorghum flour by itself hasn't worked well.  If anyone has a suggestion for a single flour or a blend of two inexpensive flours I'd be happy to hear it.  If you're looking to make your own gf bread flour blend, check out my blog post on it:
http://glutenfreegourmand.blogspot.com/2013/02/Make-your-own-gluten-free-bread-flour.html
Recently I've started trying a firm starter that I adapted from the starter on Ars Pistorica's blog.  I've been able to get a more sour, flavorful loaf from this starter without using as many dough enhancers.  The last loaf I did was a little off, probably due to an experiment I did with changing the starter formula.  I'll be trying that recipe again tonight with a new generation of starter that I hope will be better.  
Here is the most current version of the recipe I'm working on using the firm starter.  This makes a small boule.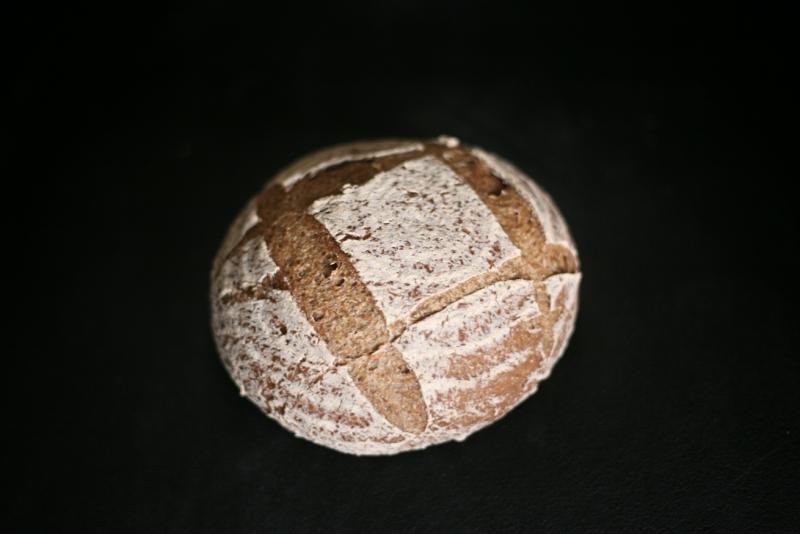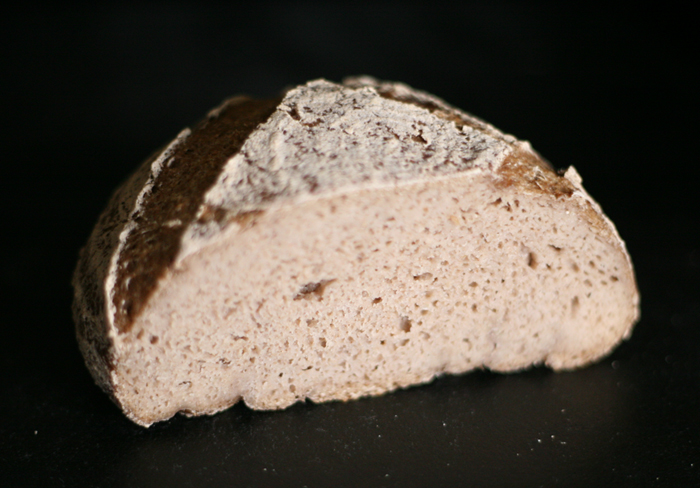 Mix in the bowl of a stand mixer until a gel forms:
210 g warm water
14 g Psyllium husk (this is the binder I prefer for bread)
Add:
150 g firm starter
125 g gluten-free flour blend
1/2 tsp salt
(sometimes I also add 12 g sugar - still trying to figure out if this is necessary)
Blend with the paddle of the stand mixer until homogenous.  Form the blob of dough into a rough ball and try to gather it so there's a smooth side and seam side. Let rise in a banneton or floured bowl, seam-side up, for 16-24 hours.  1/2 hour before baking, heat a dutch oven in the oven at 450 F.  Shape the boule seam-side down by gently tucking the sides underneath all the way around until it's tight on top and all the edges are gathered underneath.  Brush the top with water.  Let rest for 1/2 hour while the oven heats.  Cook inside the dutch oven for 25 minutes or until it sounds hollow when tapped on the bottom.
Notice I am shaping the boule 1/2 hour before baking.  I am getting good oven spring from this method, but I have noticed that traditional sourdough recipes have you shape the boule long before the bench rest.  What is the purpose of this?  If you recommend it, when should I try it?
I'd love to hear any other suggestions on how to modify my process or recipe.  I have created this recipe from nothing but some knowledge gained here and my own experimentation.  I've left out many things I see in other recipes under the theory that they were primarily for gluten development.  Since I have no gluten to work with I seem to be okay.  However, there's often some other reason besides gluten development for some of these steps so if anyone sees some technique they think might improve my loaf I'd love to hear it.  
I'm especially looking for thoughts on how to make the crust look nicer.  The white spots aren't flour - they are dry dough.  I have tried various techniques I've seen suggested here without much improvement: finishing off the baking with the lid off or on the rack, brushing it with water several times, etc.  Nothing seems to work.  Cooking it longer doesn't deepend the color like it would for regular bread.
Any thoughts are welcome!