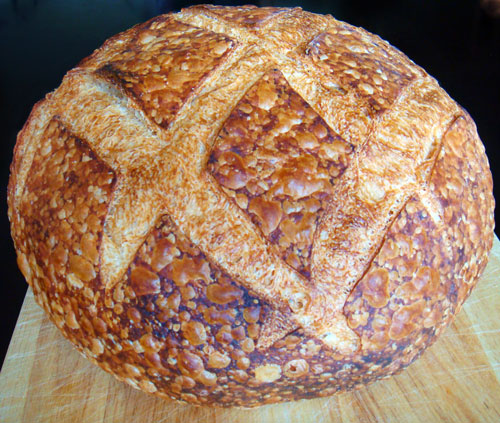 I made this loaf using Josh's process which he outlined in my previous blog post on San Francisco style sourdough.  (You will need to scroll down to about the halfway mark to view the post).
Levain Build
20g refrigerated starter @100% hydration
100g water
15g light rye flour
85g all purpose
Allow to mature for 12 hours.
*  Josh uses 60% levain in the build, 100% water and 100% flour of which 5% is rye.  I can't use 60% starter in my levain build as it would ripen in three hours with our temperatures over here.  If you plan on following this recipe, you would need to adjust the amount of starter in the levain build so that it matures in 12 hours.  20% starter works out perfectly for me at temperatures of 27C.
 Main dough
300g water
500g bread flour @ 11.4% protein
11g salt
Refrigerate the dough immediately.  Josh  divides into pieces that aren't super thick and retards in lightly greased tubs.  He retards at 40F.
Retard for 22 hours.
Remove dough and allow to come back to room temperature (one to two hours).  Now shape and Josh advises to proof for 3 -5 hours but once again that was not possible for me to do because it would have been overproofed with our warm temperatures over here.  I let it proof for 1 and a half hours.  It was just starting to show signs of activity.  
Retard for another 20 hours.  I retarded for a full 24 just because I only got home late Sunday afternoon.  
Bake loaves with steam for 15 minutes vented for 20+(200 deg internal).  Josh didn't mention the oven temperature but he did say:
 don't forget to bake it dark.  Deep red and a hint of black.  Yum.
Taste

This made for some of the tastiest all-white sourdough I have ever eaten.  It really was worth the wait and despite taking almost 3 days to make it was quite effortless.  There wasn't much to do except wait.  Fortunately I have been extremely busy lately and had no time to camp outside the refrigerator waiting anxiously.
The crust is very chewy on the day after the bake.   It had the kind of flavour in it that I would normally only associate with a loaf that had some whole grain in it.  The crumb was light but consistent with the 11.4% protein flour that I  used.
My only quibble is that it only had the tiniest hint of sour.  I don't think this is a problem with the recipe, but rather with my flour.  I know if I used this process with only 15% wholegrain, I would get a very pronounced sour flavour. It just seems very difficult for me to get a really sour all-white loaf with the flour I use.  I know all flours are not created equally and could it be that my flour is lacking in something that will let it get really sour?  The only time I have got a really sour all-white sourdough with this flour was when I added sugar eggs and butter.  I could smell the sour while it was baking in the oven. Recently, I have been experimenting with adding maltose at a rate of 5% and getting very good results with that, too.  Not as sharp a sour as I got with sucrose but a very mellow sour which lingers in the mouth long after it has been swallowed.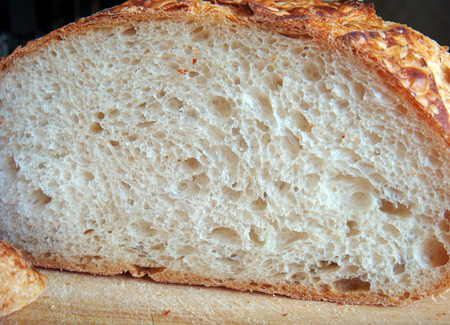 And a crumb shot.
 So now I still not finished with this one, yet. It seems I still have some experimenting to do.  If could marry the crust that I got with this to the sour I was getting with my previous recipe and then dial in a little more acetic acid flavour, I would be a happy camper and would file this recipe in the tried and tested tray.  For the time being, it is back to the drawing board. Happily, though.:)
Syd