Overfermentation or too much oil?
(warning: newbie question!)
Yesterday I made the Basic Soft White Sandwich Loaf from RLB's Bread Bible for the first time.  It tastes great and my husband is especially grateful he doesn't have to eat the dense loaf I made last time!  
However, one of the two loaves I made had a big hole near the top of the loaf.  To another poster someone suggested it could be related to letting the bread ferment for too long.  I was wondering if it could have anything to do with using too much oil?  I tried to use as little oil as possible when preparing the bowl I use for rising, and I don't like to use sprays.  Also, the recipe says to let it rise in the bowl, shape it after 1 - 2 hours, then put it back in the bowl to rise for another 1.5 - 2 hrs, then shape into loaves.  Could that cause too much contact with the oil in the bowl, so that when I'm shaping the loaf and trying to roll it tightly, the oil prevents the structure from 'reconnecting' properly?  Sorry if I'm not making any sense.  Here's a picture if it helps.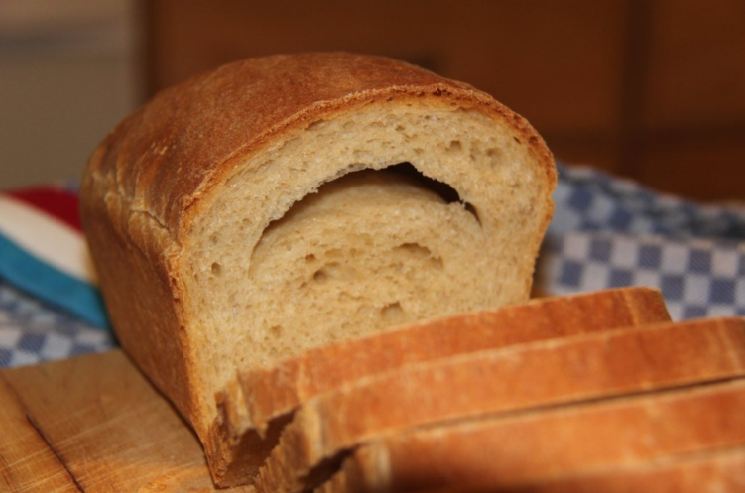 Only changes I made to the recipe were:
- substituted dry milk and 1 cup of water with scalded liquid milk
- substituted 40 grams of AP flour with 40 g of KA whole wheat 
- did not use a baking stone (don't have one) 
- I did not go up to speed #4 as instructed as I have a Kitchenaid artisan 5qt (motor not as strong as the pro)) 
Other things I noticed:
- 2nd loaf looked fine
- I hoped/thought the shaped loaves would rise more, but they never do (another reason I don't think I have let them ferment too long).  I don't know how I'll ever have confidence to use a pullman for example, the slices would come out as noncongruent hexagons! 
- Crumb is not very fine, which I like but may not be the right result for this recipe (and for my American husband--I think he'd probably prefer Wonderbread!)
Any thoughts appreciated!